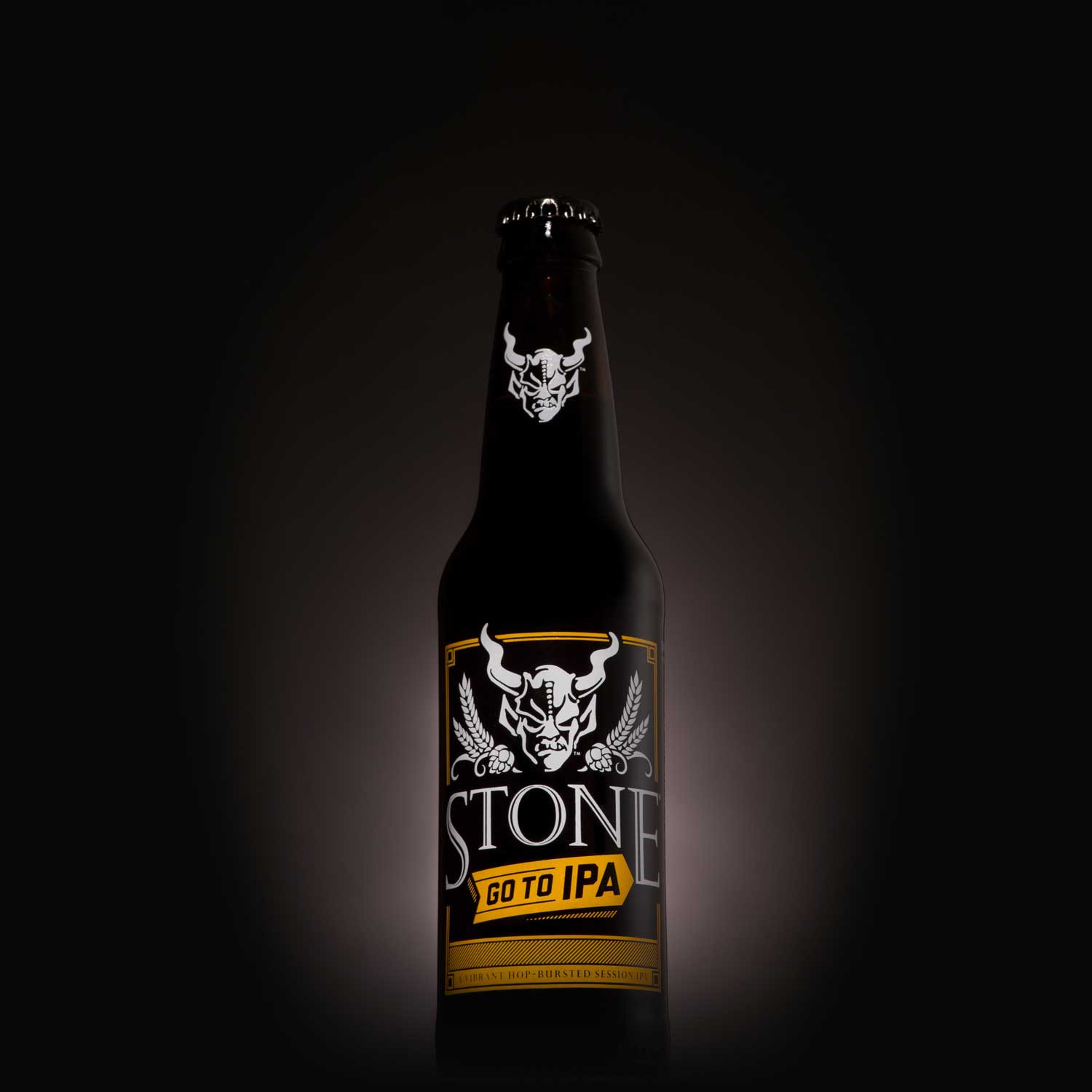 Stone Go To IPA
A vibrant hop-bursted session IPA
Since Day One, we've been abundantly forthright and fully transparent about our lust for hops. It's led us to craft many an IPA, most of them imperial—some intense for their time and all timeless in their intensity. For Stone Go To IPA, we embrace our hop obsession in a new way, funneling an abundance of lupulin-borne bitterness into a "session" IPA that delivers all the fruity, piney character of a much bigger IPA. To accomplish this, we employ "hop bursting," a new technique wherein an irrational amount of hops is added during the final phase of the brewing process to coax out extreme flavors and aromas while also imparting a burst of desirably pleasant bitterness. The result is an alpha-acid-rich beer that fans can enjoy more of without missing out on the assertive hop character you, like us, crave. So, sit back and go two with your new everyday go-to IPA and bask along with us in the glory of the almighty hop.
12oz Six-Packs, Twelve-Packs & Draft
Ahtanum
Amarillo
Cascade
Chinook
Citra
Crystal
Magnum
Mosaic
Sterling
Hopsteiner 06300
FIND IT IN YOUR AREA
Stone Go To IPA
TASTING & PAIRING NOTES
Pours light gold with a white head.
The hop aromatics are mind blowing. Intense peach, citrus and melon flavors dominate the aroma in the best possible way.
Hop flavors continue to dominate, but are balanced by just enough malt to keep things reasonably in balance. But make no mistake, this beer is very, very hop-forward!
Dry and bitter. The finish makes you want to drink more!
This beer employed the hop-bursting technique, which in essence is a hopping method where all or most of the bitterness in the beer comes from late hop additions in the brewhouse, like at the end of boil and in the whirlpool, instead of the more traditional approach where most of the hop bitterness comes from earlier additions at the start of the kettle boil. The result is a beautifully aromatic beer with substantial but somewhat mellow bitterness. Hop bursting also enhances the flavor retention of the hops, and combined with the dry hop, creates a very intense and complex hop flavor.
Chips and salsa, ceviche, Cajun shrimp, oysters on the half shell, Buffalo-fried cauliflower
Cheddar cheese, tortilla, miso
Thai salad with peanut dressing, cucumber and mint
Grilled salmon, stuffed poblano peppers, vegetable masala, jerk chicken
Cabot Clothbound Cheddar, Cowgirl Wagon Wheel, Parmigiano-Reggiano, extra sharp Vermont Cheddar
Carrot cake, spice cake, persimmon tart, apple fritters
La Flor Dominicana Double Claro No. 42, Illusione hl (Holy Lance) Candela, Arturo Fuente Flor Fina 8-5-8 Claro
Stone Go To IPA
NATIONAL DISTRIBUTION
Alabama
Alaska
Arizona
Arkansas
California
Colorado
Connecticut
Delaware
Florida
Georgia
Hawaii
Idaho
Illinois
Indiana
Iowa
Kansas
Kentucky
Louisiana
Maine
Maryland
Massachusetts
Michigan
Minnesota
Mississippi
Missouri
Montana
Nebraska
Nevada
New Hampshire
New Jersey
New Mexico
New York
North Carolina
North Dakota
Ohio
Oklahoma
Oregon
Pennsylvania
Rhode Island
South Carolina
South Dakota
Tennessee
Texas
Utah
Vermont
Virginia
Washington
West Virginia
Wisconsin
Wyoming
District of Columbia
AL
AK
AZ
AR
CA
CO
CT
DE
FL
GA
HI
ID
IL
IN
IA
KS
KY
LA
ME
MD
MA
MI
MN
MS
MO
MT
NE
NV
NH
NJ
NM
NY
NC
ND
OH
OK
OR
PA
RI
SC
SD
TN
TX
UT
VT
VA
WA
WV
WI
WY
DC