For this recipe we wanted to build on the COFFEE NOTES and CHOCOLATE MALT UNDERTONES in our stone vanilla bean porter – an exclusive release found only in the stone cabin fever Mixed 12-pack, out now. our stone beer finder can help you locate this seasonal box of beer cheer. save a bottle of the porter for this luxurious pecan pie recipe, created especially for stone brewing by our friend sasha rumage aka "tattooed martha". 
The ever-tempting pecan pie is a staple of every holiday meal that we always find ourselves making room for so that we can enjoy just a slice (or two) of its decadence. So how do you make it even more irresistible? Just add delicious craft beer of course!

The Stone Vanilla Bean Porter is almost a dessert all on it's own with rich notes of vanilla, chocolate and coffee, making it the perfect addition to this classic pie. The flavors are highlighted even further with a handful of dark chocolate chips and of course those tasty buttery pecans. Top off a slice with vanilla ice cream and wash it all down with another Stone Vanilla Bean Porter!   – Tattooed Martha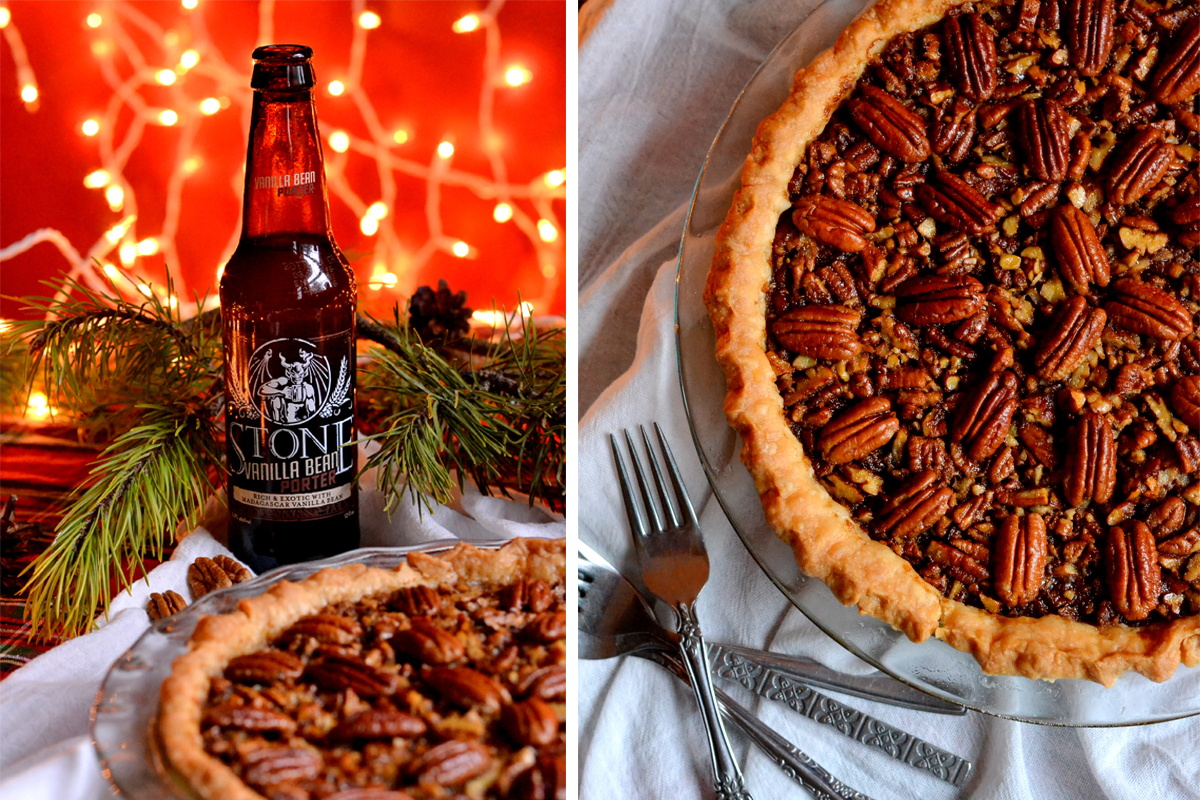 Ingredients - makes 1 pie
Pie Crust:
1 1/4 cups all-purpose flour
1 Tbs sugar
1/2 tsp salt
1/2 cup (1 stick) unsalted butter, chilled and cut into pieces
2 Tbs ice water
Filling:
1/4 cup (half a stick) unsalted butter
1/4 cup dark chocolate chips
3 large eggs
1 cup dark brown sugar
3 Tbs all-purpose flour
3/4 cup light corn syrup
1/3 cup Stone Vanilla Bean Porter
2 1/2 cups whole pecans, roughly chopped
INSTRUCTIONS
In a food processor combine flour, sugar and salt. Pulse a few times to mix. Add butter pieces and process for 10 to 15 seconds or until mixture resembles coarse crumbs. With the food processor running, slowly pour in ice water through the feed tube and process for 20 to 30 seconds. When you pinch the dough it should stick together. If it still seems too dry or crumbly, add more ice water – about 1 tablespoon at a time – until you get the right consistency.
On a clean floured surface, mold the dough into a ball. Flatten the ball into a round disk about 1/2 inch thick. Cover with plastic wrap and refrigerate for at least 1 hour. You can prepare the dough the night before to save time.
After the dough has chilled, roll it out to a 12 inch circle. Fold dough over a rolling pin and then unroll it into a 9 inch pie pan. Lightly press the dough into the edges of the pan. Use a sharp knife to cut off excess dough around outer edges. Flute the edges by lightly pinching the crust between your thumb and forefinger. Place in the refrigerator to chill while you prep the filling.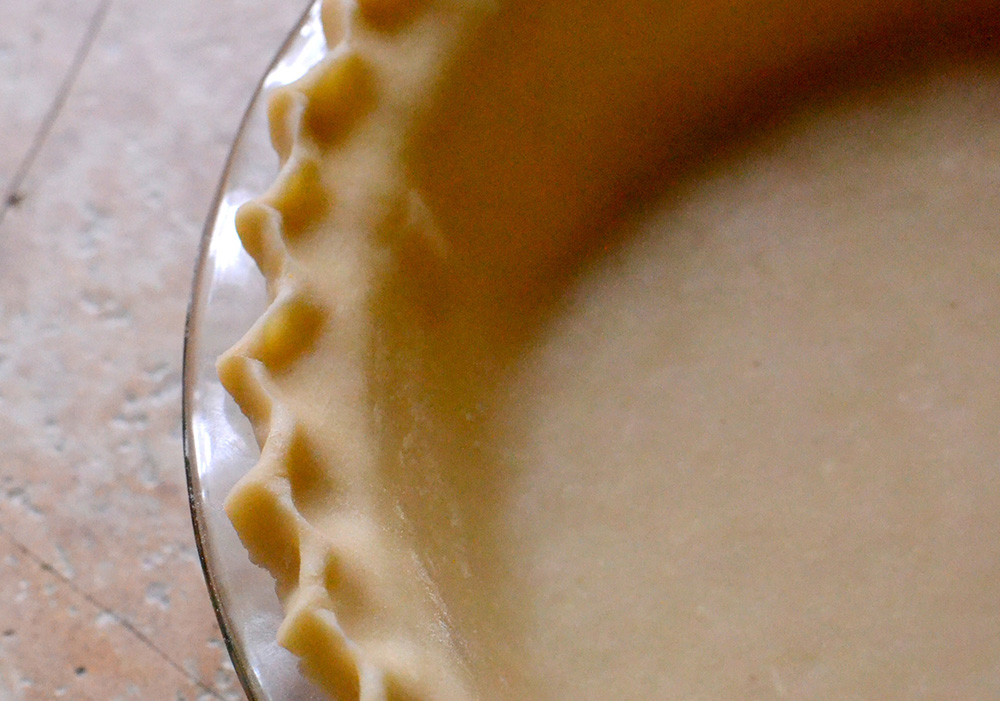 In a small saucepan over low to medium heat, combine butter and chocolate. Stir until completely melted and smooth. In a large bowl, whisk together eggs, brown sugar, flour, corn syrup and beer until combined. Whisk the butter and chocolate mixture into the bowl until well mixed. Stir in chopped pecans and then pour filling into prepared crust.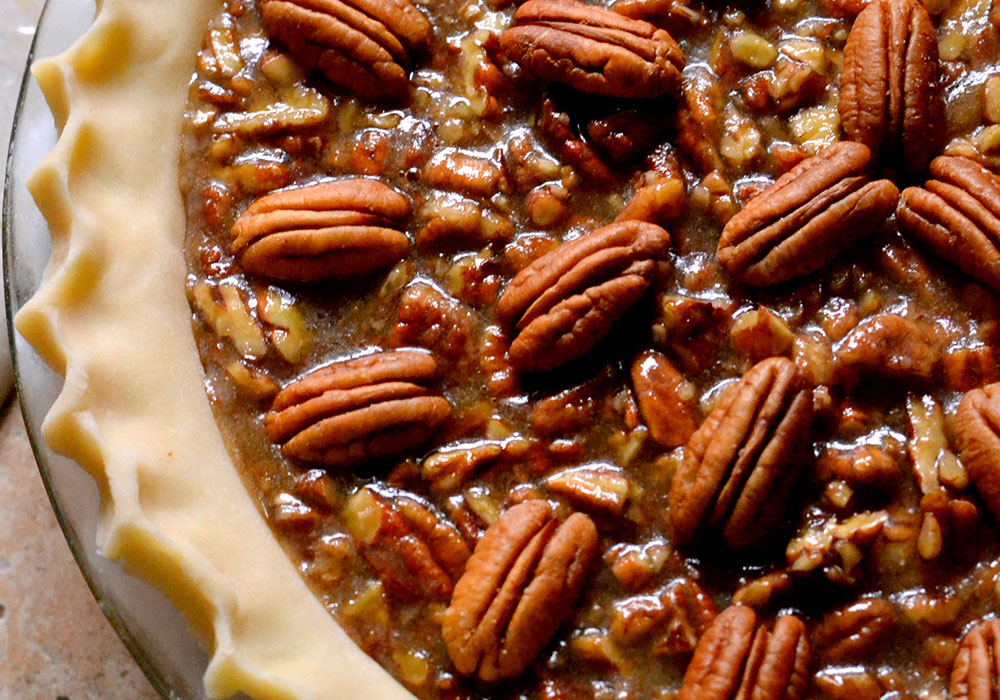 Bake at 350 degrees F for 50 to 55 minutes or until the crust is a light golden brown and pie is just barely set. Remove from the oven and place on a cooling rack for 1 to 1 1/2 hours to allow the filling to finish setting up. Slice it up and serve with a scoop of vanilla ice cream or whipped cream.
Enjoy!