Our annual celebration of nth-degree beer geekery is back for a fifth round!
This year, in celebration of the Drew Curtis / Wil Wheaton / Greg Koch Stone Farking Wheaton w00tstout quinquennial, we will have all 5 versions on tap for you to sample the full vertical! We are taking over the entire Stone Brewing World Bistro & Gardens - Liberty Station for the celebration and will be hosting a blast from the past with the best drafts, collaborations & creations from Hop-Cons of yesteryear! Not to mention three custom casks of this year's Drew Curtis / Wil Wheaton / Greg Koch Stone Farking Wheaton w00tstout!
YOUR $75 TICKET INCLUDES:
Fifteen 3oz beer samples - FIVE of which are w00tstout!
The opportunity to sample the full five-year vertical
A commemorative Hop-Con 5.0 glass
Gourmet food stations with unlimited tastings 
Unlimited plays at Mike's #HopCade
Photo Booth
Churros for dessert
Lots of geeky good times!
Designated driver tickets also available for $40. 
Hop-Con t-shirts are also available upon checkout with your ticket purchase online for just $20!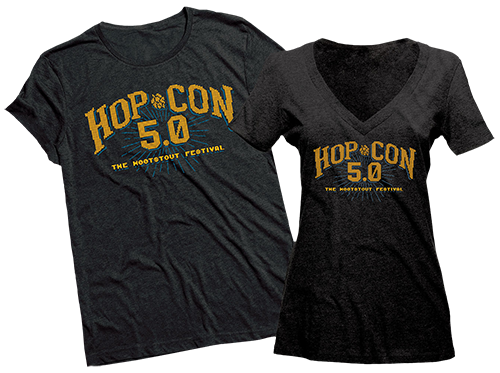 Specially fabricated beer barrel arcade games 
Our oversized lawn games (Jenga, Connect Four, etc)
Two-lane bocce court
More information is available at www.hopcade.com
Mediterranean Platter
Assorted Pickled Vegetables, Marinated Olives, Charcuterie, Peppers, Hummus & Grilled Pita
Vegetable Egg Rolls
Served w/Sweet Chili Hoisin
Warm Pretzel Bites
Served w/Stone Cali-Belgique IPA Mustard & Gruyere Fondue
Fried Brussels Sprouts & Assorted Sausages
Served w/Pedro Jimenez Glaze, Pancetta & Sauerkraut
House-Made Swedish Meatballs
Served w/Dijon Cream & Herbed Bread Crumbs
Classic Cheeseburger Sliders
Served w/Sharp Cheddar, House-Made Pickles & Dynamite Sauce
Arancini
Served w/Sun-Dried Tomatoes, Mozzarella & Basil Pesto
Sweet & Spicy Udon
Served w/Thai Eggplant, Marinated Tofu, Chilies, Toasted Peanuts & Mint
Menu subject to change.