THIS EVENT DATE HAS PASSED
"The Beer Jesus From America": Limited Advanced Sneak Preview Screening
November 4, 2018
---
4:00PM - 7:00PM
$10 Balcony Seats
$12 Mezzanine Seats
$15 Floor Seats
California Center for the Arts, Escondido
Berlin Comes To Escondido.
In honor of San Diego Beer Week, the very first public sneak preview advanced screening of the upcoming documentary film "The Beer Jesus From America" will be shown in a special event in the stunning main theater at the California Center for the Arts, Escondido.
The film follows the often tumultuous journey of an American craft brewery building a brewery in Germany. Join Stone Brewing co-founder Greg Koch and documentary filmmaker Matt Sweetwood for the showing as well as a Q&A session following the film.  
4pm - Doors open & Beer Tasting begins
5pm - Film begins
---
"This film is eye-opening, stress-inducing, inspiring, and ultimately quite moving."

-Pete Brown, British Beer Writer of the Year 2009, 2012 & 2016
---
Each ticket includes:
Three complimentary 3oz pours of rare Stone Berlin Groundbreaking Collaboration beers at the theater (21+)
$10 credit towards food & beverage at the Stone Brewing World Bistro & Gardens - Escondido, any time on Nov 4, 5 or 6. Reservations for November 4 are encouraged. Special German-inspired menu items will be available.
Mix & Mingle session at Stone Brewing World Bistro & Gardens – Escondido following the screening
Expensive, special and rare Stone Berlin Groundbreaking Collaboration beers available for complimentary 3oz pourS
Drew Curtis / Wil Wheaton / Greg Koch "Züper Magik w00tstout"
The Lost Abbey / Stone "Sticks N' Stones"
The Bruery / Stone "Fahrt Die Ziege"
Dogfish Head / Victory / Stone "Royale Imperial Saison du BUFF"
Brewdog / Stone "Super Bashah"
Bodebrown / Stone "Virando Brasiliero Con Madeira Vermelha" 
Additional Beer for purchase
Stone IPA
Stone Tropic of Thunder Lager
Stone White Geist Berliner Weisse (brewed in Berlin)
We're proud to be the first American craft brewery to build, own and operate our own brewery in Europe, and we're equally proud to have originated right here in San Diego County. This film stands as not just a glimpse into the trials, challenges, roadblocks…and occasional triumphs…but the story of following your heart and challenging convention.
SDSU Film School graduate filmmaker Matt Sweetwood is flying in specifically for the event and is thrilled to be able to share it with the people of San Diego.
Supported by German Currents KINO & Film Festival San Diego
Image

Image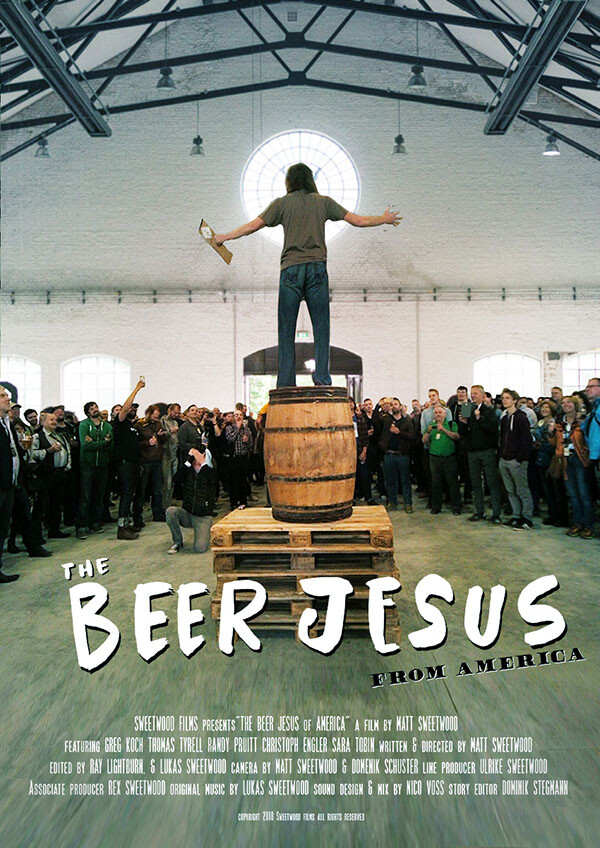 After stumbling onto what seems to be just a construction site in a nondescript Berlin suburb, beer-lover and American expat filmmaker Matt Sweetwood discovers an unexpected story about a not-so-typical entrepreneur. Nicknamed "Der Bier Jesus aus Amerika" by a German tabloid newspaper - Greg Koch, co-founder of Stone Brewing - has a dream to bring quality craft beer to Europe and become the ​first US brewer to build, own, and operate a craft brewery in Germany​.   The film follows Greg on his journey of building a brewery from scratch and making his American beers on European soil as he comes up against challenge after challenge - from struggling with German bureaucracy and cultural differences to dealing with huge construction problems and delays. This is a story not just about the birth of a brewery and the fight against mass market beer, it's about an inspiring character who understands the importance of sticking to your dreams, no matter how crazy they might seem.