THIS EVENT DATE HAS PASSED
Stone 21st Anniversary Celebration Friday Night Brewers Reception
August 18, 2017
---
6:00PM - 9:00PM
$85 - General Admission
$35 - Designated Driver
California State University San Marcos
Online ticket sales have ended, but tickets will be available at the door!
Join us for the Friday night brewers Reception, the kickoff to The Stone 21st Anniversary Celebration & Invitational Beer Festival!
This exclusive event offers you dozens of amazing beers and delicious complimentary food in a truly festive atmosphere!
Friday Night Brewers Reception Tickets Include:
A relaxing evening of craft beer, delicious fares and other beer loving fans.
40+ craft beers on tap
Beer samples with no tabs or tokens
Complimentary gourmet fare by Stone Brewing World Bistro & Gardens
Commemorative 21st Anniversary tasting glass
Live music
Cigar Lounge featuring Golden State Cigars (cigars available for purchase)
21st Amendment Brewery 21A Hop Rocks IPA
Abnormal Beer Co Makaveli
AleSmith Brewing Company Mount Crushmore
Arrogant Brewing - 2008 Double Bastard Ale
Arrogant Brewing - Who You Callin' WUSSIE
Arrogant Brewing - 2011 Double Bastard Ale
Avery Brewing Co. Nuttiest Professor
Bay City Brewing Company Grapefruit Radler
Beachwood Brewing Citraholic
Bear Republic Brewing Company Pace Car Racer
Beavertown / Garage Project / Stone Fruitallica
Burgeon Beer Company Thuja IPA
Devil's Canyon Brewing Company Rum Barrel Aged Coconut Porter
El Segundo Brewing Citra Pale
Eppig Brewing Glitz and Glam *
Fall Brewing Company Nucular Strategery
Firestone Walker Brewing Co. Generation 1
Fremont Brewing Rusty Nail
Knotty Brewing Company Knotty Tom Tom *
Little Miss Brewing Hoperation Overlord *
The Lost Abbey Framboise de Amorosa
Magnolia Brewing Company Smokestack Lightning
Maui Brewing Co Blood Orange Lorenzini
Mikkeller Brewing San Diego Flops on Deck
Monkey Paw Brewing Back In The ESSA
Mother Earth Brew Co. Call Me Ginger
New Realm Brewing Co. New Realm/Refuge Sweet Baby Jesus Triple IPA *
Noble Ale Works Cinnamon Roast Crunch - Nitro Naughty Sauce with Saigon Cinnamon
Oceanside Brewing Company Hat Trick *
Pariah Brewing Company Clearly Juice DIPA *
Phantom Carriage Brewery Nachtmerrie
Pizza Port Brewing Co. Pickleweed Point IPA
Refuge Brewery Cloud 7 IPA
Rip Current Brewing Lupulin Lust
Rouleur Brewing Company DOPEUR Juicy/Hazy IPA *
San Diego Brewing Co. Unsupervised IPK
Second Chance Beer Company Seize the Coffee
Sierra Nevada Brewing Co. EZO IPA
Societe Brewing Company The Harlot
St. Mayhem Surprise Collaboration
Stone 21st Anniversary Hail to the Hop Thief Double IPA
Stone IPA
Stone Tangerine Express IPA
Stone Ripper
Stone Ghost Hammer IPA
Stone Mocha IPA
Stone Enjoy By 09.05.17 Unfiltered IPA
Drew Curtis / Wil Wheaton / Greg Koch Stone Farking Wheaton w00tstout (2017)
Stone Barrel-Aged Brown Ale w/Balaton Sour Cherries
Stone Barrel-Aged Saison w/Blackberry
Stone Xocoveza
2011 Stone Old Guardian Barley Wine
Stone Cali-Belgique IPA aged in Reposado Tequila Barrels
2008 Stone Old Guardian Barley Wine
Stone Barrel-Aged Imperial Saison w/Peach
20th Anniversary Encore Series: Stone 6th Anniversary Porter
2011 Stone Imperial Russian Stout
2010 Stone Imperial Russian Stout
20th Anniversary Encore Series: Stone 12th Anniversary Bitter Chocolate Oatmeal Stout
The Bruery Geburtstagskranz
Thr3e Punk Ales Brewing Co. Morning After Pils *
Three Weavers Brewing Company Ripple Saison
Wandering Aengus Oaked Dry
* indicates new up & coming brewery.
Beer list subject to change.
Vietnamese Vegetarian Spring Roll
Classic Vietnamese spring roll w/crisp seasonal vegetables such as crunchy carrots, fresh cucumber & aromatic Thai basil
Bistro Salad 
Locally grown organic baby salad mix tossed w/cucumbers, carrots, cherry tomatoes, sunflower seeds, dried cherries, Cypress Grove Purple Haze cheese & hop vinaigrette
South American Tiger Shrimp Ceviche

Tiger shrimp marinated in fresh lemon & lime juice mixed w/red onion, cilantro & ají Amarillo. Served w/chili-dusted tortilla chips

Duck Al Pastor Tacos
Served on warm Esperanza's corn tortillas, pineapple, onions, cilantro & lime 
BBQ Pork Ribs
Hop Rubbed Salmon Creek Farms Pork Spare Ribs
w/Bourbon Barrel-Aged Arrogant Bastard BBQ Sauce
Chicken/Tofu Skewer

Brined Chicken Grilled  & served w/Sticky Garlic Glaze
San Diego Soy Dairy Tofu  Grilled & served w/Sticky Garlic Glaze

Stone Signature Mac 'n Cheese
Creamy Stone Ripper Pale Ale beer cheese sauce made w/Gouda, Swiss & garlic. Crispy pancetta or broccoli topped w/Parmesan bread crumbs
Real Beer / Root Beer Float
Stone Tangerine Express IPA or Root Beer served over San Diego's own Niederfranks French Vanilla Ice Cream
Housemade Lemonade & Iced Tea
Menu subject to change.
Image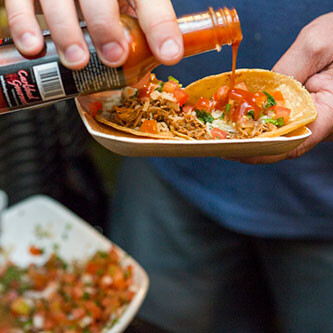 Carlsbad Gourmet
Cypress Grove Cheeses
Ryan Bros Coffee
So Rich! Chocolates

100% of proceeds go directly to local charities
Shuttle from public transportation locations on site
Free parking
The Surfrider Foundation
Boys & Girls Club of San Marcos
YMCA of San Diego County
Fight ALD!
CSUSM Foundation