THIS EVENT DATE HAS PASSED
Stone Liberty Station Haze Grey & Underway IPA Special Tapping
November 12, 2018
---
2:00PM - 7:00PM
This Veterans Day (observed), November 12, join us at Stone Brewing World Bistro & Gardens – Liberty Station for a special event in honor of our nation's veterans.
From 2pm to 7pm, DAV (Disabled American Veterans) will be onsite in our courtyard with a Mobile Service Office, available to assist any veterans who stop in with VA claims, program information and more.
At 4pm, we'll also be tapping a fresh batch of Stone Liberty Station Haze Gray & Underway IPA, a hazy IPA with orange peel & Earl Grey tea, brewed in partnership with DAV. We first brewed this beer in honor of Veterans Day 2017 and it immediately became a favorite of fans and Team Stone alike. This year, not only are we bringing it back, we had the privilege of hosting a few veterans in the brewery to partake in the brew day!
Liberty Station was originally dedicated as a Naval training facility. We consider it a huge honor to have called this place home since 2013 and take great pride in sharing the San Diego community with so many veterans and active duty members of the military. We hope you'll join us on November 12 to enjoy some tasty beer and learn more about DAV and all they do to assist veterans in need.
Stone Liberty Station Haze Grey & Underway
Style: Hazy IPA w/Orange Peel & Earl Grey Tea from Point Loma Tea
Hops: Lemon Drop, Magnum, Citra & Loral
ABV: 9%
At 4pm, our brewer Kris Ketcham will be tapping a fresh batch of the Stone Liberty Station Haze Grey & Underway IPA. Stop in to share a pint and chat with him about all things beer!
Image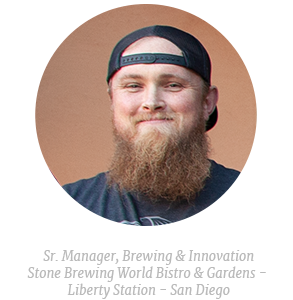 ​​​​​​DAV is a nonprofit charity that provides a lifetime of support for veterans of all generations and their families, helping more than 1 million veterans in positive, life-changing ways each year. The organization provides nearly 615,000 rides for veterans attending medical appointments and assists veterans with more than 250,000 benefit claims annually. In 2017, DAV helped attain more than $4 billion in new and retroactive benefits to care for veterans, their families and survivors.
DAV is also a leader in connecting veterans with meaningful employment, hosting job fairs and providing resources to ensure they have the opportunity to participate in the American Dream their sacrifices have made possible.
With almost 1,300 chapters and more than 1 million members across the country, DAV empowers our nation's heroes and their families by helping to provide the resources they need and ensuring our nation keeps the promises made to them.