Stone Neverending Haze IPA Weekend
September 30, 2023
---
5:08AM - 5:08AM
We're hugely grateful for the awesome response we've gotten from Stone Neverending Haze IPA. Huge hoppy flavor at just 4% ABV.
And if you're as a big a fan of neverending good times as much as we are, the MISTery Machine is stopping by a few Stone locations in the coming days! Stop in get your selfie on while you sip.

Friday, JanUary 17 ⁠
 Stone Brewing Tap Room - J Street 1:30pm-2pm⁠

 Stone Brewing Tap Room - Kettner 3pm-4:30pm⁠

 Stone Brewing Tap Room - Oceanside 7pm-9pm⁠
⁠
Wednesday. January 22
Stone Brewing World Bistro & Gardens - Liberty Station 5pm - 8pm⁠
There's a lot 'neverending' about IPAs around Stone. Beginning with Stone IPA being one of the very first and most popular West Coast style IPAs on the planet, to our celebrated explorations of double IPAs, session IPAs, fruited IPAs and ultra-fresh triple IPAs, they're an integral part of our legacy. Plus there's the oft-said (but not actually true) comments from some that "All Stone does is IPAs." It's true that we love them passionately and are perpetually on a quest for IPA nirvana, but this particular one happened onto the scene to aid in your noble pursuit of neverending good times.

At 4% ABV, Stone Neverending Haze IPA is a low-impact, yet full-bodied and intensely flavorful IPA. Citra and Mosaic coupled with a newly available, innovative yeast strain provide intense citrus, tropical fruit and berry notes, while flaked oats add a smooth mouthfeel and increase the haze factor. Stone may have made a massive number of IPAs over the years, but our love for the nuances and evolution of this style is limitless.
Image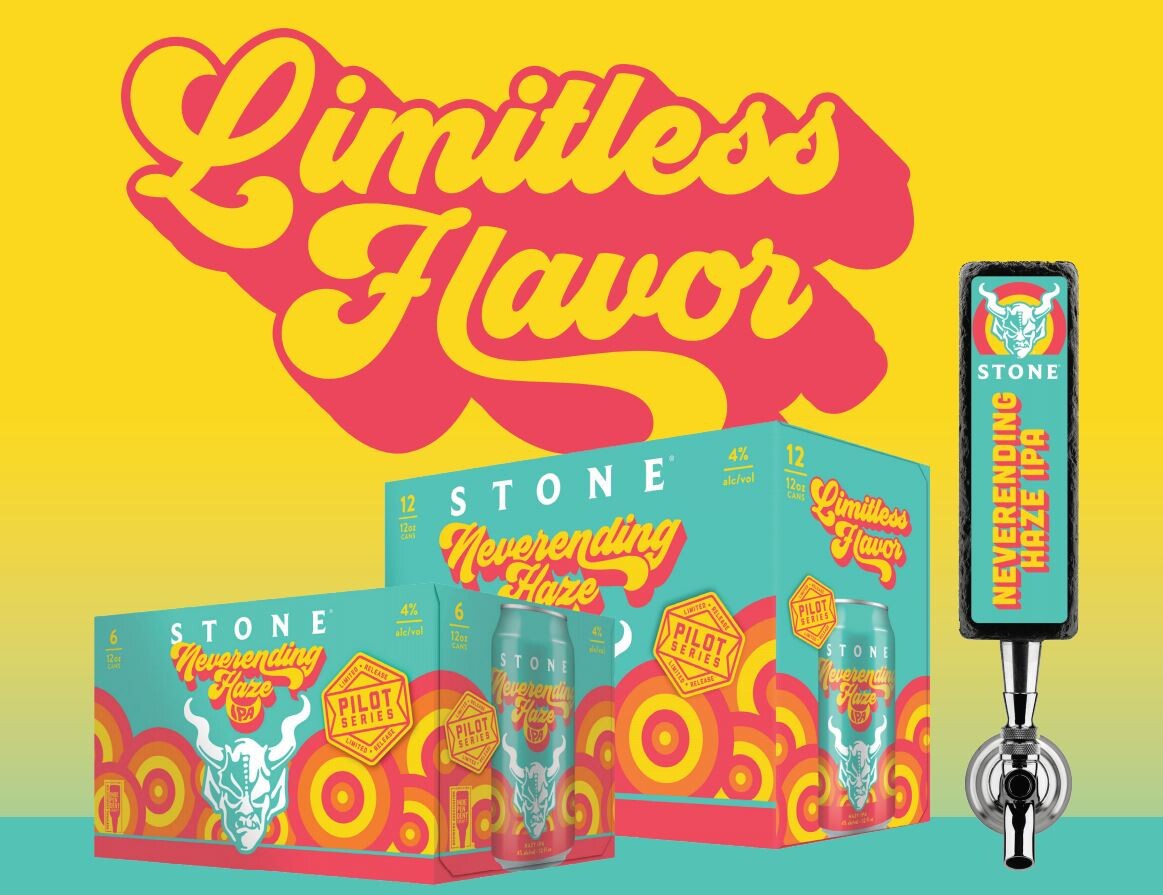 Available on draft and in 12oz six-packs. 
Appearance: Golden orange, visibly hazy with a nice, tight white foam head.
Aroma: Dank, orange peel, floral, makrut lime leaf, white pepper, blueberry, and juniper.
Taste:  Intense orange and lime up front, followed by oats, lemon, pineapple, star fruit, and strawberry preserves.
Palate: Medium body with palate thickness, tangy tartness, and palate clearing and refreshing on the finish.
Overall: This is a unique IPA! There is a lot of flavor intensity throughout this beer… especially for a 4% ABV IPA. Stone Brewing is known for big beers with ample alcohol but we have also made beers just as flavorful at lower ABV, and this beer is a shining example. Steve Gonzalez, Senior Manager of Brewing and Innovation, has been experimenting over the last few years with some different yeast strains, especially a centuries old, but just recently more available Norwegian strain called Voss Kveik Ale yeast. This warm-fermented yeast produces intense orange-citrus notes which works perfectly with the intense fruit aroma and flavors of Mosaic and Citra hops. We are excited to have this as the first beer in our 2020 Pilot Series—a great way to kick off another great Beer Year!
Starters: Truffled Cheese Hassleback Potato*, Chinese Sticky Ribs *, Lettuce Wraps with Ground Pork, Jardinière
Soups and Salads: Fruity Goat*, Green Papaya Salad, German Potato Soup, White Bean Soup
Main Courses: Stone Brewing Medianoche*, Green Chile Chicken Tamales, Shaking Beef (Bo Luc Lac), Misir Wat (Ethiopian Spiced Red Lentils).
Desserts: Strawberry Short Cake, Jalapeno Lime Cheesecake, Churro, Ice Cream Roll with Basil, Mint, and Lemon
Digestif:
…another Stone Neverending Haze IPA…it's only 4% ABV!
*Menu items available at Stone Brewing World Bistro & Gardens – Escondido and Stone Brewing World Bistro & Gardens – Liberty Station