THIS EVENT DATE HAS PASSED
Stone Ultimate Beer & Cigar Dinner featuring Maui Brewing Co.
July 18, 2018
---
6:00PM - 9:00PM
Our illustrious president, Steve Wagner, is quite fond of a fine cigar with his beer. And since he's the boss, he can buck the no-smoking rule at our restaurant.
Join Steve and Maui Brewing Co. founder and owner Garrett Marrero for an opulent evening on our garden deck to enjoy a mind-blowing feast of scrumptious food paired with amazing craft beer and superb, hand-rolled cigars.
Beer pairings by Global Beer Curator Padraic Lenehan | Menu by Executive Chef Tausha Lopez
Image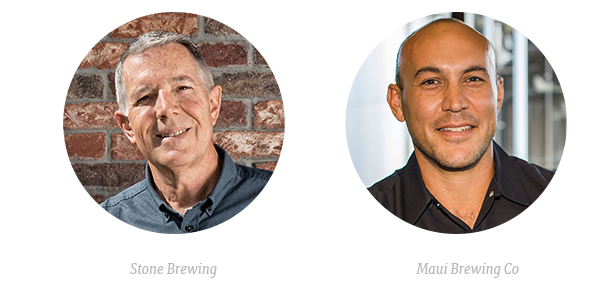 Davidoff Winston Churchill Petit Corona
Flor de las Antilles Robusto
Illusione MJ 12
Kalua Pork "Nachos"
Kalua pork served w/cheddar fondue, pickled habaneros, charred mango salsa & taro chips
Paired w/Maui Belgian Table Beer & Stone Koteka Rise and Grind
Coconut Quesadillas
Queso fresco served w/coconut infused Oaxaca cheese, coconut bacon, chipotle salsa & green papaya slaw
Paired w/Maui Big Swell IPA & Stone Scorpion Bowl IPA
Sweet Potato Cakes
Sweet potato, green onion, goat cheese, crispy prosciutto, pecans & maple jalapeno sauce
Paired w/Maui Pau Hana Pils & Stone Liberty Station Cimmerian Portal
Braised Short Ribs
Short ribs served w/blackberry wine, Morita Chiles over fried rice w/cilantro & lime
Paired w/ Maui / Stone "Aloha! Berlin"
Ahi Tuna Tostada
Ahi tuna served on a corn tortilla tostadas w/Napa cabbage, charred pineapple, carrots, crushed peanut & topped w/black & white sesame seeds & sesame vinaigrette
Paired w/Maui Double Overhead IPA & Stone Vengeful Spirit IPA
Passion Fruit Tart
Passion fruit curd, pineapple soft serve w/toasted macadamia nut tart shell
Paired w/Maui Boom Shaka Laka Gose & Stone Notorious P.O.G. Berliner Weisse