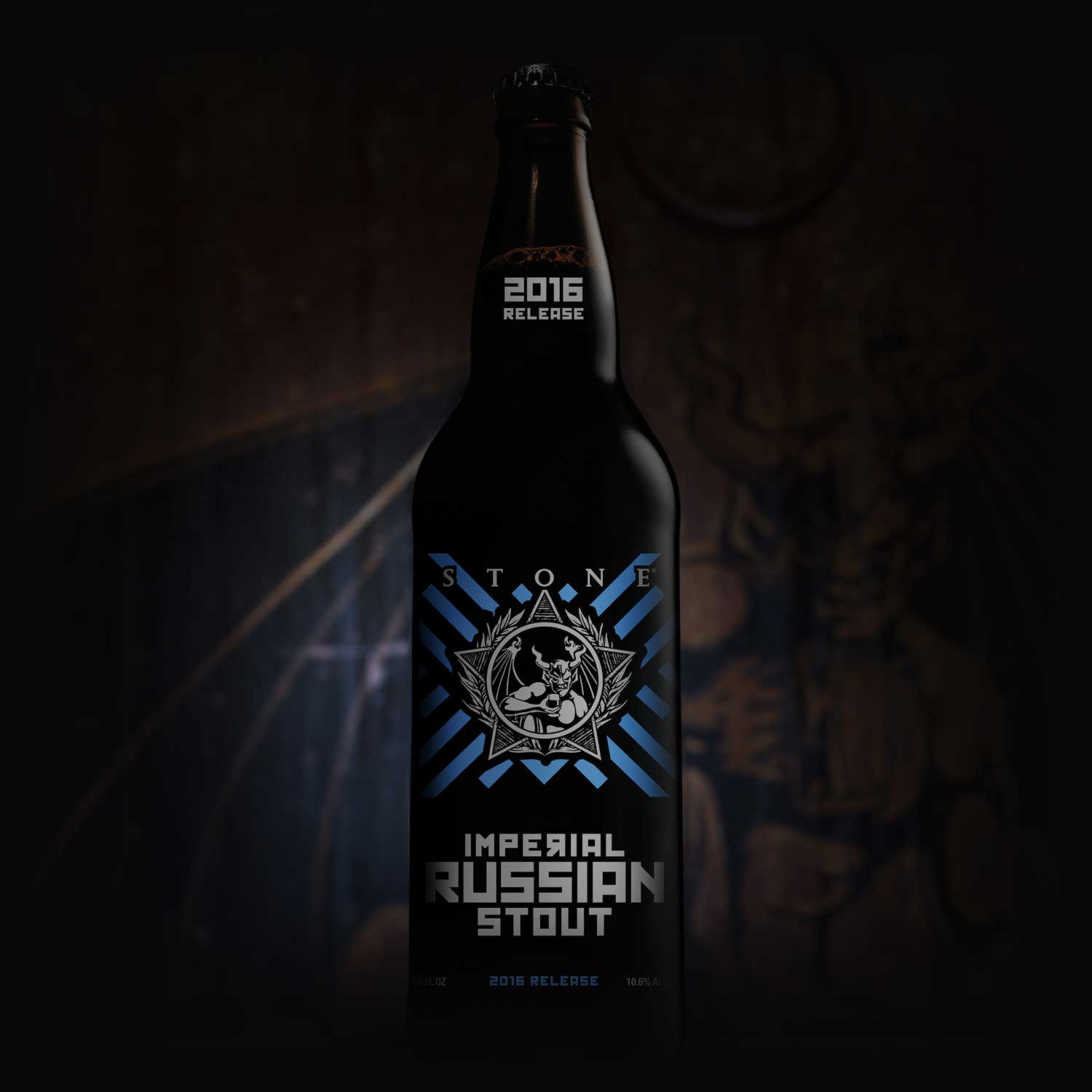 Stone Imperial Russian Stout
As Decadent as Sin
Stone Imperial Russian Stout is so thick, rich and, well, sinful, you might worry that you'll be doomed to the fiery pits just for thinking about a sip. Rest assured, however, that even though this seemingly pernicious brew is indeed as black as sin, we guarantee that no actual sin was committed in making it...you'll have to add that on your own. This massive and intensely aromatic beer abounds with notes of chocolate, coffee, black currants, anise and roastiness, and its heavy palate is nothing to be trifled with.
TASTING & PAIRING NOTES
Beer pours dark brown with a deep tan head.
Cocoa and coffee aromas dominate, along with bourbon-like oak notes, fruity fermentation esters and some yeasty breadiness.
Bittersweet cocoa and coffee flavors are the most prevalent, plus fruitiness and hints of anise and yeastiness, which are followed by a smooth, balanced, slightly astringent, bitter finish. As it warms and opens up, the beer becomes smoother and the roasted flavors strengthen.
This beer is extremely full-bodied and smooth, with a hint of alcohol heat.
We haven't changed this recipe much from the original version that Stone President & co-founder Steve Wagner created in 2000. It's a fantastic beer, and we love brewing it every year!
Caramel-dipped bacon, blue cheese-stuffed dates, oysters on the half shell, roasted pecans or walnuts
French onion, Hungarian goulash, beef stew, cream of mushroom
Beef steaks with rich cream-based sauces, goose or duck with cherry sauce, coffee-rubbed lamb chops, grilled, blue cheese-stuffed portobello mushrooms, vegetarian vindaloo curry
Point Reyes Bay Blue, Rogue River Blue, Roquefort, Gorgonzola Dolce, Stilton
Chocolate lava cake, tiramisu, brownies, caramel cheesecake
Padrón Anniversary Series, La Reloba Selección Sumatra Torpedo, Illusione CG:4 Maduro
Stone Imperial Russian Stout
NATIONAL DISTRIBUTION
Alabama
Alaska
Arizona
Arkansas
California
Colorado
Connecticut
Delaware
Florida
Georgia
Hawaii
Idaho
Illinois
Indiana
Iowa
Kansas
Kentucky
Louisiana
Maine
Maryland
Massachusetts
Michigan
Minnesota
Mississippi
Missouri
Montana
Nebraska
Nevada
New Hampshire
New Jersey
New Mexico
New York
North Carolina
North Dakota
Ohio
Oklahoma
Oregon
Pennsylvania
Rhode Island
South Carolina
South Dakota
Tennessee
Texas
Utah
Vermont
Virginia
Washington
West Virginia
Wisconsin
Wyoming
District of Columbia
Puerto Rico
AL
AK
AZ
AR
CA
CO
CT
DE
FL
GA
HI
ID
IL
IN
IA
KS
KY
LA
ME
MD
MA
MI
MN
MS
MO
MT
NE
NV
NH
NJ
NM
NY
NC
ND
OH
OK
OR
PA
RI
SC
SD
TN
TX
UT
VT
VA
WA
WV
WI
WY
DC
PR