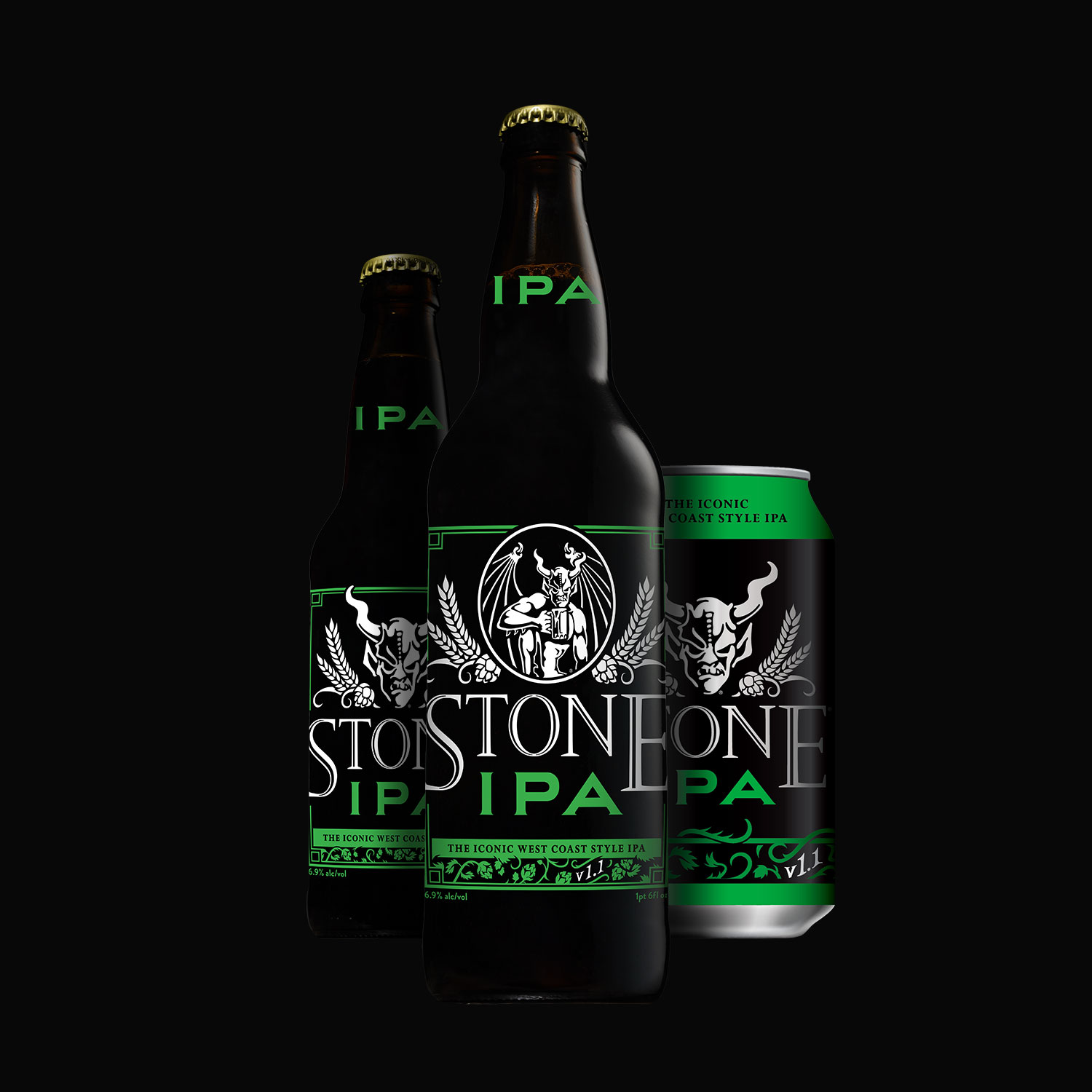 Stone IPA
The IPA That Launched Generations of Hop Fanatics
By definition, an India pale ale is hoppier and higher in alcohol than its little brother, pale ale—and we deliver in spades. Now one of the most well-respected and best-selling IPAs in the country, this golden beauty explodes with citrusy, piney hop flavors and aromas, all perfectly balanced by a subtle malt character. This crisp, extra hoppy brew is hugely refreshing on a hot day, but will always deliver no matter when you choose to drink it.
12oz Six-Packs, 22oz Bottles & Draft
Magnum
Chinook & Centennial
FIND IT IN YOUR AREA
Stone IPA
TASTING & PAIRING NOTES
Pours clear golden with a white head.
Intense lemon rind, fruity cereal and piney hop flavors.
Intense citrus hop flavors with a light malt balance.
Medium body with no perceivable sweetness and a clean lingering bitterness.
Our best-selling beer and one of the all-time favorites for Team Stone!
Kimchi, stuffed poblano peppers, shishito peppers, ceviche
Chicken curry, lengua tacos, spicy Thai, salmon, jambalaya
Maytag Blue, Danish Blue, Asiago, Pecorino, Carr Valley Aged Cheddar
Illusione 88 Candela, Macanudo Hampton Court, Dunhill Aged Altamiras
Stone IPA
NATIONAL DISTRIBUTION
Alabama
Alaska
Arizona
Arkansas
California
Colorado
Connecticut
Delaware
Florida
Georgia
Hawaii
Idaho
Illinois
Indiana
Iowa
Kansas
Kentucky
Louisiana
Maine
Maryland
Massachusetts
Michigan
Minnesota
Mississippi
Missouri
Montana
Nebraska
Nevada
New Hampshire
New Jersey
New Mexico
New York
North Carolina
North Dakota
Ohio
Oklahoma
Oregon
Pennsylvania
Rhode Island
South Carolina
South Dakota
Tennessee
Texas
Utah
Vermont
Virginia
Washington
West Virginia
Wisconsin
Wyoming
District of Columbia
AL
AK
AZ
AR
CA
CO
CT
DE
FL
GA
HI
ID
IL
IN
IA
KS
KY
LA
ME
MD
MA
MI
MN
MS
MO
MT
NE
NV
NH
NJ
NM
NY
NC
ND
OH
OK
OR
PA
RI
SC
SD
TN
TX
UT
VT
VA
WA
WV
WI
WY
DC