Founded by Greg Koch and Steve Wagner in 1996, San Diego-based Stone Brewing is the 10th largest craft brewer in the United States. Stone has been listed on the Inc. 500 | 5000 Fastest Growing Private Companies list 11 times, and has been called the "All-time Top Brewery on Planet Earth" by BeerAdvocate magazine twice. The multifaceted company will be the first American craft brewer to independently build, own and operate a brewery in Europe, and is also building a production brewery and destination restaurant in Richmond, Virginia. Brewing at both locations will be underway in summer 2016. Known for its bold, flavorful and largely hop-centric beers, Stone has earned a reputation for brewing outstanding, unique beers while maintaining an unwavering commitment to sustainability, business ethics, philanthropy and the art of brewing. 
Stone Brewing began as the collaboration of beer lover/homebrewer Steve Wagner (Stone's President and original Brewmaster) and beer geek/rock 'n' roll entrepreneur Greg Koch (Stone's Executive Chairman).
Steve and Greg were originally introduced by a mutual friend in Los Angeles in 1989 when they were both working in the music business (Steve's band just so happened to rent a room in Greg's newly opened rehearsal studios). That encounter was short lived, and they didn't run into each other again until a few years later when beer enthusiasm-driven fate led them both to a weekend class at UC Davis titled "A Sensory Evaluation of Beer." That morning in the class, Greg kept glancing over at Steve, thinking, "Where do I know that guy from?" Steve walked over during the break and said, "Aren't you Greg?" After the class, and over a beer, of course, Steve and Greg discovered that they shared absurdly good taste in beer, coupled with a fiery obsession for being a part of the craft beer revolution.
Over the next three years, Steve and Greg got together regularly and kept talking about beer and brewing. As discussions bemoaning the tyrannical oppression of the American beer drinker at the hands of fizzy yellow beer makers (Greg) and lauding the efforts of America's rising craft brewers (Steve & Greg) during this time, the only possible conclusion became clear: They had to open their own brewery.
With Steve's knowledge of brewing and Greg's past successes in business, these two beer fanatics managed to cobble together the funds needed (with no small help from Greg's father, Terry Koch) for some shiny new stainless steel brewing vessels. After a nine-month search, the newly formed team found the perfect location in San Marcos for Stone Brewing and moved in on February 1, 1996. On July 26, the ribbon was cut and the first beer was tapped in the brewery's tasting room and at their first account, Pizza Port Solana Beach. Believe it or not, when a reporter and TV camera showed up to cover the fledgling brewery's first anniversary, Greg was so nervous that he completely flubbed the interview, and it was never aired.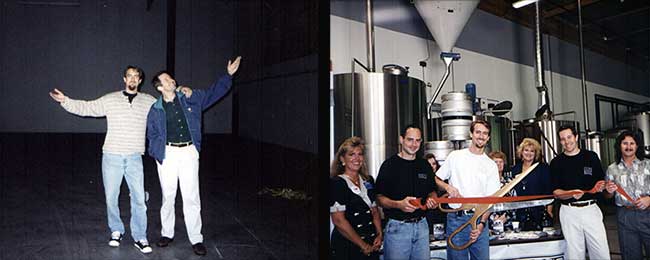 Greg and Steve knew they had to go the DIY route and self-distribute their beer, as none of the beer distributors in SoCal were interested in carrying the unknown brand. This of course eventually led to what we now know as Stone Distributing Co., which today distributes the beer of over 35 craft breweries from the U.S. and abroad.
With bold craft beer and a tremendous amount of elbow grease on the part of Team Stone, the company eventually outgrew its original location, prompting the construction of a 57,000-square-foot brewery, where the company started brewing in December 2005. Located in the neighboring city of Escondido, the new facility also included administrative space. The Stone Company Store, featuring merchandise in tandem with beer on tap and in bottles, was added. In November 2006, came the opening of Stone Brewing World Bistro & Gardens, an eclectic farm-to-table restaurant equipped with sprawling gardens that became the site of Stone's extensive roster of top-tier specialty beer festivals, including Stone Oakquinox, Stone Sour Fest and Stone Pour It Black.
While the company's growth was as steady as it was significant, one thing that remained the same was Stone's core values and drive to push the craft beer envelope. Both are key factors in further expansion projects that have come to fruition over the several years since the move to Escondido.
In 2012, Stone expanded its brewing capabilities, adding a second brewhouse of identical capacity and more space for fermentation tanks. This expansion resulted in the need to move packaging operations, prompting the 2013 construction next door of the Stone Packaging Hall, which is directly south of the brewery. The company also established an additional building for the Stone Distribution Center, from which Stone Distributing operates.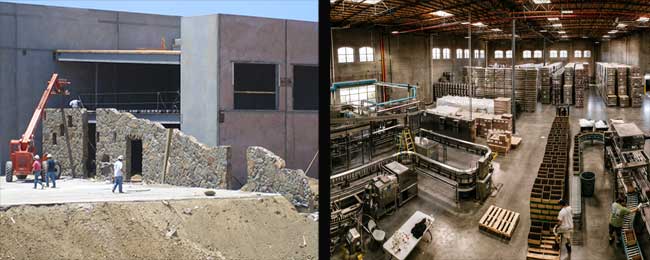 The success of the original Stone Company Store has led to four other similar retail outlets being opened in the Southern California communities of downtown San Diego, Oceanside, Pasadena and Liberty Station. The latter is situated within San Diego's largest restaurant, Stone Brewing World Bistro & Gardens - Liberty Station, which opened in May 2013.
In August of that same year, the company landed at San Diego International Airport, opening a scaled-down version of Stone Brewing World Bistro & Gardens that serves draft and bottled beers and popular dishes from the Escondido and Liberty Station menus. All three bistro facilities use locally-sourced, organic produce.