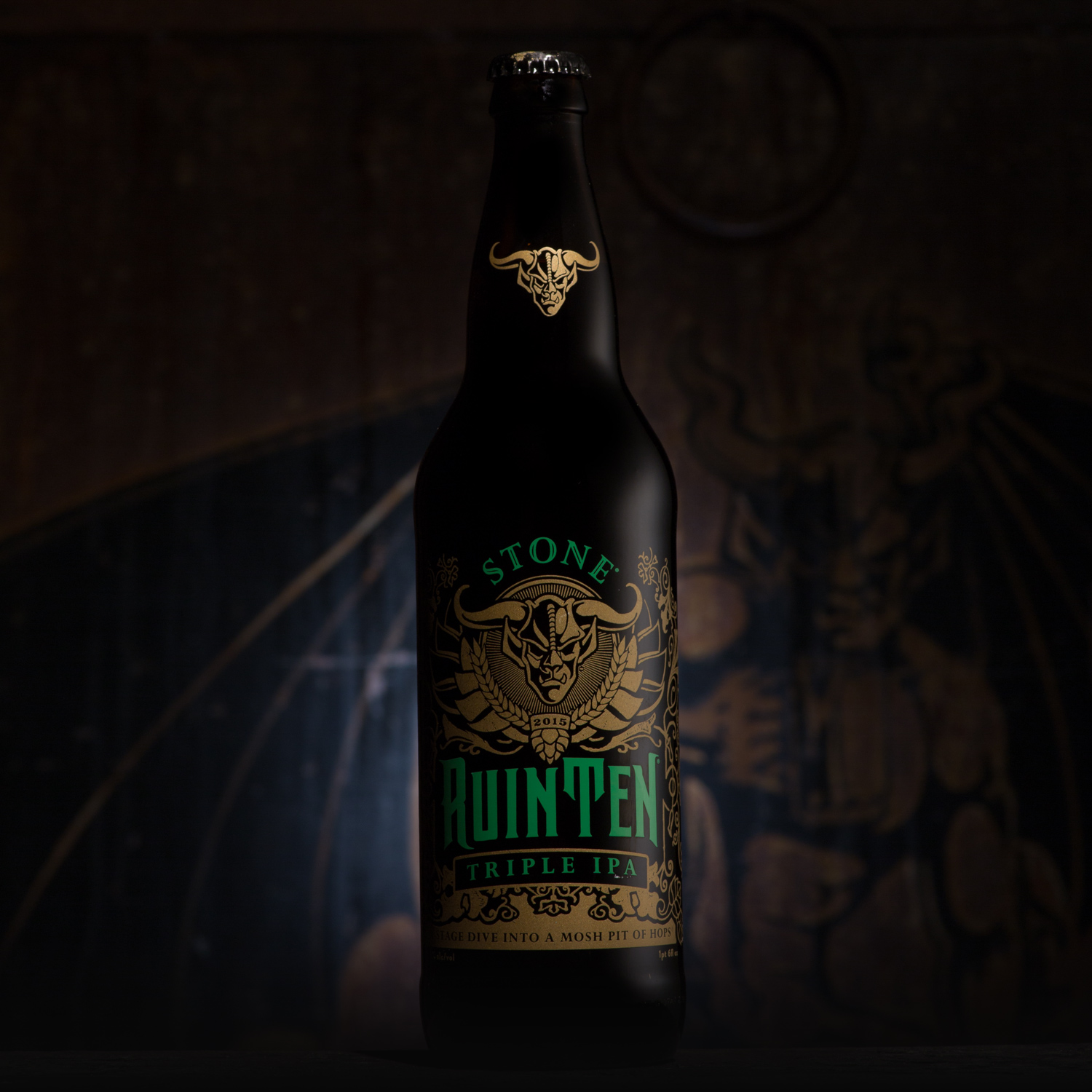 Stone RuinTen Triple IPA
A stage dive into a mosh pit of hops
We first released this decidedly indelicate beer in 2012 as Stone Ruination Tenth Anniversary IPA to celebrate the 10th anniversary of our beloved bitter Stone Ruination IPA. Stone RuinTen Triple IPA uses the same recklessly hoppy recipe as the 2012 release; only the name has been changed to include "Triple," which helps describe the over-the-top hop profile and elevated alcohol by volume. We packed a whopping five pounds of hops into each barrel, and cranked up the ABV to stand up to the hop onslaught. The results are glorious, and we know you'll rejoice in tasting this audacious gem of hoppy splendor. You're welcome. Again.
Columbus
Centennial & Citra
TASTING & PAIRING NOTES
Deep gold with an off-white, fluffy head.
Intense, dank and fruity hop notes. Lemon oil infused with nectarine, pineapple and tropical fruit, with hints of mint and spice.
An abundance of tropical hop flavors up front and carrying throughout the palate. A pleasant maltiness balances the hops midpalate. Finishes with a long, lingering, clean bitterness.
Full-bodied but dry, with an alcohol fullness and sweetness. Very bitter!
This was one of the team's favorite IPAs, so we were thrilled to have the opportunity to brew it again. The combination of Citra and Centennial in the dry hop is magical. Please drink this beer FRESH to get the full impact of the hopping!
Chips and salsa, kimchi, ceviche, bacon-wrapped jalapeños (or habaneros)
Salt and pepper shrimp, jambalaya, roasted pork chops with apple sauce, fish tacos, seitan fajitas
Fiscalini Bandage Wrapped Cheddar, Mimolette, Pecorino Romano, Maytag Blue
Carrot cake, apple pie with caramel sauce, spice cake, blueberry jalapeño blue cheese cheesecake
Ashton Classic Majesty, Litto Gomez Diez, Don Pepín García Blue Label Invictos Corojo Robusto