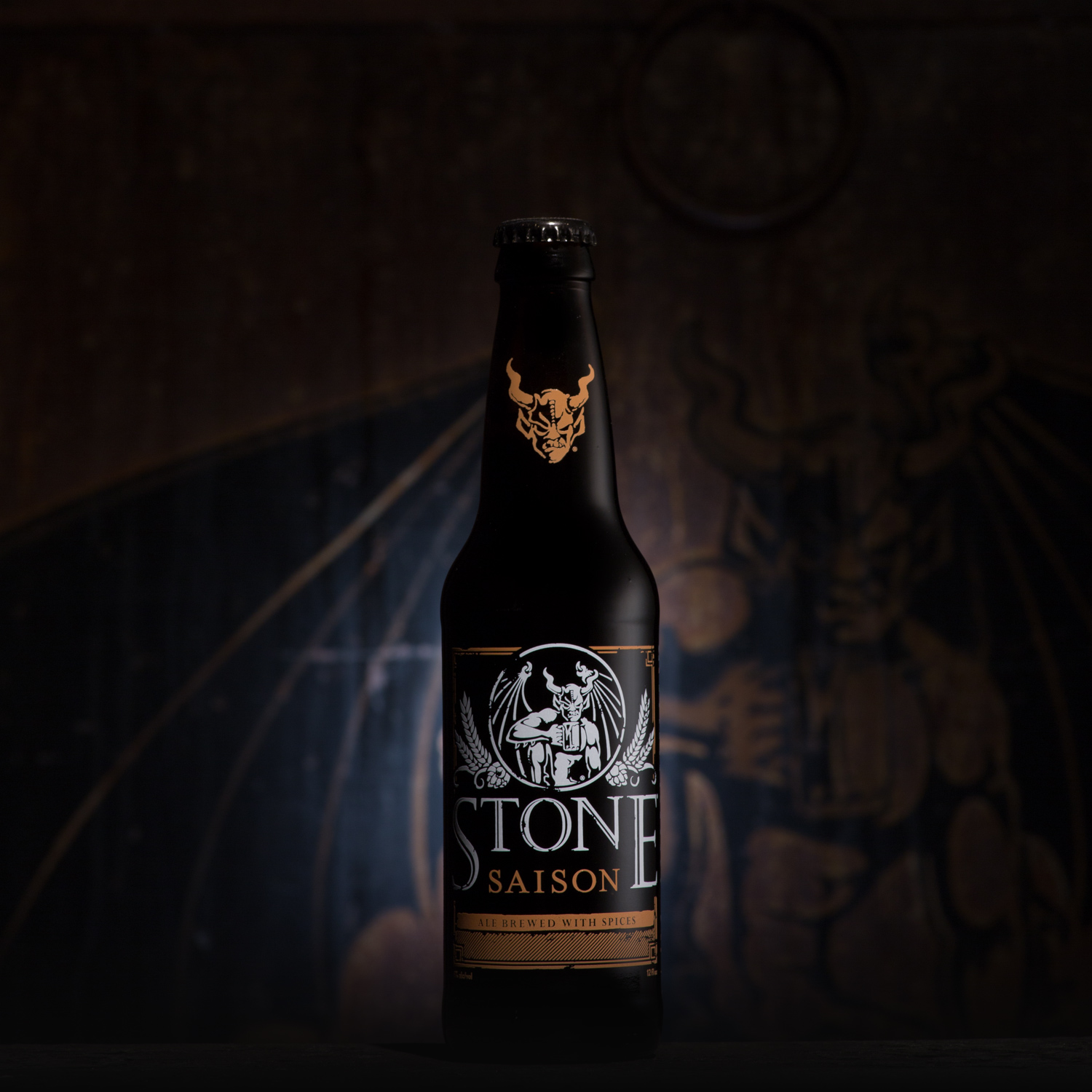 Stone Saison
A modern take on a Belgian classic
In spring 2011, Stone bought the farm, literally, taking over 19 acres of fertile Southern California soil where we now grow pristine fruits, vegetables, herbs and more for our Stone Brewing World Bistro & Gardens restaurants. A taste of our homespun farm-to-tableism is provided in this farmhouse ale. Lemon zest, grains of paradise, lemon thyme and lavender harvested in Southern California fields, including our own at Stone Farms, provide citrus and floral character along with a subtle, tantalizing spice. Thanks to the infusion of fresh West Coast ingredients, this isn't your everyday saison. It's our saison—100% Stone.
TASTING & PAIRING NOTES
Pours a golden color with a creamy white head and a touch of haze.
Great blend of floral (lavender and rose), peppery, citrus and herbal, plus nice Belgian yeast-derived spice and (mostly) banana notes, and hints of continental pilsner malt flavor.
The taste follows the same path as the aroma, with the addition of a glint of heat in the finish from habanero peppers.
Very dry and crisp, with a touch of heat on the finish.
We made some minor changes to the beer this year, using German pilsner malt to increase the malt flavors. Additionally, we adjusted the proportions of lavender, lemon thyme, grains of paradise, lemon peel and habanero peppers to provide a great blend showcasing each ingredient within the overall balance of the beer.
Curry-spiced cashews, deviled eggs, guacamole, salsa, chicken satay, crab cakes
Spinach with feta and strawberries, arugula and grilled peaches, Asian chicken, garlicky Caesar
Filet of sole, pork tenderloin, pad thai, roasted chicken or turkey, wild rice-stuffed roasted poblano chiles, cranberry-stuffed acorn squash
Cypress Grove Chevre Humboldt Fog, Firefly Farms Cabra La Mancha, Capriole Dairy Sofia, Cowgirl Creamery Red Hawk
Peach cobbler, balsamic vinegar-poached pears, lemon meringue pie, apricot upside-down cake
Padilla Achilles, Arturo Fuente Opus xXx, Cu-Avana Punisher