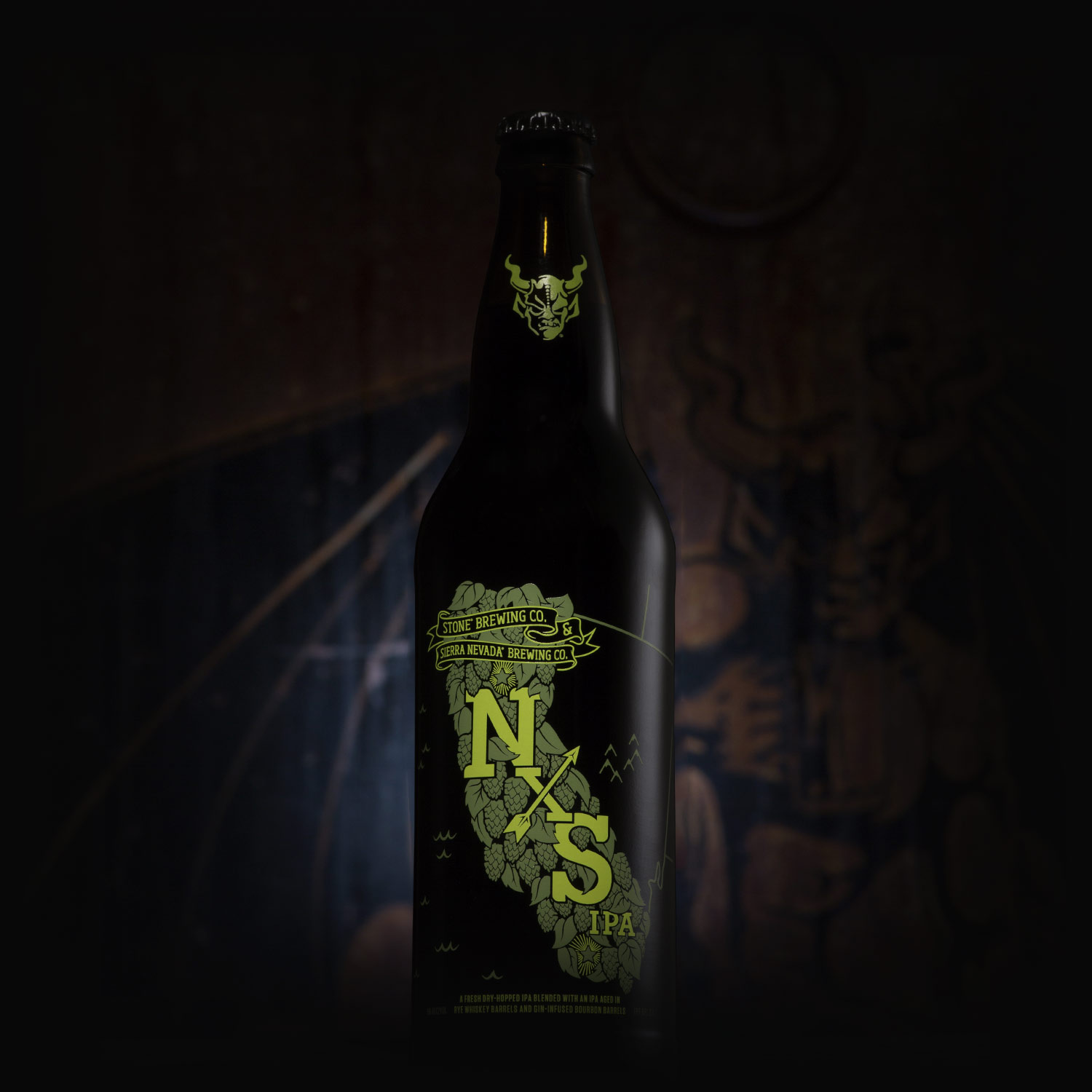 Stone & Sierra Nevada NxS IPA
A California collaboration blend of dry-hopped IPA and barrel-aged IPA
For many, California is considered an epicenter for brewing innovation, particularly where hoppy IPAs are concerned. We teamed up with longtime craft compatriots and mutual hop admirers Sierra Nevada to create a truly one-of-a-kind IPA. This special-edition beer conveys the true character of collaboration with touches of inventiveness and creativity. Two batches of an IPA were brewed and expertly blended to craft this multilayered beer. The first batch was split down the middle, with 50% being aged in gin-infused bourbon barrels and the remaining half aged in rye whiskey barrels. These beers were blended with the fresh second batch of IPA, which was generously dry-hopped to impart rich aromas to accompany the citrusy, piney, woody, herbaceous flavors achieved from this truly one-of-a-kind collaboration.
Limited 22oz bottles & draft
Magnum
Amarillo
Chinook
Cascade
Centennial & Mosaic
Mitch Steele, Brewmaster, Stone Brewing Co.
Ken Grossman, Founder, Sierra Nevada Brewing Co.
TASTING & PAIRING NOTES
Pours deep gold with amber hues.
Peach and citrus hop aromas followed immediately by the spicy, piney notes of gin and the vanilla aspects of oak.
A really nice blend of fruity hops, oaky vanilla notes and finishes with a pleasant hint of spicy spirits and good hop bitterness.
Medium body and bitter with a little bit of warmth.
Sierra Nevada Brewing Co. has been an inspiration for us at Stone for many, many years, so we were thrilled to be able to collaboratively develop this beer. We wanted to combine elements of both breweries in the recipe, which is an IPA that includes partial barrel aging and classic hopping, including some of both breweries' favorite hops: Cascade, Chinook, Centennial, Amarillo and Mosaic. We brewed some of this beer in early summer and then transferred it to our barrel warehouse, where it was aged in a combination of gin-infused bourbon barrels and rye whiskey barrels for about three months before we blended it with the beer we brewed in October. The result is a hoppy IPA with the added elements of wood and spirits. The blend is a beauty.
Coconut shrimp, pork satay, goat cheese-stuffed mushrooms, Filipino lumpia, pumpkin ravioli
Tofu chili, cheddar cheese soup, chicken and white bean soup, pear and endive chopped salad, mixed greens with miso and ginger dressing
Roasted turkey, pork loin, pho, root vegetable hash with fried egg, pasta carbonara
Parmesan, Fiscalini Bandage Wrapped Cheddar, manchego, pepper jack
Carrot cake, peach cobbler, apple strudel, spice bread
Drew Estate Herrera Esteli, Davidoff Winston Churchill, Arturo Fuente 8-5-8 Candela Lonsdale