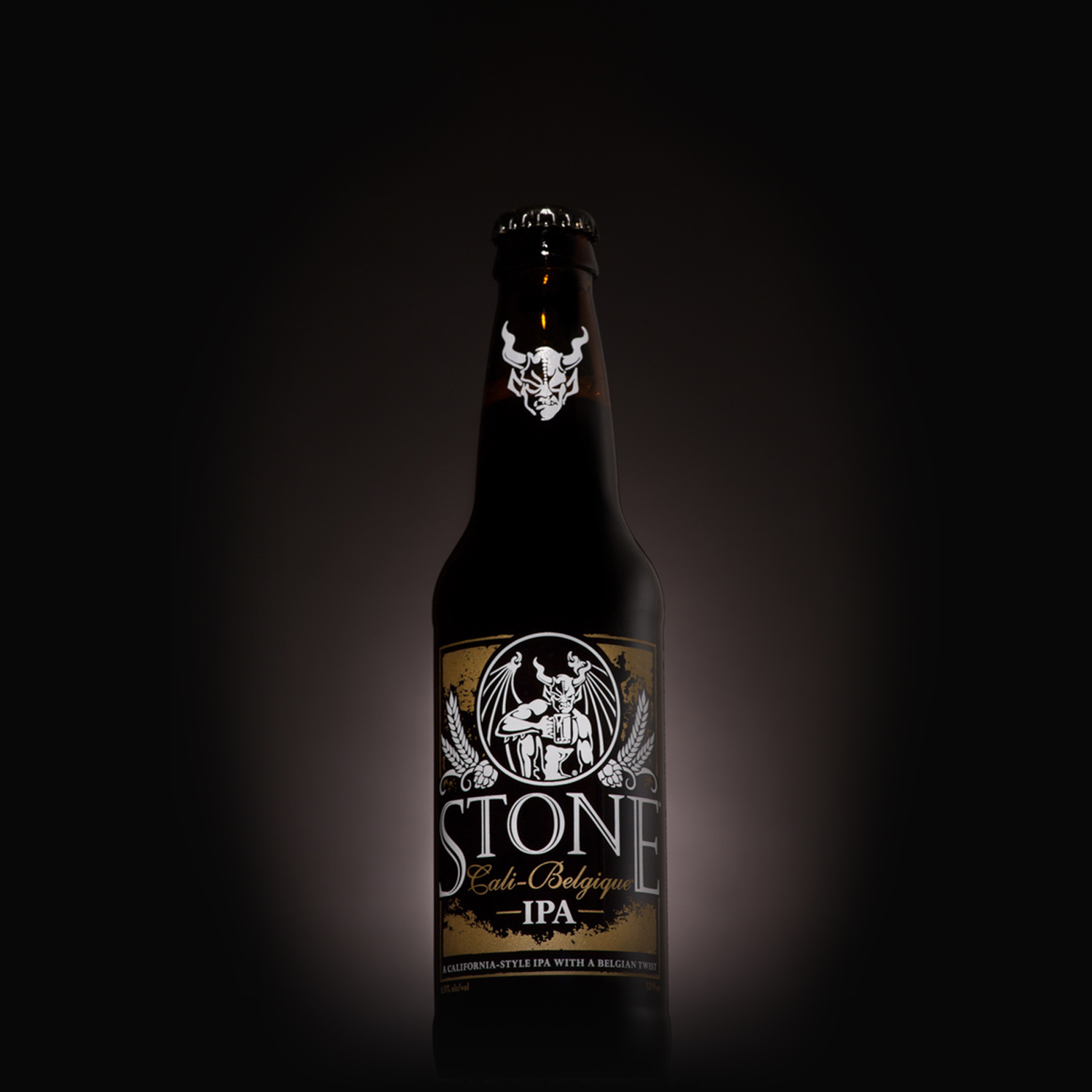 Stone Cali-Belgique IPA
A California-style IPA with a Belgian twist
AKA Stone Cali-België IPA
Stone Cali-Belgique IPA features a complex and surprising combination of flavors, but behind the fancy title is the simply delicious Stone IPA. The addition of a carefully selected strain of Belgian yeast adds banana and spice notes to the hoppy brightness of our flagship IPA. Think of it as an otherwise identical twin to Stone IPA that was raised in a Belgian culture. Literally.
12oz Six-Packs, 22oz Bottles & Draft
Magnum
Centennial & Chinook
FIND IT IN YOUR AREA
Stone Cali-Belgique IPA
TASTING & PAIRING NOTES
Pours golden with a white head.
Banana and tropical fruit, spicy, cloves, with resiny and citrusy hop aromatics.
Spicy, cloves, lots of tropical fruit and citrus, with a resiny, piney finish and a long-lasting bitterness.
This beer was created in 2008 when we used Stone IPA as the propagation wort for fermenting our Stone 08.08.08 Vertical Epic Ale. We liked what the Belgian yeast flavors added to Stone IPA, so we kept brewing it and eventually released it as one of our year-round beers.
Summer rolls, warm brie and apple toast, ahi poke, tea-smoked chicken lettuce wrap
Fresh corn, spinach and strawberry, grilled peach
Chicken quesadilla, yellow curry, roast turkey, fried chicken, herb-roasted rabbit, tilapia
Picodon, Haystack Mountain Snowdrop, goat cheese, Bucherondin
Key lime pie, lavender sugar cookies, pineapple upside-down cake, fruit truffle
Casa Toraño Churchill, CAO Gold Corona, Helix Blue Tubular
Stone Cali-Belgique IPA
NATIONAL DISTRIBUTION
Alabama
Alaska
Arizona
Arkansas
California
Colorado
Connecticut
Delaware
Florida
Georgia
Hawaii
Idaho
Illinois
Indiana
Iowa
Kansas
Kentucky
Louisiana
Maine
Maryland
Massachusetts
Michigan
Minnesota
Mississippi
Missouri
Montana
Nebraska
Nevada
New Hampshire
New Jersey
New Mexico
New York
North Carolina
North Dakota
Ohio
Oklahoma
Oregon
Pennsylvania
Rhode Island
South Carolina
South Dakota
Tennessee
Texas
Utah
Vermont
Virginia
Washington
West Virginia
Wisconsin
Wyoming
District of Columbia
AL
AK
AZ
AR
CA
CO
CT
DE
FL
GA
HI
ID
IL
IN
IA
KS
KY
LA
ME
MD
MA
MI
MN
MS
MO
MT
NE
NV
NH
NJ
NM
NY
NC
ND
OH
OK
OR
PA
RI
SC
SD
TN
TX
UT
VT
VA
WA
WV
WI
WY
DC