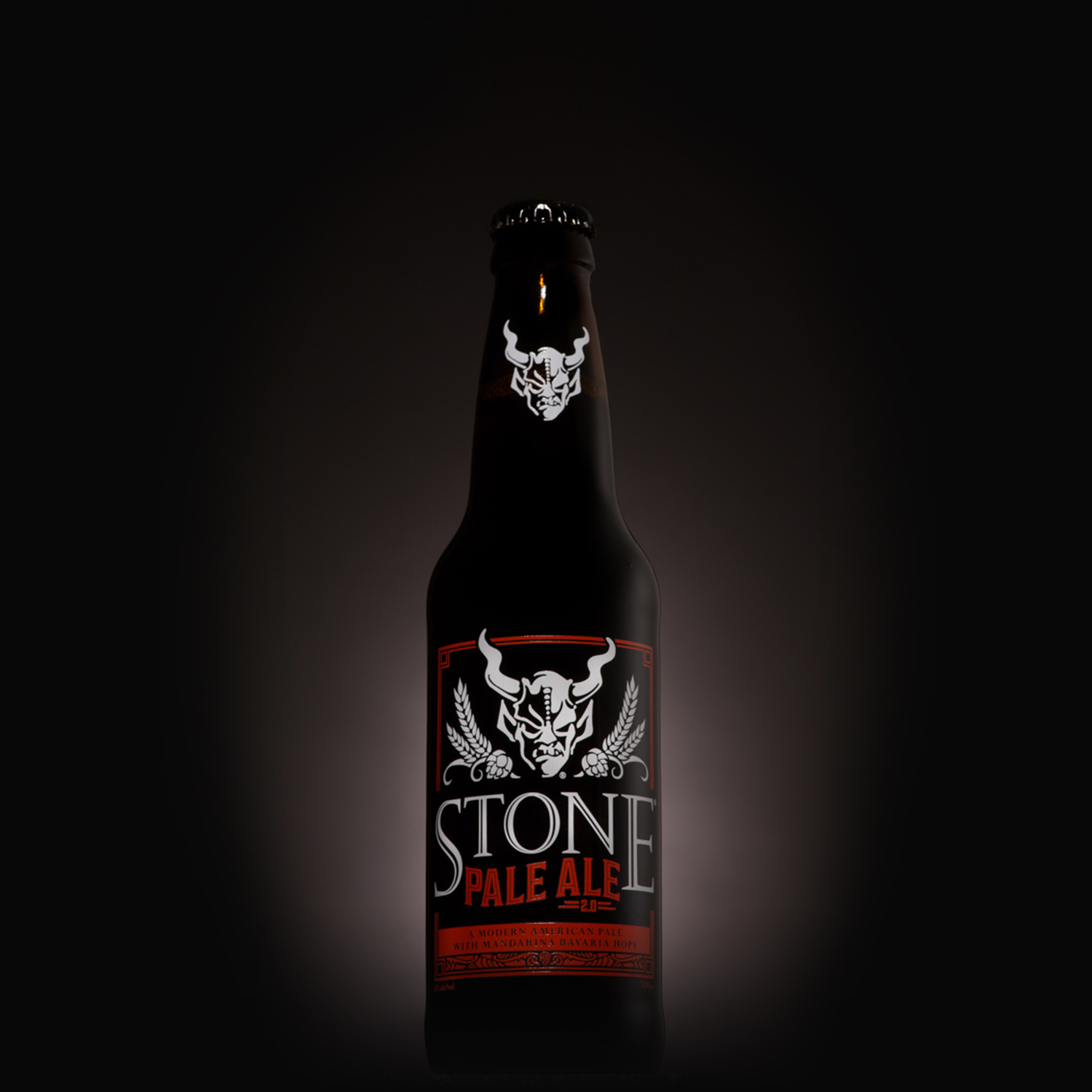 Stone Pale Ale 2.0
A modern American pale with Mandarina Bavaria hops
This decidedly American West Coast pale ale represents the next chapter in our brewing story. Showcasing the full essence of vivid Mandarina Bavaria hops plucked from the storied fields of Germany, it presents bright flavors of peach and orange against a crisp, spicy, biscuity backdrop. We're glad you're with us on this journey!
Magnum
Herkules & Mandarina Bavaria
FIND IT IN YOUR AREA
Stone Pale Ale 2.0
TASTING & PAIRING NOTES
Beer pours a deep golden/light amber with a cream-colored head.
A fruity hop blend comprising citrus and stone fruit aromas, along with a nice, spicy "continental" malt character.
The hop character stands out with spicy, fruity flavors. There's a bit of herbaceous hop flavor, followed by substantial orange and peach fruit flavors. The malt character that follows has hints of biscuit with some spiciness from the rye malt.
The beer has a medium body and a substantial yet balanced bitter finish.
This is a unique and interesting take on the pale ale style. By using European malts and hops, the flavor profile is akin to several continental European styles yet has the bitter and hoppy elements of a classic craft-brewed pale ale. The hop character is focused on the Mandarina Bavaria hop, a new varietal from Germany that, while also having a nice European spice character, brings out huge fruit notes similar to orange and peach.
Hummus, cashews, fried calamari, chips and salsa
Antipasto, Greek, Thai, Caesar
Hamburgers, tandoori chicken, crab cakes, quinoa-stuffed butternut squash, fish tacos, tofu yakisoba
Shelburne Farmhouse Cheddar, Derby, Parmigiano-Reggiano, Fiscalini Bandage Wrapped Cheddar
Bananas Foster, almond sandies, peach cobbler, pumpkin pie
Avo No. 1, Arturo Fuente 8-5-8, Davidoff Colorado Claro
Stone Pale Ale 2.0
NATIONAL DISTRIBUTION
Alabama
Alaska
Arizona
Arkansas
California
Colorado
Connecticut
Delaware
Florida
Georgia
Hawaii
Idaho
Illinois
Indiana
Iowa
Kansas
Kentucky
Louisiana
Maine
Maryland
Massachusetts
Michigan
Minnesota
Mississippi
Missouri
Montana
Nebraska
Nevada
New Hampshire
New Jersey
New Mexico
New York
North Carolina
North Dakota
Ohio
Oklahoma
Oregon
Pennsylvania
Rhode Island
South Carolina
South Dakota
Tennessee
Texas
Utah
Vermont
Virginia
Washington
West Virginia
Wisconsin
Wyoming
Puerto Rico
AL
AK
AZ
AR
CA
CO
CT
DE
FL
GA
HI
ID
IL
IN
IA
KS
KY
LA
ME
MD
MA
MI
MN
MS
MO
MT
NE
NV
NH
NJ
NM
NY
NC
ND
OH
OK
OR
PA
RI
SC
SD
TN
TX
UT
VT
VA
WA
WV
WI
WY
PR