---
California State University San Marcos
Join us for the Friday night brewers Reception, the kickoff to The Stone 21st Anniversary Celebration & Invitational Beer Festival!
This exclusive event offers you dozens of amazing beers and delicious complimentary food in a truly festive atmosphere!
The Stone 21st Anniversary Celebration & Invitational Beer Festival is not only the largest craft beer festival in Southern California, but it's also our largest yearly charitable event. We're proud to support our community by donating 100% of the proceeds from this event and by promoting a culture of social responsibility, collaboration and involvement. 
Friday Night Brewers Reception Tickets Include:
A relaxing evening of craft beer, delicious fares and other beer loving fans.
40+ craft beers on tap
Beer samples with no tabs or tokens
Complimentary gourmet fare by Stone Brewing World Bistro & Gardens
Commemorative 21st Anniversary tasting glass
Live music
Cigar Lounge featuring Golden State Cigars (cigars available for purchase)
General Admission: $85
Designated Driver: $35
OTHER PERKS:
100% of proceeds go directly to local charities
Shuttle from public transportation locations on site
Free parking
Vietnamese Vegetarian Spring Roll
Classic Vietnamese spring roll w/crisp seasonal vegetables such as crunchy carrots, fresh cucumber & aromatic Thai basil
Bistro Salad 
Locally grown organic baby salad mix tossed w/cucumbers, carrots, cherry tomatoes, sunflower seeds, dried cherries, Cypress Grove Purple Haze cheese & hop vinaigrette
South American Tiger Shrimp Ceviche

Tiger shrimp marinated in fresh lemon & lime juice mixed w/red onion, cilantro & ají Amarillo. Served w/chili-dusted tortilla chips

Duck Al Pastor Tacos
Served on warm Esperanza's corn tortillas, pineapple, onions, cilantro & lime 
BBQ Pork Ribs
Hop Rubbed Salmon Creek Farms Pork Spare Ribs
w/Bourbon Barrel-Aged Arrogant Bastard BBQ Sauce
Chicken/Tofu Skewer

Brined Chicken Grilled  & served w/Sticky Garlic Glaze
San Diego Soy Dairy Tofu  Grilled & served w/Sticky Garlic Glaze

Stone Signature Mac 'n Cheese
Creamy Stone Ripper Pale Ale beer cheese sauce made w/Gouda, Swiss & garlic. Crispy pancetta or broccoli topped w/Parmesan bread crumbs
Real Beer / Root Beer Float
Stone Tangerine Express IPA or Root Beer served over San Diego's own Niederfranks French Vanilla Ice Cream
Housemade Lemonade & Iced Tea
Menu subject to change.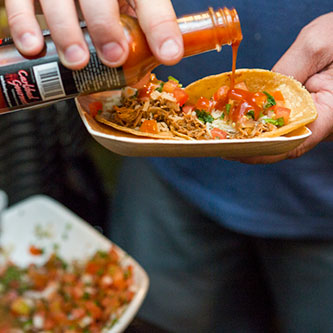 Eppig Brewing
Knotty Brewing Co.
Little Miss Brewing
New Realm
Pariah Brewing Company
Rouleur Brewing Company
San Diego Brewing Company - North Park
Thr3e Punk Ales Brewing Co
The Surfrider Foundation
Boys & Girls Club of San Marcos
YMCA of San Diego County
Fight ALD!
CSUSM Foundation