Sawyer's Triple
Honoring the courage in all of us
STYLE
Triple
ABV
7.6%
IBUs
N/A
Inspiration comes from many sources. The inspiration for Sawyer's Triple came from namesake Sawyer Benjamin Sherwood, the 8-year-old son of Stone brewer Bill Sherwood and his wife, Janis. Over a period of four years, we had the distinct pleasure of getting to know Sawyer via his visits to the brewery or at the occasional backyard BBQ. An engaging and athletic kid if you ever knew one! In early 2003 Sawyer was diagnosed with Adrenoleukodystrophy—also known as ALD—a rare neurodegenerative disease. At the time of the original creation of this beer and writing of this label in August 2003, Sawyer was in a fight for his life.
It felt like a crushing blow when we lost Sawyer in September 2003, only days before the initial release of Sawyer's Triple. The outpouring of support from family, the community, and fans of Stone Brewing brought comfort and solace to such a great degree that it simply cannot be expressed in words. When you enjoy this brew, we encourage you to lift a glass to the noble fight in all of us. When your own fight is overwhelming, remember to seek help. And when you are able to, offer help to others. On Sawyer's behalf, and for all who need assistance with their own fight, we thank you for yours...
ABOUT THIS BEER
Release Date
October 3, 2003
Sawyer
Image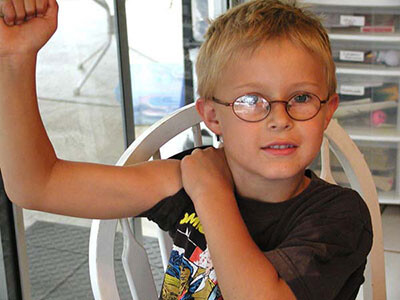 This beer has been dedicated to Sawyer and to the courage in all of us. To not giving up, even when it may appear impossible to win. For those like Sawyer, who possess an indomitable spirit, giving up is never an option. Such people inspire others, and so have we been inspired to help fight for awareness, research, understanding, and ultimately, a cure for ALD. As with any important battle, this fight is invaluably aided by help from our friends. Pulling together for a common cause is as elemental to the human spirit as the search for knowledge and betterment.
We at Stone and the Sherwood family would like to honor and thank all those who have generously donated their resources towards the creation of this brew. 100% of the proceeds from the sale of this beer originally went towards ALD causes and charities, and it is no different today. Attendees at our fundraising Stone anniversary celebrations have become accustomed to seeing the "Fight ALD" booth. Created by Sawyer's mother, Janis Sherwood, Fight ALD is a nonprofit organization whose mission is to spread awareness for the all-important early detection of the disease and search for its cure. 
Blog Post: The Return of Sawyer's Triple (2008)
STAY INFORMED
Be the first to know about new beer releases & all things Stone.
(Plus something special for your birthday every year.)