Cupcakes are my favorite excuse to eat more desserts than I should
Before we get to the baking, if you haven't had the chance to try Stone Buenaveza Salt & Lime Lager, you absolutely should (find it near you here). It's a fantastically crisp lager perfect for sparking inspiration in the kitchen or at the grill. After enjoying a few myself, I got this idea to make Buenaveza cupcakes! The beer is incorporated into the batter, and once the cupcakes are out of the oven they are basted with even more beer for even more more salty, citrusy flavor. They're topped with a bright lime buttercream, then garnished with candied lime wedges, lime zest, and sea salt. They're light yet flavorful, without being overly sweet.
"These cupcakes are just really good. You get the lime right up front, then as you finish your bite it resolves perfectly into the lager flavor. Really well rounded and a delight to eat." ‑ Kelsey's Boyfriend, unbiased judge of Kelsey's baking
Image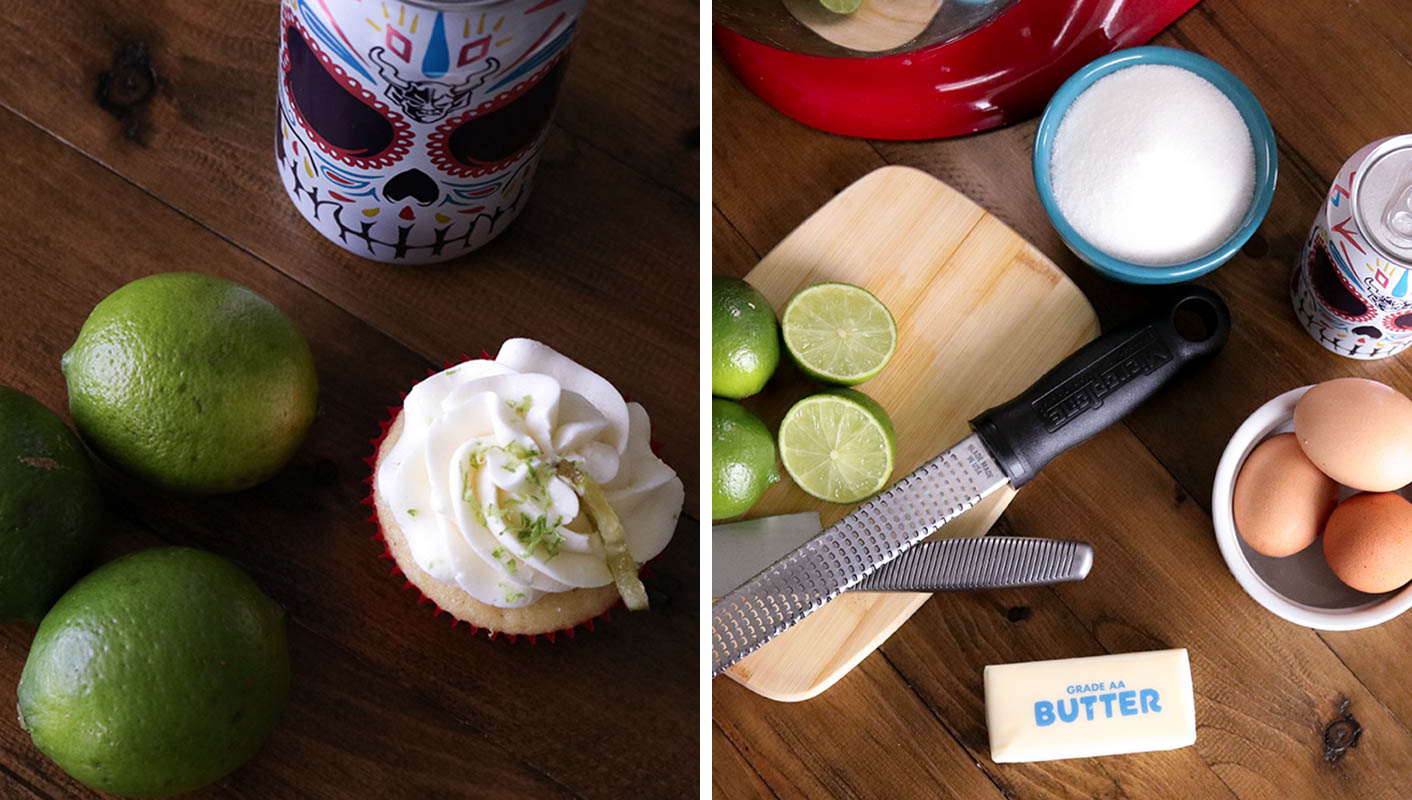 Ingredients (Makes 18 Cupcakes)
For the Candied Limes:
2 limes
1/2 cup sugar
1/2 cup water
For The Cupcakes:
2 cups flour
1 1/2 teaspoons baking powder
1/2 teaspoon baking soda
1/4 teaspoon salt
1/2 cup (one stick) unsalted butter, softened
1 cup granulated sugar
3 eggs
1 1/2 teaspoons vanilla
Juice from one lime
1/2 cup buttermilk
1/2 cup Stone Buenaveza Salt & Lime Lager
An additional 3 tablespoons Stone Buenaveza Salt & Lime Lager
For the Frosting:
1 cup (two sticks) unsalted butter, softened
1 teaspoon vanilla
Juice and Zest from one lime
1/8 teaspoon salt
16oz Powdered Sugar
Cream as needed
Image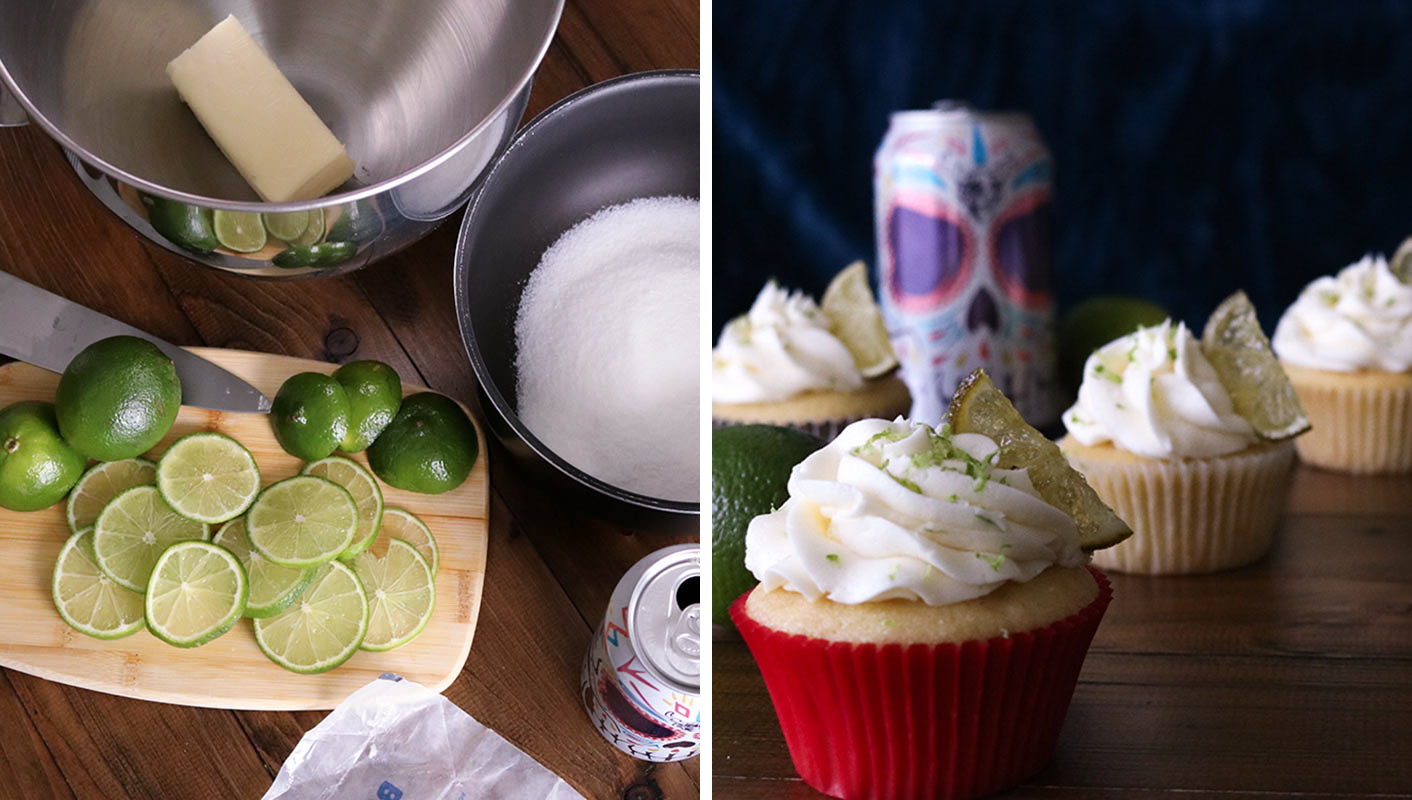 Instructions
For The Candied Limes:
Cut the ends off two limes then thinly slice (about 1/8 inch thick) to make at least nine lime slices. Save the ends of the limes for the cupcake batter.
Lay out a wire rack over a piece of parchment paper (for dryng the limes later).
In a small saucepan on medium heat, bring the sugar and water to a boil. Reduce heat to medium-low and add the lime slices.
Let simmer for at least 20 minutes or until the lime slices are opaque.
Turn off the heat. Remove the lime slices from the sugar mixture with a fork and set to dry on the wire rack for at least an hour.
For The Cupcakes:
Preheat the oven to 325 degrees and line the cupcake tins with paper liners.
Combine your flour, baking powder, baking soda, and salt in a bowl, whisk well and set aside.
In the large bowl of a stand mixer, cream your butter until light and fluffy (about 2 minutes). Add your sugar and beat until well combined (about two minutes).
Beat in your eggs one at a time, mixing well after each addition.
Add in your vanilla and the juice from one lime (I used the discarded ends from my lime wedges) then mix to combine.
Alternate adding your buttermilk, beer and dry ingredients until well combined.
Fill each cupcake liner 3/4 full (I used an ice cream scoop) then bake for 20-24 minutes or until a toothpick inserted into the center comes out dry.
Remove and place on drying racks to cool. Let rest for at least five minutes, then stab the top of each cupcake with your toothpick at least six times (you can also use a fork).
While the cupcakes are still warm, baste with the reserved 3 tablespoons of Stone Buenaveza Salt & Lime lager. Keep basting until you have used the entire amount.
Drink the rest of your beer while you wait for the cupcakes to cool.
For The Frosting:
Cream butter until light and fluffy (at least 4 minutes). 
Add in vanilla, the zest and juice from one lime and salt, and mix until well combined. 
Add in the powdered sugar one cup at a time.
Add in cream by the tablespoon if needed.
To Prepare:
Add your frosting to a piping bag fitted with a Wilton 2D Decorating tip then pipe the frosting in a tall spiral on top of the cupcake (this is what I did, you can also use a ziplock bag with the corner cut off or a knife)
Grab one more lime and zest on top of the cupcakes.
Using a salt grinder, salt shaker, or a steady hand, add a small sprinking of salt to the tops of the cupcakes.
Grab your candied lime slices, cut each in half, then insert into the sides of the frosting with the cut edge out.
These can be stored in an airtight container in the refrigerator for at least a week or eaten all at once in a large, cupcake-induced mistake.
Enjoy!