Stone Delicious IPA
An IPA that lives up to its name
STYLE
India Pale Ale
ABV
7.7%
IBUs
75
AVAILABILITY
Nationwide
Image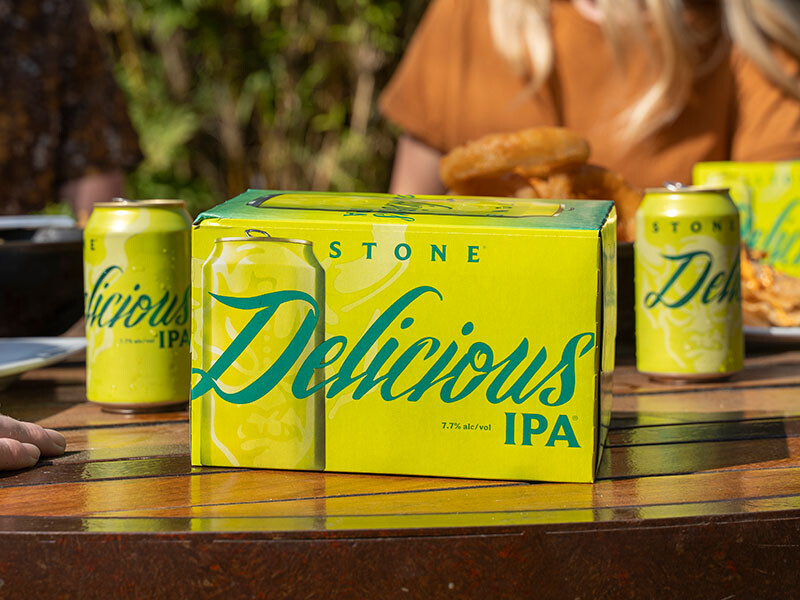 Image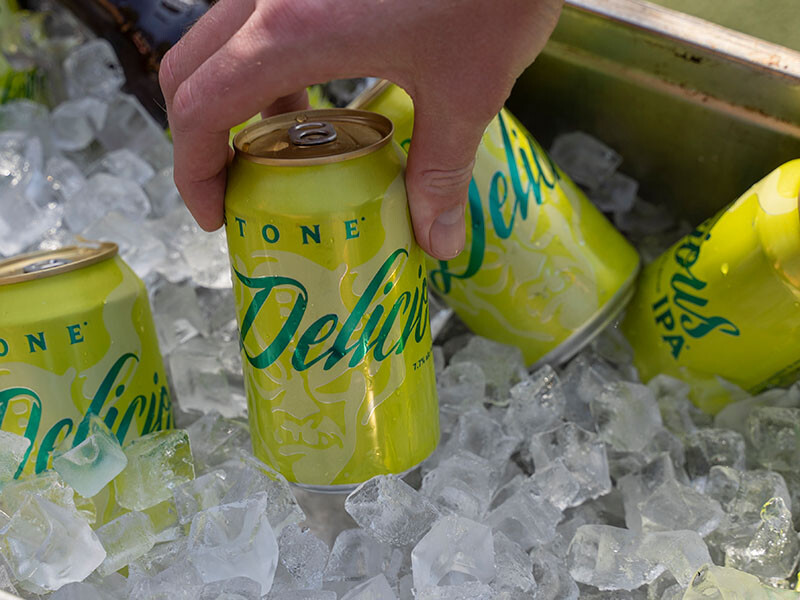 Image
A standout IPA beer crafted to reduce gluten
When creating an IPA deserving of the name "Delicious," intense flavor was paramount, and that's just what this bright, citrus-forward standout brings to the table. Crafted to reduce gluten, the beer and its magnificent lemon candylike flavor and hop spice can be enjoyed by nearly everyone.
ABOUT THIS BEER
Release Date
January 5, 2015
Tasting Notes
Featured Hops
Columbus
Calypso
Lemondrop & El Dorado
Flavor Profile
Hoppy, Citrus, Lemongrass
Palate
Medium body with a bitter, dry finish.
Appearance
Pours deep gold with a white-colored head.
Aroma
Spicy, herbal and citrusy hop aromatics balanced with light-toasted malt. The spiciness is reminiscent of lemongrass.
Overall
Stone Delicious IPA is a tangible example of why continual IPA and hop exploration are so fulfilling. With the Lemondrop varietal as a centerpiece and a massive dry hop composed exclusively of lemony El Dorado hops from Washington State, this beer lives up to its name behind a plethora of tart, citrusy notes and a stunning grove-like, lemon tree bouquet, providing a graceful yet in no way subtle one-two punch to the senses.
Pairing Notes
Appetizers
Hummus, Buffalo chicken wings, Cajun shrimp skewers, spiced pumpkin seeds
Salads
Tomato and avocado, black bean and corn, quinoa tabbouleh
Entrées
Roasted chicken, chile verde, vegetarian huevos rancheros with corn tortillas, veggie jambalaya with long-grain rice, spinach chickpea curry
Cheeses
Grana Padano, Grafton Village Cheddar, Maytag Blue Cheese, Parmigiano-Reggiano
Desserts
Rice pudding, coconut macaroons, lemon soufflé, raspberry white chocolate mousse
Cigars
Illusione Fume d'Amour Clementes, Padilla Reserva Toro, My Father No. 3 Crema
Gluten Reduced IPA
In addition to being incredibly flavorful and hopped in our typically heavy-handed way, Stone Delicious IPA is also fermented in a manner that breaks down and removes gluten, rendering gluten levels so significantly that the beer qualifies as a "gluten-reduced" ale per the FDA (U.S. Food and Drug Administration). It's a nice bonus that will allow nearly everyone out there to enjoy our bold style of craft beer.
STAY INFORMED
Be the first to know about new beer releases & all things Stone.
(Plus something special for your birthday every year.)