Long ago, before bottled beer could be purchased at a supermarket–heck, before supermarkets–some clever folks decided they didn't want to be limited to drinking beer in pubs. After all, enjoying a pint at the bar is fine, but getting home to your family and enjoying a beer with your home-cooked meal is pretty epic, too. So they decided to have additional pints poured into a container (usually a metal pail back then) they could then take home and enjoy. My own grandfather told me his father used to send him to the local pub with a coffee can and the instructions: "Not too much foam." (Dad must have had a pretty good fake ID.) It's been a while since the days of filling any old container with draft beer. Somewhere along the way, the word "growler" became common terminology for a glass jug in which to carry home draft beer from a local brewery.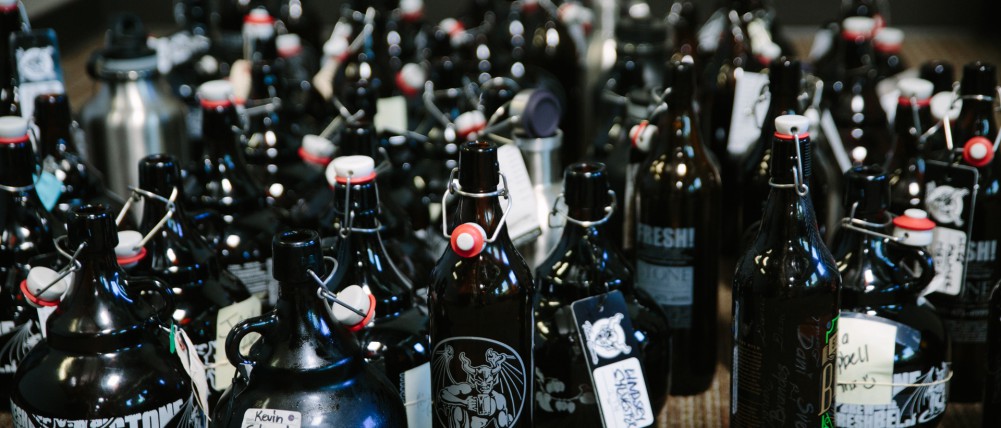 If you have a collection of growlers from different breweries encroaching on your living space, you are already familiar with the benefits of these wondrous vessels. They give you access to fresh, sometimes rare beer from a small brewery in the comfort of your home, allow you to share beer with people, and help reduce waste and your impact on the environment. One- and two-liter; 64-, 40-, and 32-ounce, glass, ceramic, stainless steel and vacuum-insulated growlers come in a multitude of shapes and sizes nowadays. These options vary from brewery to brewery, as do house policies on what types of growlers they'll fill. In order to guide our fans towards enjoying the freshest beer possible with the greatest of ease, the Great Gargoyle has presented us with the following Growler Commandments:
Thou shalt bring thy growler in clean and worthy of holding great craft beer.
Thou shalt comply with California ABC (Department of Alcoholic Beverage Control) labeling laws.
Thou shalt keep thy growler refrigerated. (Although insulated growlers will stay cold for 24 hours.)
Thou shalt open thy growler within 7-10 days of purchase.
Thou shalt consume thy beer within 24 hours of opening the growler, or risk significant carbonation loss.
Thou shalt not consume growlers in the patio or gardens, or in public in general (just lookin' out for you!)
In many states, breweries can legally fill any growler with their beer, even if someone else's logo is on the container. Our home state is a very special place. Things are a bit more complicated when it comes to getting your growler filled at multiple California breweries. Basically, any brewery's name on the growler has to correspond to the maker of the beer inside it. But this labeling can potentially be removed or obscured, and blank growlers are also available from many manufacturers. Many breweries have house rules that can sometimes seem to contradict or limit your freedom (#Murica!), but these ultimately exist to a) ensure that the brewery is not in danger of a potential violation, and b) ensure the quality of the beer and the brewery's reputation.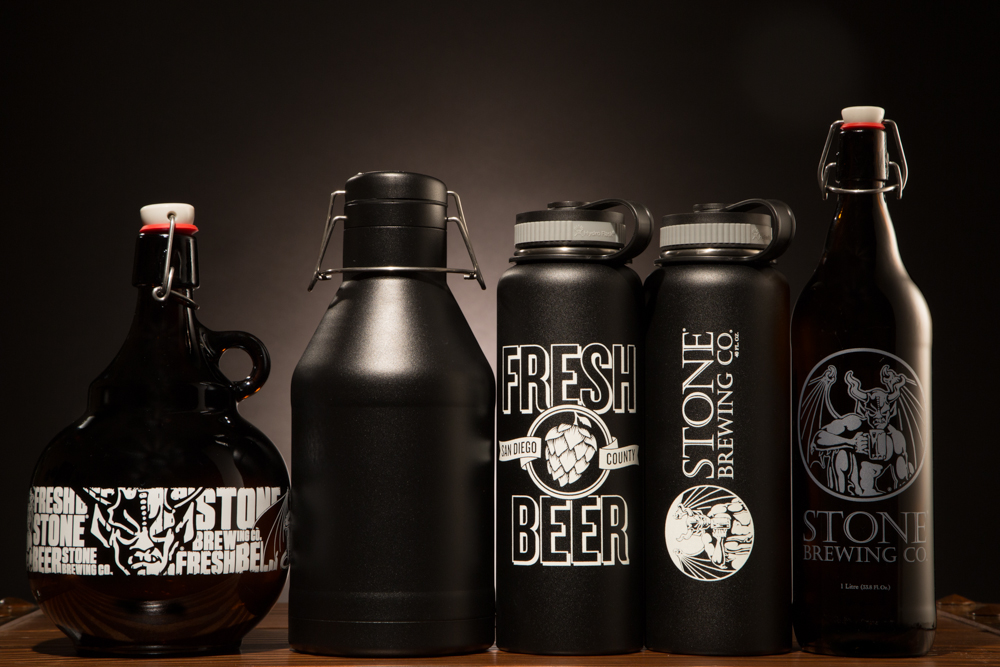 If you are unsure whether that new brewery down the road will fill the type of growler you have, just call them. There's also this extremely thorough spreadsheet that is constantly being updated. If you educate yourself beforehand, you won't be turned away due to a house rule. Our non-branded growlers (meaning they don't say "Stone Brewing Co." but they do say "FRESH BEER," making them a little more snazzy than a blank vessel) can legally be filled anywhere, but it is up to each brewery (including us) to decide which types of growlers we prefer to fill and how they may be potentially modified with a covering. We want you to be able to fill your growlers at other breweries, even if you purchased the growler at Stone–that's why we started offering non-branded varieties. When it comes down to it, we're in the business of selling beer, not Stone growlers. For now, I'm here to help illuminate and clarify the nature of Stone's own house policy, but remember other breweries' policies vary. First of all, growlers are take-home containers. Buying a growler and opening it anywhere but a private residence or a BYOB is an open container violation–ergo, illegal. Growlers may not be consumed on the patio or in the gardens at any Stone location…ever! This is pretty much true anywhere in the country, except maybe Nevada, where you can get away with just about anything.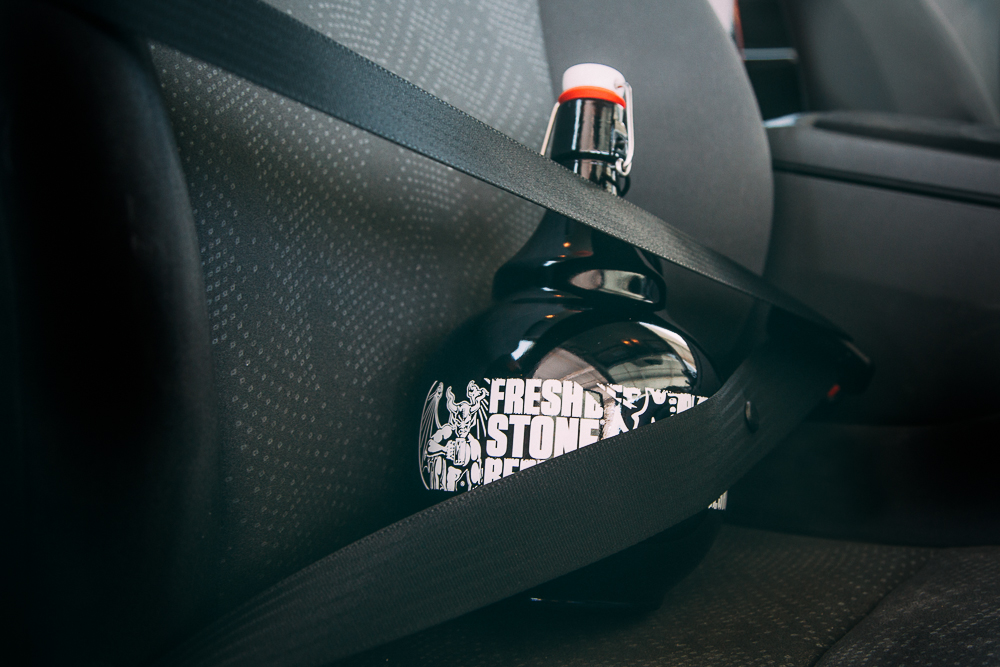 Whose House Policy? OUR House Policy! If you bought your growler at a Stone location, great! You can fill it at any Stone Company Store as well as Stone Farms and the Stone Brewing TapRoom near Petco Park. In order to fill a growler that wasn't purchased from Stone, it must fit the following parameters:
It must be made of brown glass or an opaque material (e.g., stainless steel or ceramic).
It must have a swing-top lid with a rubber gasket. The very popular brown glass 64-ounce screw-top growlers you've probably seen around town are economical but don't hold carbonation as well.
It must be blank* or have no other brewery's information on it. Anything that isn't beer-related is fine, so if your name is Dave and you have a growler that says "DAVE" on it, that's OK (and awesome). We also sell non-Stone-branded growlers that say "FRESH BEER."
If it has any other brewery's information on it, that must be permanently obscured or removed. Our Store Crew has the ultimate discretion on what constitutes a classy covering. Sorry, no duct tape.
It must be one of the following volumes: one-liter, two-liter, 32-ounce, 40-ounce, or 64-ounce.
It must be in good condition (i.e., not broken, damaged, or with a faulty seal).
It must be clean!
* NOTE: There's one tricky exception to this rule. We currently offer 40-ounce insulated growlers made by a company called Hydroflask. With either our brewery's name or "FRESH BEER" printed on them, it is clear that they are growlers containing an alcoholic beverage. However, we cannot fill blank 40-ounce Hydroflasks, because there is too much of a risk for confusion with a regular water bottle. We want to make sure we are not enabling lawbreaking or creating illegal situations like public or covert consumption of beer. Remember that the Store Crew has the ultimate discretion in what we can and cannot fill. Here's our house policy in more concise wording, as well.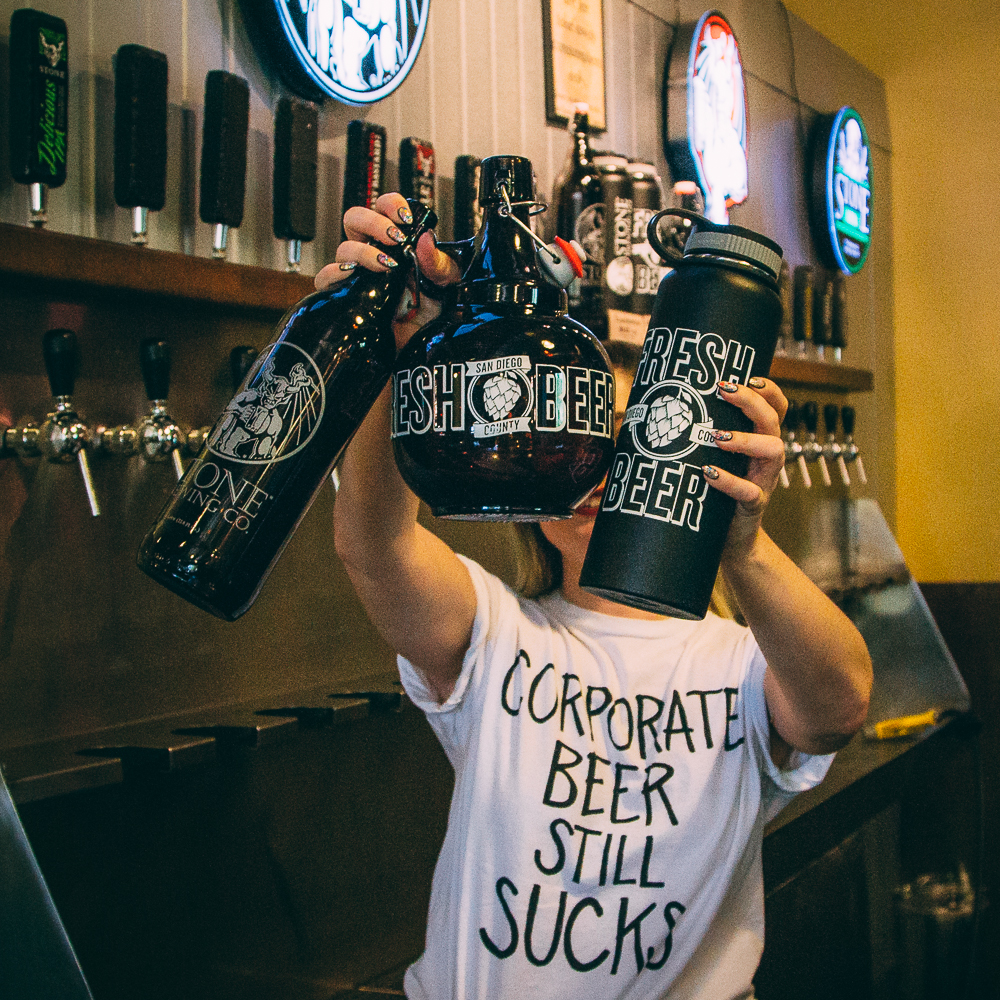 Caring for your Collection Say it with me (yet again): Thou shalt bring your growler in CLEAN and worthy of holding great craft beer. While we might be able to give your growler a quick rinse to take out any dust, we may not always have time to do so when we are simultaneously fulfilling a dozen growler orders. (Especially at our Escondido home-base on Saturdays when our fans are packed in like sardines…albeit sardines with really good taste in beer!) If your growler is already clean but you are worried about dust, just rinse it before you leave the house. What we most certainly cannot do is clean out a growler that was never rinsed and has developed sour, funky beer residue and odor. If you hate doing dishes, I'm right there with you. Luckily, growlers are REALLY EASY TO CLEAN! All they require is a few rinses with hot water, and the best time to do this is right after you pour out the last drop of beer. If the beer residue in the growler dries, the growler will be much harder to clean and will develop scum. DO NOT use detergent, bleach, or any chemicals or cleaners as this can be very hard to completely rinse out and will ruin the head retention of your beer or affect the flavor. Be on top of it and you will be rewarded with beer that is fresh-tasting and attractive-looking.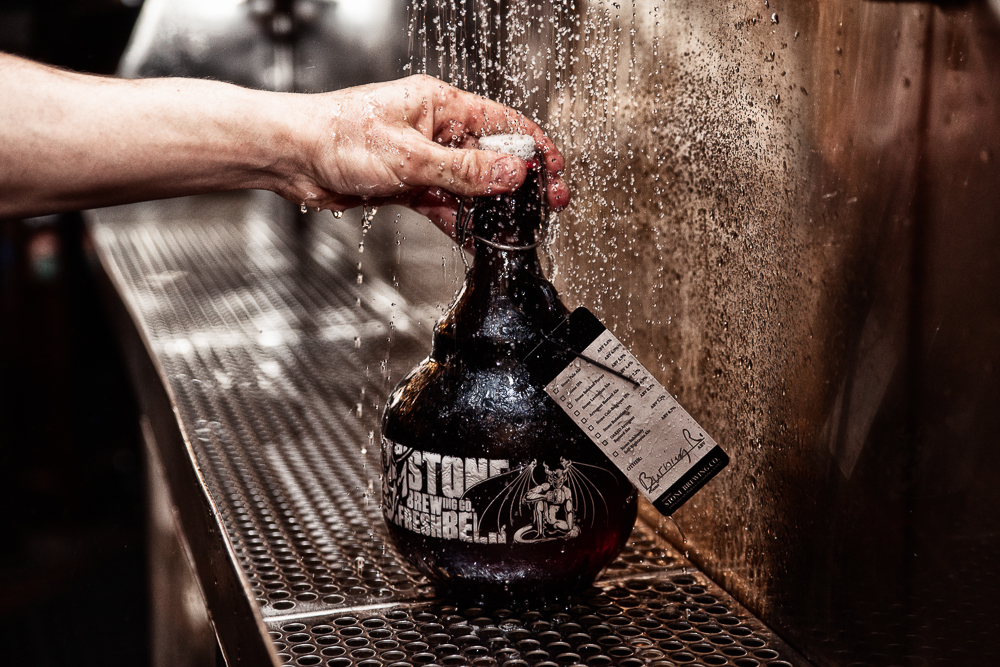 Wait. This all seems complicated. Why do I want a growler again?! Let's go over the benefits:
You get access to fresh draft beer from a local brewery. This might mean a really fresh batch of a year-round beer like Stone IPA, or it might mean a super-rare beer that isn't bottled at all (2013 Stone Old Guardian OAK-SMOKED Barley Wine w/French & American Oak, anyone?). It also means you get to go to a tasting room to get it, which is way more fun than going to a grocery store, and you definitely won't leave with a box of Hot Pockets or priced-to-move brownie bites you bought for no discernible reason other than you were shopping while hungry. You also have access to a wider variety of beers than at a grocery store, and you get to support a local brewery, beers from which might not be available in any stores.
You reduce your waste and impact on the environment. Draft beer is served out of reusable containers (kegs) into reusable containers (growlers). This means there is no environmental impact from the manufacturing of other packaging, like cardboard, bottles and transportation of materials. The toll on the environment is even less if you have a brewery within walking or biking distance!
You've got multiple sizes and types of containers to choose from! Are you livin' the single life and can't really put down two-liters of beer in a day? We have one-liter growlers for that! Do you have a beer-loving significant other or a lot of friends you need to share your craft beer with? Get a two-liter and spread the love! Do you like to go camping or take beer on long journeys sans refrigeration? Insulated stainless steel growlers were made for your lifestyle!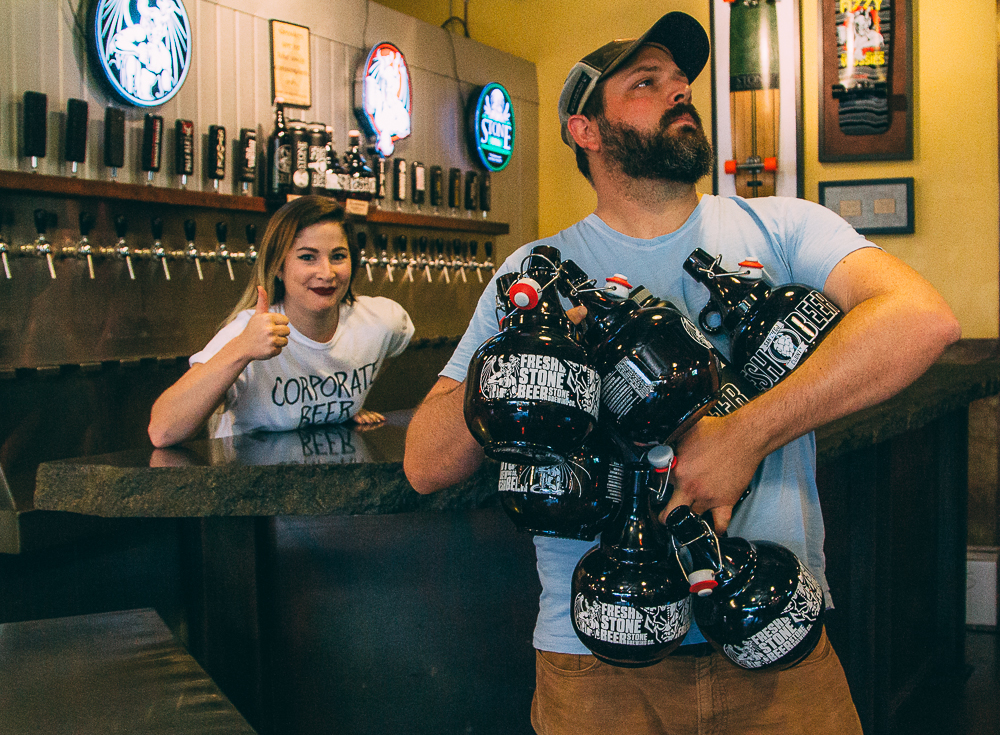 Once you've decided which type of growler is best for you, next comes another difficult conundrum–what beer to take home inside it?! Our Stone Company Stores will always have year-round offerings available in addition to Stone specialty beers that vary by location. Our fill schedule is available for perusal online here, or you can let us keep you up-to-date by subscribing to our weekly growler fill update email. Once a beer is tapped, it will be on tap until it runs out. We can't guarantee that some of the more coveted beers will last, so always call ahead to make sure we still have the beer you desire. We'll see you soon at a Stone Company Store near you, or maybe at another brewery tasting room altogether!