Stone Brewing sells kegs, growler fills, case boxes, mixed packs and individual 22oz bottles and six-packs at our Stone Company Store locations. Please check out all the information below to learn more about our pricing, policies, and availability.
Please Note:
The law requires us to verify that everyone with you is 21 years of age before we can sell you any beer that leaves the brewery / Stone Company Store. Please ensure that everyone in your party has their valid photo ID (drivers' license, passport or military ID), or we will not be able to sell you beer to go. We are fond of our license allowing us to sell you beer and we intend to keep it.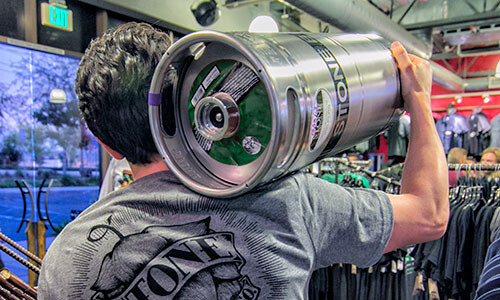 Kegs
Kegs are available at all of our Stone Company Store locations and can be purchased up until 7 pm. It's a good idea to contact us ahead of time by phone or email at kegs@stonebrewing.com to verify availability.
Keg Pricing
 
1/2 Barrel
15.5 gallons
1/6 Barrel
5.16 gallons
Stone Buenaveza Salt & Lime Lager
$175
$85
Stone Dayfall Belgian White
$175
$85
Stone IPA
$195
$100
Stone Tangerine Express IPA
$195
$100
Stone Delicious IPA
$195
$100
Stone Hazy IPA
$195
$100
Stone ///Fear.Movie.Lions Hazy Double IPA
$215
$110
Stone Special Releases
—
Starting at $140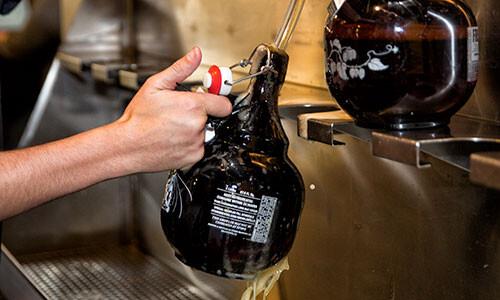 Growlers
We sell growler jugs that you can have filled fresh off the tap with any of our year 'round releases to take home. Several times each month we have "Special Growler Fills" where we put on tap our Stone Special Releases or the latest inspired creation from our brewing team. Upcoming Special Growler Fills can be found below and on the Stone Calendar along with other great events happening around the brewery. Pricing is on the bottom of this page.
We WILL fill...
We WILL NOT fill...

Any CLEAN Stone-branded growler
Any CLEAN blank or non-brewery branded 1-litre, 2-litre or 3-litre swing-top growlers with gasket seal.
Growlers with ALL previous brewery labels and logos COMPLETELY obscured in a fashion, "not readily removable by the consumer". (We will not obscure for you, so come prepared.) And be classy. No duct tape!

Growlers that are not CLEAN
Glass SCREW-TOP growlers
CLEAR glass growlers
Growlers that are DAMAGED
Growlers that do not properly SEAL
Canteens, Hydro Flasks or similar water bottle style screw-top vessels below 64 oz. that are NOT Stone branded

We reserve the right to refuse to fill any growler for any reason.
Other important notes:
Stone branded 3-Liter growlers may only be filled with the Stone beer indicated on the growler label, unless obscured.
For Specialty Limited Growler Fills, customers have the option of: up to two 1-litre Growler Fills - OR - one 2-litre Growler Fill - OR - one 3-litre Growler Fill (if applicable)
In cases of extremely limited availability, the above guidelines may be modified in order to serve as many customers as possible.
Growler Fill Pricing
 
32oz
w/ Crowler Can
1 liter
33.8 oz
40oz
2 liter
67.6 oz
3 liter
101.4 oz
Stone Buenaveza Salt & Lime Lager
$7
$6
$7
$10
$16
Stone Dayfall Belgian White
$7
$6
$7
$10
$16
Stone IPA
$8
$7
$8
$11
$17
Stone Tangerine Express IPA
$8
$7
$8
$11
$17
Stone Delicious IPA
$8
$7
$8
$11
$17
Stone Hazy IPA
$8
$7
$8
$11
$17
Stone ///Fear.Movie.Lions Double IPA
$10
$9
$10
$15
$23
Stone Special Releases
Starting at $13
Starting at $12
Starting at $13
Starting at $21
Starting at $32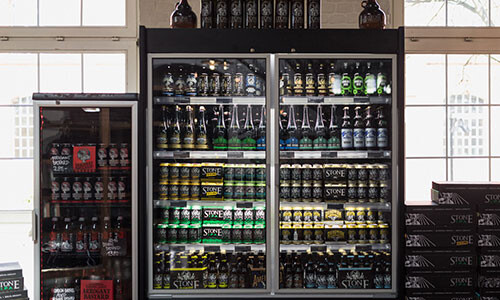 Sizes & Packaging
| Sizes | 16oz. Servings | 12oz. Servings | Contents |
| --- | --- | --- | --- |
| 1/2 Barrel Keg | 124 | 165 | 15.5 Gallons |
| 1/6 Barrel Keg | 41 | 54 | 5.16 Gallons |
| 2 Liter Growler | 4 | 5.3 | 67.6oz |
| 40oz Growler | 2.5 | 3.3 | 40oz |
| 32oz Growler Can | 2 | 2.65 | 32oz |
| 1 Liter Growler | 2 | 2.65 | 33.8oz |
| 12oz Casebox | 18 | 24 | Four 12oz Six-Pack Bottles/Cans |
| 16oz Casebox | 24 | 32 | Four 16oz Six-Pack Cans |
| 22oz Casebox | 16.5 | 22 | Twelve 22oz Bottles |
| 12oz Six-packs | 4.5 | 6 | Six 12oz Bottles/Cans |
| 16oz Six-packs | 6 | 8 | Six 16oz Cans |
| Twelve-packs | 9 | 12 | Twelve 12oz Bottles |
| 22oz Bottles | 1.375 | 1.83 | 22oz |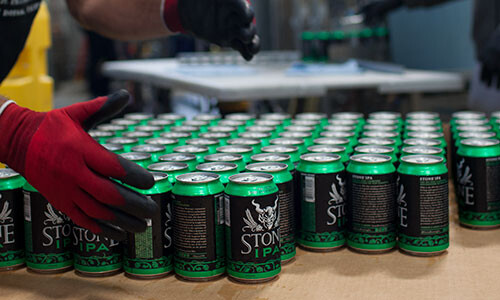 Case Boxes
 
 
Stone Buenaveza Salt & Lime Lager
$3 / 19.2oz can
$10 / 12oz six-pack cans
$36 / case box of 19.2oz cans (12 cans)
$40 / case box of four 12oz six-packs (24 cans)
Stone Dayfall Belgian White
$10 / 12oz six-pack cans
$40 / case box of four 12oz six-packs (24 cans)
Stone IPA
$3 / 19.2oz can
$11 / 12oz six-pack cans
$36 / case box of 19.2 oz cans (12 cans)
$44 / case box of four 12oz six-packs (24 cans)
Stone Tangerine Express IPA
$5 / 22oz bottle
$12 / 12oz six-pack cans
$48 / case box of four 12oz six-packs (24 cans)
$60 / case box of 22oz bottles (12 bottles)
Stone Delicious IPA
$3 / 19.2oz can
$12 / 12oz six-pack cans
$36 / case box of 19.2oz cans (12 cans)
$53 / case box of four 12oz six-packs (24 cans)
Stone Hazy IPA
$10 / 12oz six-pack cans
$40 / case box of four 12oz six-packs (24 cans)
Stone ///Fear.Movie.Lions Double IPA
$3 / 19.2oz can
$14 / 16oz six-pack cans
$36 / case box of 19.2oz cans (12 cans)
$56 / case box of four 16oz six-packs (24 cans)
Stone Special Releases
Starting at $10 / 22oz bottle
Starting at $19 / 12oz six-pack cans
Starting at $46 / case box of four 12oz six-packs (24 cans)
Starting at $120 / case box of 22 oz bottles (12 bottles)