"Bittersweet" is a good way to describe the feedback we've received from our fans over the last year and a half since the release of 2007's Stone 11th Anniversary Ale. Bittersweet. Yeah, that pretty much sums it up. The term is quite descriptive of the beer itself, of course, as it aptly describes the flavors of the esteemed big hopped, high gravity IPA with roasted malts. But the word "bittersweet" applies in other ways as well.

First of all, receiving unsolicited rants and raves from our fans whenever we release a new beer is undoubtedly a pretty sweet thing. (Truth is, those of us here at Stone just can't get enough of hearing how great we are!) Yeah, that's sweet. The accolades bestowed specifically upon Stone 11th Anniversary Ale, however, have been tempered in large part by the sobering—and yes, in many instances, bitter—acknowledgment that this wonderful, ebony-hued gem had all but disappeared from the shelves shortly after its debut, likely never to be seen again.
People begged and pleaded for its return in their calls and emails, and I did my best to break it to them gently. Stone Anniversary Ales are like comets, I would explain, bursting forth gloriously but all too briefly from the heavens—and then exiting beyond our earthly dispensation, leaving us wistfully agape in thirsty wonder…or some damn thing like that. The point is, we're sorry kids, that's just the way it is sometimes. Sigh…but not all the time!
So, to all those who still mourn the passing of the late, great Stone 11th Anniversary Ale, it's time to wipe away those tears and crack open this bottle of Stone Sublimely Self-Righteous Ale. Go ahead, do it. Hmmm…taste familiar? Brace yourself, bereaved fans of Stone 11th Anniversary Ale, for your joyous new day has finally come! It's like your first crush--you know, the one who broke your heart when she/he decided to go to the junior prom with what's-their-name--has suddenly come back to you to go for a cruise down the main drag on Friday night. It's like…it's like finding that long lost gold watch, given to you by your father, who got it from his father, who got it from his father. It's like when your best buddy in the world, Sam the family dog, finally sauntered up the front porch steps one sunny afternoon after having been on a six-week runaway. Yes, it's just like that.
And it's like this: A brilliantly hopped double IPA--providing a wake up call of floral and citrus aromas--backed up by a deliciously smooth and dark roasted maltiness. You get the best of both worlds with this black double IPA. Remember, though, this is one of our Limited Releases (like Stone Cali-Begique IPA) that we fit it into the brewing schedule whenever we can. It has begun showing up on draft only in Southern California, but will slowly be making make its way to other areas across the country. Keep your eye out for 22 ounce bottles showing up in January, and check our distribution page for where they're heading. Be sure to savor the moment when this Sublime brew comes your way, and don't be afraid to feel a little Self-Righteous. After all, you have impeccable taste.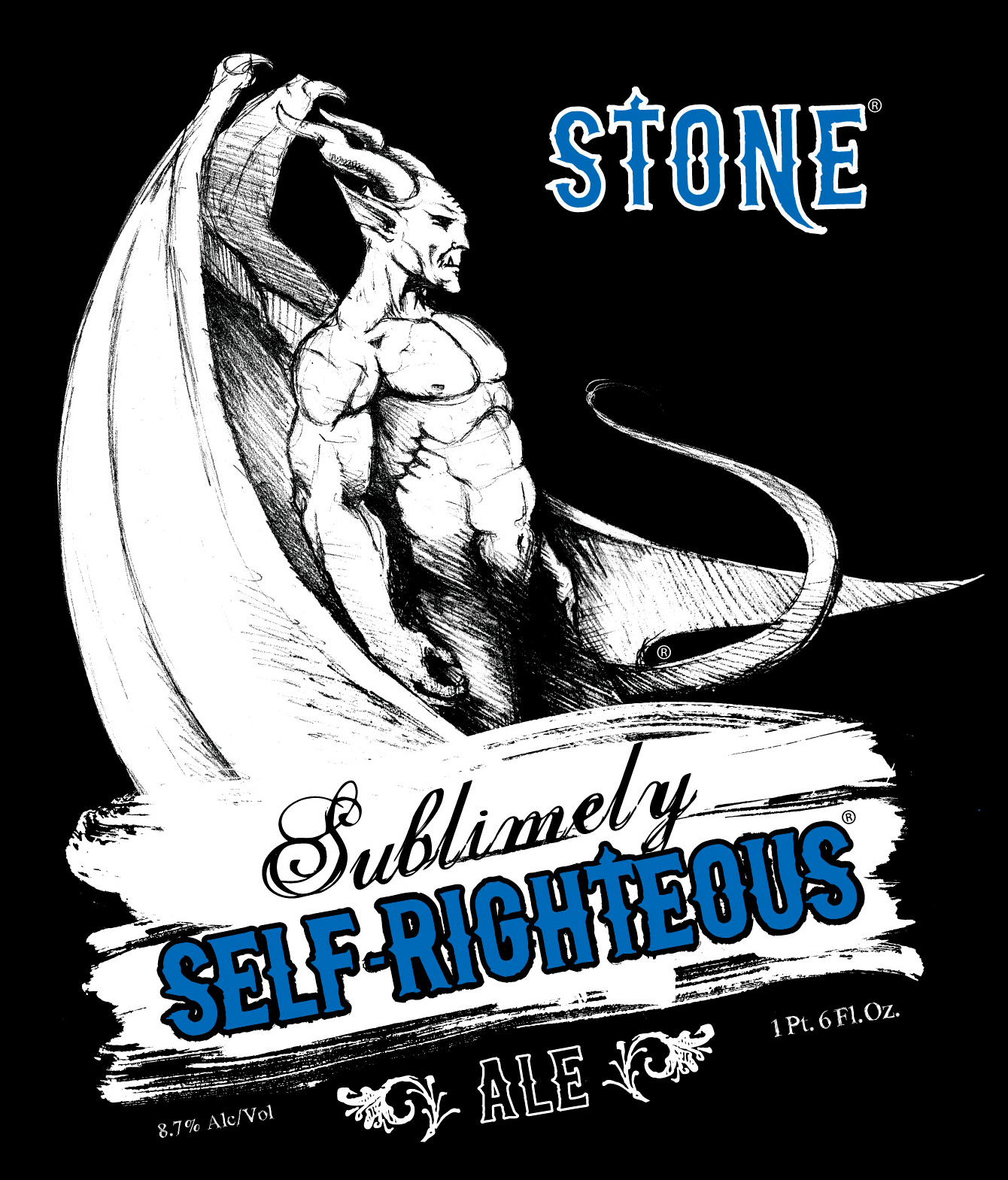 Front Label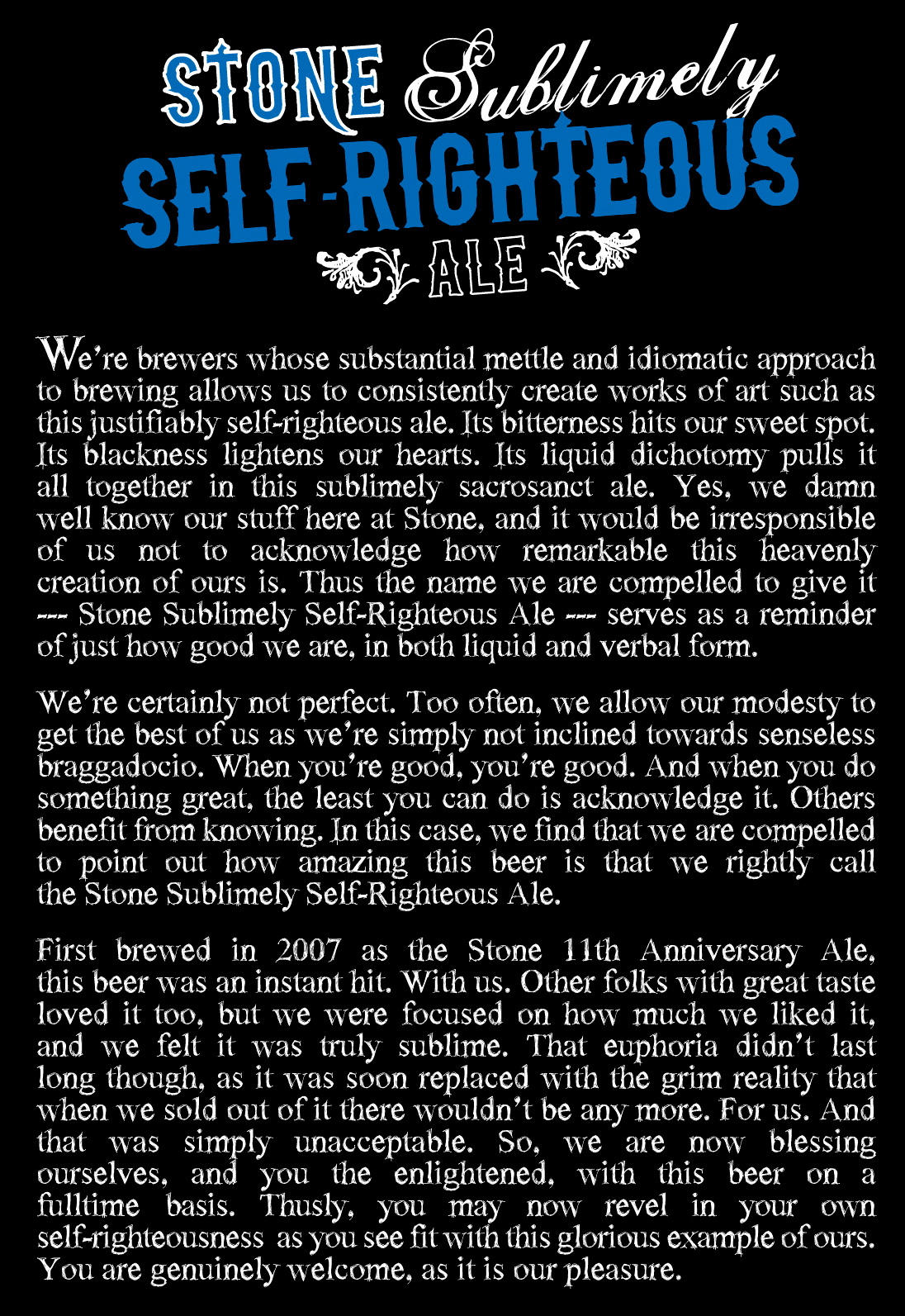 Back Label

Tap Handle