Years spent as close colleagues with a bent for the gypsy lifestyle have bred a great deal between brewers Jeppe Jarnit-Bjergsø of Evil Twin Brewing Company and Brian Strumke of Stillwater Artisanal Ales: respect, friendship, creativity...and a wee bit of deviance. The latter remained pensively dormant for a long while until one night in Copenhagen, greased by firewater and many pints' worth of fine craft beer, the unlawful wheels inside their heads began to turn. It was a process that could not be reversed, at least not until that overbearing beast's appetite for havoc had been satisfied.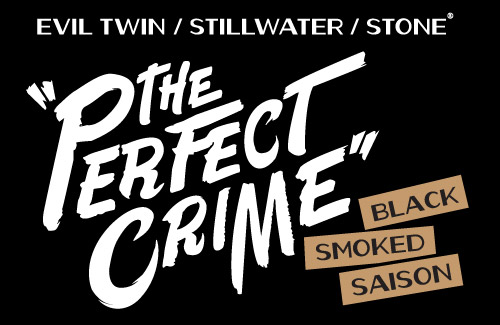 Recently, they fed the monster, graduating from questionable characters on the gypsy fringe to full-fledged criminals. All it took was the identification of the ideal accomplice; an abettor with both the smarts and the goods to help them pull off the perfect crime. They found just that in a devious soul by the name of Mitch Steele. That's right—there's another side to Stone's mild-mannered brewmaster. Beneath his kindly, ever-present grin lies a shifty felon with a penchant for fermentable mayhem. When approached by Jarnit-Bjergsø and Strumke, there was no hesitation. Steele was game to be the third wheel on their runaway tricycle to the dark side; a destination where farmhouse ales as black as the souls of those flippant enough to blatantly ignore tradition and craft a saison rife with equal parts of smoke and audacity can not only exist, but rise to the top of the heap as this underworld's trademark libation. Under the cover of night, the trio forged just such a rule-breaking oddity…and just like that shiny apple luring a pure, good-hearted dame in the garden of Eden, that beer—Evil Twin/Stillwater/Stone The Perfect Crime Black Smoked Saison—is impossible to resist. It ships out today. Do like Eve and these criminal masterminds. Give in to temptation. Dance with the devil. Embrace this untraditional yet delectable product of brewers gone bad in the name of good and get some for yourself. In the meantime, drink in the tale of how The Perfect Crime was successfully committed...
https://www.youtube.com/watch?v=le93h0bn1Ok
Evil Twin / Stillwater / Stone Perfect Crime Black Smoked Saison
Stats: 6.8% ABV, 60 IBUs
Availability: Limited12-ounce bottles and draft, beginning November 12
Hops bill: East Kent Goldings, Chinook and Cluster
Distribution: Ariz., Calif., Colo., Fla., Ill., Mass., Md., N.C., N.M., N. J., N.Y., Ohio, Ore., Pa., S.C., Texas, Va., Vt., and Wash.
Tasting Notes, provided by Brewmaster Mitch Steele
Appearance: Black with a long lasting-head.
Aroma: First aromas are of dark roasted, mildly smoky malt. The saison yeast fights through with a fruitiness and spiciness that presents a nice side-by-side complement to the malts as the beer warms.
Taste: Light roast and blended smoky character up front. Again, the Belgian saison yeast comes through just after; contributing intense fruity, peppery spice flavors that linger after the dark, smoky impressions have faded. Hints of citrus and banana assert themselves late into the palate, and there's a very pleasant hop bitterness aftertaste.
Palate: Dry, with a balanced bitterness and very light astringency. The complex flavors blend incredibly well together.
Overall: This is a beautiful beer, with just the right amount of smoke and roasted malt character to keep it fascinating while you drink the entire glass. We brewed this beer with eight different grains and, although it was a difficult lautering day in the brewhouse, the end result more than makes up for those challenges. And one of the more interesting malts we used was the oak-smoked wheat malt from Germany. It has a wonderful flavor, reminiscent of a fresh oak barrel.
Suggested food parings, provided by "Dr." Bill Sysak
Appetizers: Coconut shrimp, deviled eggs, smoked salmon blinis
Soups and Stews: Chinese chicken, antipasti, honey mustard pork
Main course: Caramelized fennel and apple flatbread, ramen, quail, roasted chicken or turkey, halibut cheeks
Cheeses: Triple crème Brie, Cowgirl Creamery Devil's Gulch, Muenster, Morbier
Cigars: Dunhill Aged Dominican Condados, La Aurora Puro Vintage, Arturo Fuente Magnum R Rosado Sungrown, La Flor Dominicana Air Bender