The Vertical Epic Ale series started simply enough in 2001, with Stone CEO and co-founder Greg Koch suggesting we release a different  Belgian-inspired beer suitable for aging each year on the date when the day, month and year registered by the same digit. The brewhouse forged forward with this initiative, producing 11 beers that, unlike many on the market at the time, were intended to be laid down so they could be opened when the last of those dates came to pass on December 12, 2012. Eleven years later, we're excited to announce today's arrival of Stone 12.12.12 Vertical Epic Ale. Soon, it will be time to uncap all 11 of the Vertical Epic Ale vintages and enjoy them together. Certainly, it will be a glorious capping to one of the most ambitious brewing projects ever undertaken, even for those with a few or maybe even one or two of these widely varied brews. We're pleased with how each of them turned out and what we've accomplished, but at the same time, we admit to being a bit sad. This was an incredible series that we're bummed to see come to an end, but, we're going out in a blaze of beery glory. Enter Stone 12.12.12 Vertical Epic Ale!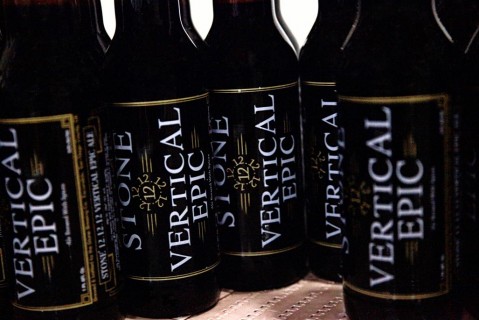 Crafted in the style of a traditional Belgian Noël beer, it's dark, big and hearty; the type of brew one might have actually expected to come first in the Vertical Epic series (but our wheat beer held up very nicely, as attested to in our recent tasting session with reputable experts, including those hailing from Beer Advocate, RateBeer and New Brew Thursday). Stone 12.12.12 Vertical Epic Ale should stand up to aging, but is already a beautiful brew fresh off the bottling line. Brewed with cinnamon, allspice, nutmeg, clove, orange peel and rosehips (which turned out to be so sturdy we had to roll over them with a forklift to pulverize them for the brew), it's a complex beer with many layers. The spices come on strong along with a nice bready malt character.
That said, Stone 12.12.12 Vertical Epic Ale is rather dry on the finish, making it a beer that should do a great job as the last beer in the rotation at fans' Vertical Epic tastings. Planning on inviting some beer connoisseurs over for your own Vertical Epic session? We'd love to hear about it. Hit us up on social media using #VerticalEpic, or simply post comments to this blog entry. Hopefully, like us, you were able to properly store your bottles. In addition to providing a line of tasty, thought-inspiring beers, providing a practical example of how good aged beer can be when stored under the correct conditions is another triumph of the Vertical Epic Ale project. Remember, you don't need to have all 11 beers to do a tasting. Even if you only get your hands on Stone 12.12.12 Vertical Epic Ale, you're in for some serious flavor. Pick it up in time for 12.12.12! Stats: 9.0% ABV, 50 IBUs Availability: Limited 22-ounce bottles, 3-liter bottles and draft, beginning December 3 Hops Bill: Simcoe, Tettnang and Willamette Spices: Cinnamon, allspice, nutmeg, rosehips, sweet orange peel and just a dash of clove Distribution: AZ, CA, CO, CT, DC, DE, FL, GA, IA, ID, IL, IN, KY, LA, MA, MD, ME, MI, MN, MO, MT, NC, NH, NJ, NM, NV, NY, OH, OR, PA, RI, SC, TN, TX, VA, VT and WA
Tasting Notes, provided by Brewmaster Mitch Steele
Appearance: Deep black with a dark brown, foamy head.
Aroma: First impressions are of cinnamon and allspice, combined with fruity banana esters and hints of clove from the Belgian yeast. As the beer warms in the glass, swirl it around and take in the aromatics one more time—caramel, dark toffee and molasses notes come into play as well. The end result is a wonderful juxtaposition of roasted malts, yeast esters and baking spices.
Taste: Intense cinnamon, nutmeg and allspice with banana esters dominate up front. Hints of citrus arrive mid-palate, while molasses notes persevere in the finish along with a very nice dark-roasted malt dryness.
Palate: A full, but not sweet, extremely dry finish. Very complex with great flavor balance.
Overall: The aromas wafting through the brewery as we brewed this beer were amazing! We couldn't think of a better way to sign off this Epic series of beers.
From Lead Brewer Jeremy Moynier: This beer will transport you to a very warm place; the house is warm, a fire's going and grandma's in the kitchen baking away.
Suggested food parings, provided by "Dr." Bill Sysak
Appetizers: Chocolate sea salt crostini, curry meatballs, sugar and cinnamon bacon, quail knots
Soups: Butternut squash, goulash, French onion
Entrees: Cocoa and chile-rubbed pork tenderloin, elk loin, merguez sausage, porterhouse steak, roasted goose
Cheeses: Huntsman, Shropshire Blue, Ewephoria
Desserts: Fruitcake, chocolate lava cake, dark chocolate-covered espresso beans
Cigars: Padrón Family Reserve 45 Years "The Little Hammer," LaReloba Selección Sumatra Torpedo, La Flor Dominicana Double Ligero