They say all good things come to an end. And as much as it pains me to admit it, I think they're right. Unfair? Absolutely! Especially while some of the most awful atrocities refuse to go away. (Can you believe that Kenny G is still churning out new CDs?) But enough about the bad. Let's focus on the good... the REALLY good. I'm talkin bout Stone Vertical Epic Ale. Travel back in time with me to February 2nd, 2002, before someone inexplicably thought to give Dr. Phil his own show when the groundbreaking Stone 02.02.02 Vertical Epic Ale came to be. The premise was visionary, and hadn't ever been tried with beer before. Eleven beers in total—each one with its own unique twist and turn in the saga—were to be released one year, one month, and one day after the previous edition (i.e. 03.03.03, 04.04.04, etc.), with the intention of aging them all until at least December 12, 2012, when the series would officially draw to an end with its final delicious release: Stone 12.12.12 Vertical Epic Ale. Did a little light go off in your brain to make you look at your calendar just now? You're right, that is, like, two months away! So, what are we planning to do? Go gentle into that good night? Hell naw! We're Stone! And as usual, we've got BIG plans...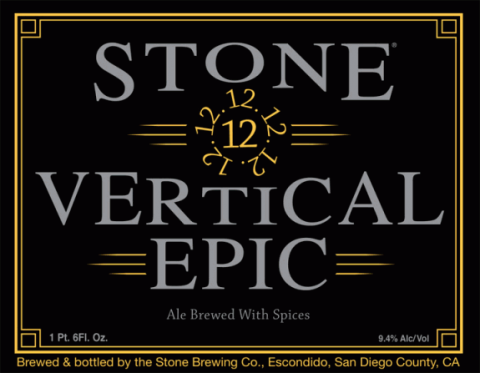 The end of an era
---
Epic 12.12.12 Festival Help us celebrate the end of an Epic 11-year long journey with a blowout festival at the Stone Brewing World Bistro & Gardens! This is the only large event at Stone where we'll be pouring all 11 Stone Vertical Epic Ales together, EVER!! Here's what your $150 ticket will get you:
A very special commemorative glass
One 3-ounce sample of each Stone Vertical Epic Ale, from 02.02.02 to 12.12.12
Small plate food pairings with all 11 vintages
Three 4-ounce samples of your choosing from 15 additional barrel-aged variations of Stone Vertical Epic Ale (or one 12-ounce pour of your favorite) we'll have on tap! (cash & carry)
Enjoy your samples and food pairings at your own pace, in a convivial festival atmosphere
---
...BUT WAIT! THERE'S MORE!...
---
Epic Eve Dinner This will be a once-in-a-lifetime opportunity! The night before our momentous Epic 12.12.12 Festival, we're holding a much smaller, private event for 50 lucky people at the Bistro. Those lucky 50 folks will be treated to a guided tasting of ALL 11 Stone Vertical Epic Ale vintages with Stone co-founders Steve Wagner & Greg Koch, and brewmaster Mitch Steele. It will be paired alongside 11 delicious dishes created by Chef Alex Carballo specifically to partner with each edition of Stone Vertical Epic Ale. Because this is such an exclusive one-time event, we want to be as fair as possible to our fans, so we're hosting a drawing to select the attendees. Here's how it works:
There is no cost to enter the sweepstakes, however, entrants will have the option to make a donation to local charity Interfaith Community Services when entering.
Winning entrants will be notified by Stone Brewing Co. via email on November 6, 2012 and given the option to purchase up to two (2) dinner tickets at $99 per ticket.
Entries will only be accepted from now through 11:50 p.m. (PT) on November 2, 2012.
You may only enter the sweepstakes once. Duplicate entries will not be eligible to win.
---
Can't make it out? Don't worry... we're all still winners. After all, the Stone 12.12.12 Vertical Epic Ale will be available in early December, and that's something that everyone can get excited about. What's that? Oh, you'd like to know what style this year's is going to be? Well, I suppose it's about time we let the proverbial cat out of the bag: prepare yourself for a dark Belgian abbey-ish ale brewed with cinnamon, nutmeg, allspice, sweet orange peel, clove (only a little!), and rosehips. Annnnd because it would be awesome, and because we can, we'll also be releasing a limited number of 3-liter bottles as well. Pretty epic, no?
https://www.youtube.com/watch?v=9jK-NcRmVcw
(This post was updated on 10/15/12 to correct the listed ingredients in the beer: nutmeg had erroneously not been mentioned, and ginger erroneously had been. The corrected list of spices used: cinnamon, nutmeg, allspice, sweet orange peel, clove, and rosehips.)