At Stone, we go to painstaking lengths to hand-pick the most talented and innovative individuals we can to fill out and enhance Team Stone. While our beer is what keeps our fans coming back for more, it's the people behind the beer and this company that have gotten us to where we are today. As you can imagine, we like to keep our people close to us—especially our brewmaster, Mitch Steele. The guy's awesome! Good thing, because we have a consistently heavy production workload for him. Due to that and his terrific work ethic, the poor guy hasn't had a proper vacation in some time. But, as much as we love him and want to keep him near, we were happy to grant him a recent request to take some time and head to Northern California. Mitch wisely hopped a plane before a brewhouse emergency led to that hall pass being revoked.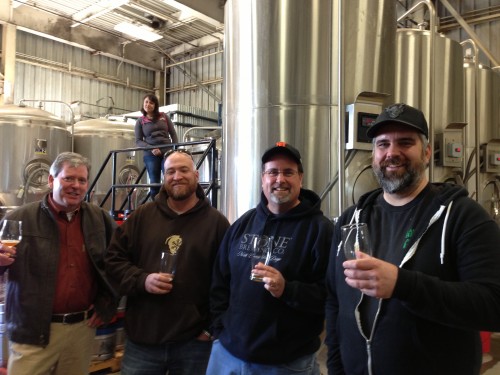 The Drake's/Stone Quarter Century of Issues Celebrator 25th Anniversary Pale Ale brew crew (from left to right): Drake's owner John Martin, Stone Northern California regional brewery rep David Hopwood, Stone brewmaster Mitch Steele, Stone San Francisco regional brewery rep Michael "Zippo" Parzick and, obviously the hardest working member of the team, Drake's brewmaster Alexandra Nowell (on the brew deck).
So, what does an overworked brewer do immediately after gnawing through the shackles that have kept him tethered to his brewhouse? Head straight into someone else's brewhouse—San Leandro's Drake's Brewing, to be exact. His whole purpose for heading north was to craft a collaboration beer with Drake's brewmaster, Alexandra Nowell. The impetus for that specialty libation is honoring the 25th anniversary of the country's longest running craft beer publication, Celebrator Beer News.
Mitch, Zippo and Dave go over some recipe details while, once again, Alexandra slaves away out of frame.
The style they chose to commemorate this newsy milestone is a hoppy session pale ale that should register at 4.5% alcohol-by-volume. According to Mitch, it was brewed with pale malt, light Munich and crystal malts. Bravo hops were used for bittering, while El Dorado—a new variety of hop with a minty, fruity profile—made it into the kettle and the whirlpool along with some Centennial. The beer was also dry hopped with Centennial and El Dorado. It was the first time either Mitch or Alexandra had ever brewed with El Dorado, making it as special for them as the folks at Celebrator Beer News.
Alexandra finally puts the Stone guys to work, starting with Dave. Hop to, Hopwood!
This joint powers session beer, dubbed Drake's/Stone Quarter Century of Issues Celebrator 25th Anniversary Pale Ale will be unveiled at The Brewing Networks's Winter Brews Fest in Concord, California on January 26, released to select Drake's accounts beginning January 28, and made available at selected Stone and Drake's events during San Francisco Beer Week from February 8 to 17. Of course, it will also be poured at Celebrator Beer News' 25th Anniversary Bash in Oakland, California on February 17.