Even with enthusiasm and knowledge at an all-time high among craft brewing fans, certain styles come across as a bit mysterious to the average beer nerd. Chief among those head-scratchers is barley wine. Is it a wine?—No. Is it a strong ale? –Yes. Is it an old ale?—Well, kinda. Is it delicious?—In the case of Stone Old Guardian Barley Wine, absolutely! Ditto a number of versions both European and American (the latter being Anchor Old Foghorn and Rogue Old Crustacean), which led our co-founder and original brewmaster, Steve Wagner, to create his own take on it in 1998. Stone Old Guardian Barley Wine (or O.G. as we refer to it around the brewery) has since gone on to become one of our most happily anticipated annual releases.
https://www.youtube.com/watch?v=3auavwutaGI
In the video above, Wagner touches on the history and evolution of barley wines. We don't want to spoil that part for you, so here are the basics to whet your appetite for enlightenment…and beer. Traditional barley wines originate from England. High enough in alcohol to rival the ABV of wines, they are sweeter, maltier and darn near chewy in their viscosity across the pond. Over time, the booziness of barley wines softens, giving way to a myriad of complex flavors, turning the beer into something almost completely different. While full-bodied and no slouch at more than 11% alcohol-by-volume, O.G. is an example of a West Coast take on this beer style, meaning a substantial amount of hops are added during the brewing process.
The reasons for this are two-fold: Not only do the hops add a great deal of flavor and aromatics that help balance that formidably malty body, they also help to make our barley wine immediately drinkable, which is not the case with some barley wines. That said, were one to mindfully store a bottle of this beer, they would scarcely recognize it years later and be pleasantly surprised by its lovely transformation. We recommend purchasing several bottles each year and opening them on a year-by-year basis to examine each vintage as it ages.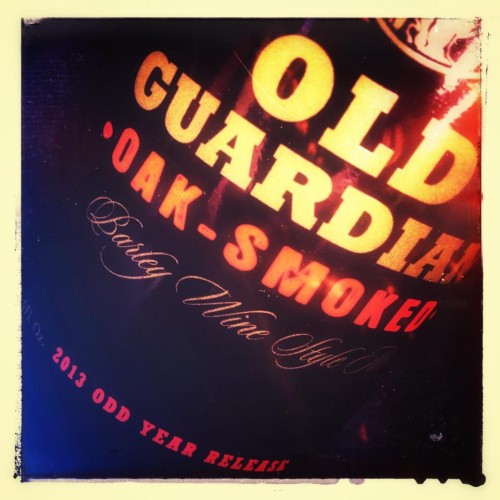 And since this is an odd-numbered year, in addition to the classic version of Stone Old Guardian Barley Wine, fans can look forward to a second, "Odd Beers for Odd Years" version—2013 Stone OAK-SMOKED Old Guardian Barley Wine. Crafted using a grain bill that's one-fifth smoked wheat malt, it exudes a defined smolder in its aroma and flavor. That smoky character cuts through the hearty malt backbone, melding seamlessly with Warrior hops to create a semi-dry finish. Enjoy both versions now or after several years of proper cellaring (between 48 and 60 degrees Fahrenheit). And now that you're so into barley wines, find out even more about ours via the video and our newly revamped Stone Old Guardian Barley Wine webpage.