Stone Ruination Tenth Anniversary IPA—the mere mention of these five words (well, four words and an acronym, which technically equates to seven words) incites a Pavlovian brand of salivation among those who quest for maximum hoppage. We know this, not only because last year's decadal release of this amped-up tribute to our double India pale ale, Stone Ruination IPA, gave us cause to wear bibs at work, but because Stone Ruination Tenth Anniversary IPA was so openly and vocally beloved by our fan base, that they requested—check that, demanded—it be brought back on an annual basis. We love our fans. We love hops. So, we listened to the former, secured a boatload of the latter, and now submit for the approval of slobbering masses throughout the country, Stone RuinTen IPA.
https://www.youtube.com/watch?v=2QJ9eSWrAcs
Even across the vast expanses of the Interwebs, we can read your minds. We can see the thought bubbles with vibrant, fluorescent question marks in all different fonts, popping up above your heads. Stone Fans: Our palates fell in love—or dare we say "lust"—with Stone Ruination Tenth Anniversary IPA. So, what the heck is Stone RuinTen IPA? We want Stone Ruination Tenth Anniversary IPA just as it was, with zero alterations and not the least bit of declination in the insane number of IBUs or wide-ranging hop intensity. And we want it now. Hear our cry or, so help us, we'll burn this mother to the ground!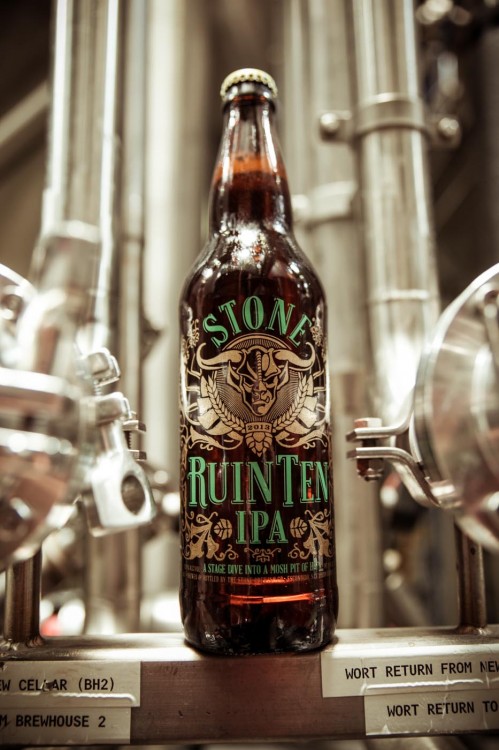 Hold on, now. Put down the torches and gas cans. There's no need to scorch Greg Koch in effigy. In fact, when you hear the rundown on Stone RuinTen IPA, you'll likely want to hoist our hop-hungry CEO and Co-founder on your shoulders and carry him to your local bottle shop or watering hole to share a pint or bomber of this beer, which has exactly the same recipe as Stone Ruination Tenth Anniversary IPA, just with a different name. We love long, unwieldy beer names (to put it mildly), but this time, we're going the short route and, in short, providing you exactly what you wanted—another round (and a much larger batch) of this amplified, 10.8% ABV botanical behemoth, which will now serve as an annual homage to Stone Ruination IPA.
So, why the name change? Wouldn't it have been simpler to just use the same title as before? Of course it would have been. But here's the deal. When Stone Ruination Tenth Anniversary IPA came out last year, much as one might shorten names of coworkers from Tyler to Ty or Catherine to Cat, our Sales Force came to affectionately refer to Stone Ruination Tenth Anniversary IPA as "RuinTen." We figure that by doing this they saved themselves roughly 2,342 man (and woman) hours combined. We applaud their efficient terseness and, having gotten used to hearing this nickname around the brewery, claim this handle for our own. In doing so, we also embrace the opportunity to bring our fans into our little world the best way we know how—with quality beer that fits your hop-craving taste. We heard you. We heart you. We give to you Stone RuinTen IPA. You're welcome.