We'll be the first to agree that brewing is an art, but as anyone who's ever tried to scale up a recipe or dial in ABV for consistency knows, it's also a science. As exemplified by the consistency of our beers, our brewers have the smarts to turn out well-engineered ales. That said, whenever we can, we like to keep the math as simple as possible. Take, for instance, one of our most popular beers, Stone Ruination IPA. That hop-heavy double India pale ale is a result of a basic mathematical equation—one-times-two—and proof that sometimes in life, there's no need to overcomplicate things. When in doubt, just max it out!
https://www.youtube.com/watch?v=uUycRoPWJc0
In telling the story of Stone Ruination IPA, we must first go back to our flagship India pale ale, Stone IPA. That beer was originally crafted to serve as Stone's first anniversary beer. Based on traditional British-style IPAs, but packed with substantially more hops than iterations from across The Pond, it struck a chord with our fans straight out of the fermenter. Remember, this was back in 1997. For all tha majority of Americans knew, IPA could have stood for International Panda Association. But thanks to Stone IPA and a handful of other forward-thinking IPAs throughout the country, that acronym soon gained traction and a following.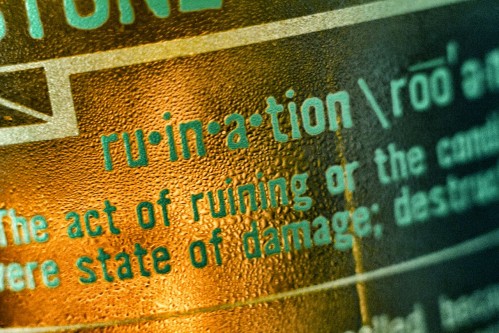 By the time our second anniversary rolled around, our fans had developed a hankering for the almighty hop. Adhering to their lust for lupulin—and our own—we took our recipe for Stone IPA and doubled the amount of hops to create Stone 2nd Anniversary IPA. Like its predecessor, it was instantly embraced by our small, but formidable tribe of devotees. So much so, that for our third anniversary we doubled the amount of hops again. And when we got to year four—yep, you guessed it—we doubled the hops yet again.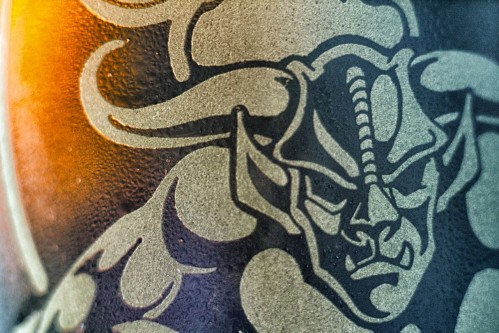 Even now, in a day where triple IPAs are some of the most sought-after gems in the craft beer world, this methodology seems a bit over-the-top. But it takes bold steps to accomplish great things, and, in celebrating our fifth year in business we took one giant leap for hophead-kind, doubling the hop bill of Stone 4th Anniversary IPA to make Stone 5th Anniversary IPA, and it yielded something truly great.
So great, that we instantly recognized that beer as one worth leaving alone and replicating full time. [Author's Note: OK, we take a lot of credit that we're certainly do, but a great deal of credit must be given to the noble hops (see what we did there?). By the time we'd run our annual exercise in brewhouse multiplication, it was the laws of the universe that dictated we never double the recipe again. Stone 5th Anniversary IPA was so hop-laden that we could barely squeeze any beer out of the ale-saturated strobiles. Otherwise, who knows how far we'd have taken the multiplicity.]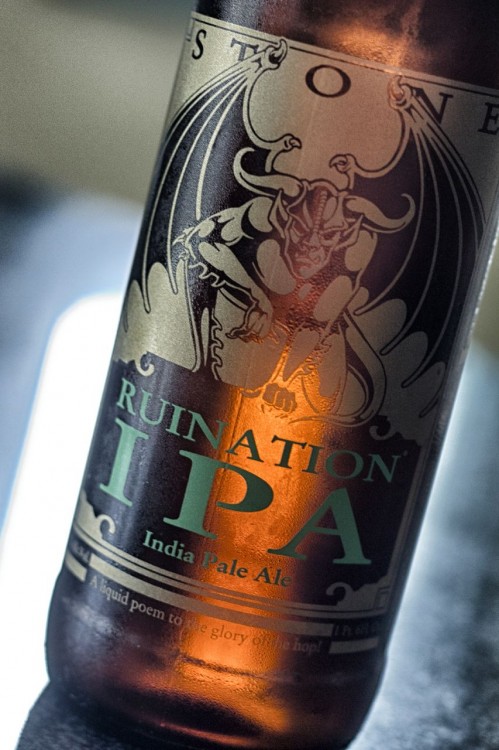 So, thanks to our adventurousness, adherence to basic math and hop sponginess, we ended up with something we were proud to recreate and our fans were happy to see join our everyday lineup—Stone Ruination IPA.
Introduced in 2002, it was one of the first double IPAs to be produced and packaged year-round, and a beer that has stood the test of time. Hopheads remain eager to deliver self-inflicted ruination upon their taste buds. These enthusiasts continually send us thank-you letters for this beer, many of which come from extreme lupulin addicts adding postscripts reading: add more hops! Stone Ruination IPA wouldn't exist if it weren't for fans like these that, like us, thirst for as much flavor as is physically possible to pack into a single beer.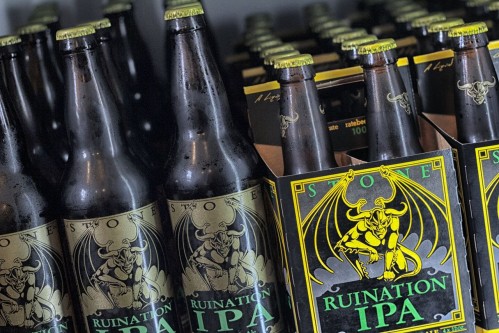 And if it weren't for us listening to these fans (and our own hop-hungry palates), we'd have never busted out our calculators and devised a recipe for a beer that amps up the already incredible amount of hops in Stone Ruination IPA. But that's another story and another beer (and, oh, what a beer!). Come back next week for that IBU-rich chapter in Stone Ruination IPA's illustrious history.