Picture it…a room full of thirsty beer bloggers, media and industry types seated at tables with tasting glasses. It can be daunting to pour beers for such a discerning crowd—especially one with plenty of dump buckets at their disposal. But that was the mission at hand during a session of the 2014 Beer Bloggers Conference, during which representatives from a number of quality craft breweries (including our friends at The Lost Abbey and Firestone Walker Brewing Company) sought to wow these 150-plus beer enthusiasts with their latest creations. Now, we weren't nervous. We're Stone. We save jitters and anxiety for others. We had total faith in what we had to offer, but even so, found ourselves pleasantly surprised with the incredible reception our beer was afforded as well as the myriad compliments it earned. Like us, these people have devoted their entire lives to beer, so to be lauded with kudos and positive reviews was high praise, indeed. Today, that beer, Chris Banker/Stone/Insurgente Xocoveza Mocha Stout, begins showing up on store shelves and draft accounts across the country.
https://www.youtube.com/watch?v=EDFw-3j9ndc
Seeing that table full of smiling imbibers reminded us of a similar moment back in March. The backdrop was our annual American Homebrewers Association-sanctioned homebrewing competition and rally at Stone Brewing World Bistro & Gardens – Escondido, and the group of grinners was the panel at the judge's table getting their first swig of this beer. Though the competition among the homebrews submitted, as always, was extremely stiff, this stout was the hands-down winner. Submitted by San Diegan Chris Banker (who is popular not only for his brewing skills, but also his abilities as a cheese-maker), it uses cocoa, coffee beans, cinnamon, nutmeg and dried peppers to mirror the flavors of Mexican hot chocolate, a beverage quite popular in Southern California. It fit our regional palate and we loved the idea of being able to share a taste of our area with the rest of the country (and Puerto Rico!) via this incredibly flavorful, decadent beer.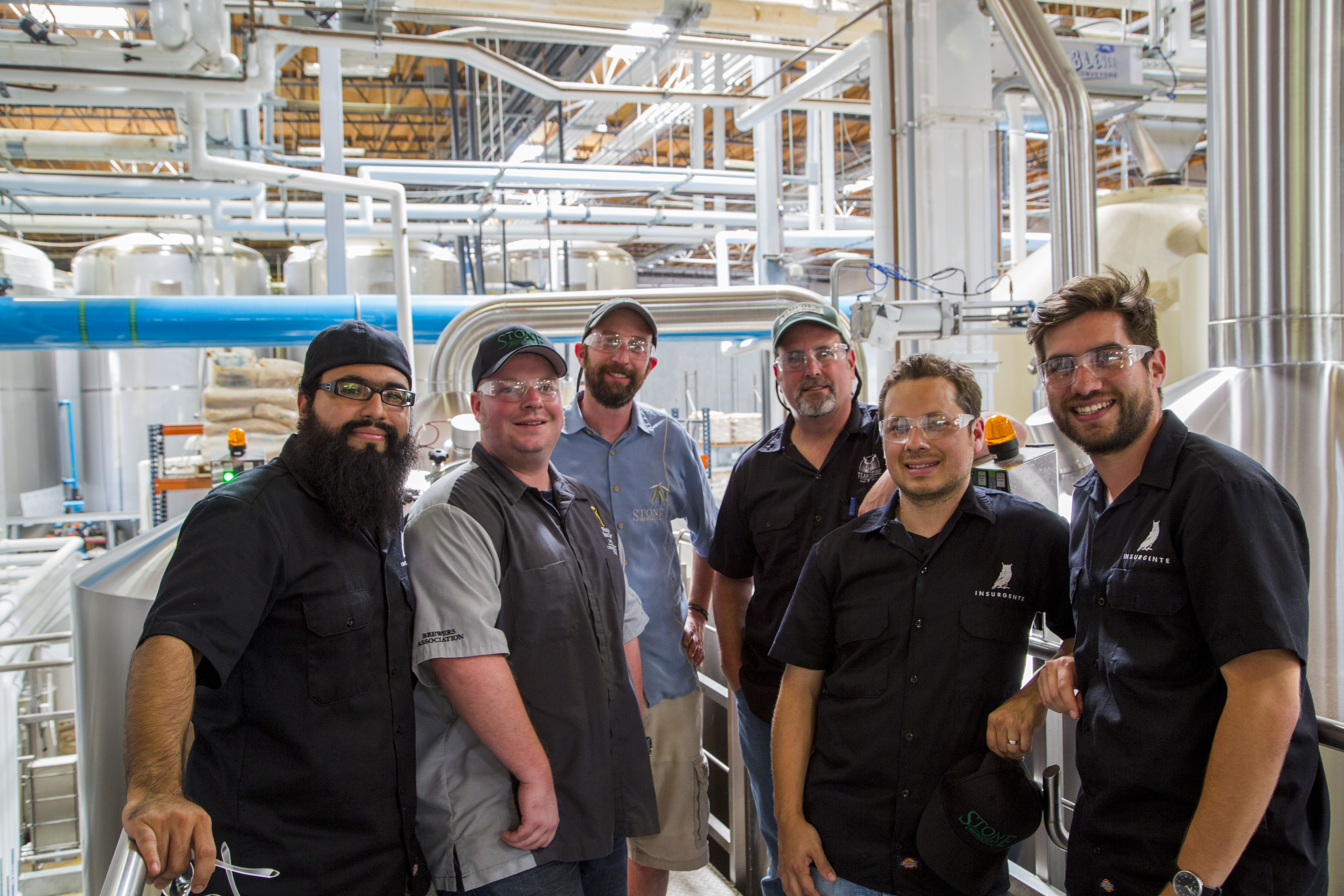 When selecting a third collaborator for this brew, it was a no-brainer that we bring in even more regional heritage, pulling from the burgeoning craft beer scene in Baja California, Mexico. We were proud to welcome aboard Iván and Damian Morales, co-founders of Cervecería Insurgente in Tijuana. Our respect for their part in the craft beer revolution on their side of the San Diego-Tijuana border matched their respect for our long-standing campaign for higher quality, artisanal beer appreciation and the genius recipe of the day. In addition to bringing the sweet, earthy, spicy flavors of Mexican hot chocolate into a beery format, the infusion of flaked oats and lactose results in a fuller, creamier body that brings the texture of that inspirational beverage into the equation as well. Not that the reactions of others should ever drive an individual's decision-making process, but one can probably trust a panel full of professional brewers that included Stone Co-founder Steve Wagner, Brewmaster Mitch Steele as well as Craft Beer Ambassador "Dr." Bill Sysak, who are arguably even tougher to please than a roomful of blogging beer fanatics. Or just trust us, because we're damn proud of this beer, which is another stunning example of the undying creative spirit of the American homebrewer. Chris Banker/Stone/Insurgente Xocoveza Mocha Stout takes us back to our brewing roots while catapulting us into beer's abundantly delicious future.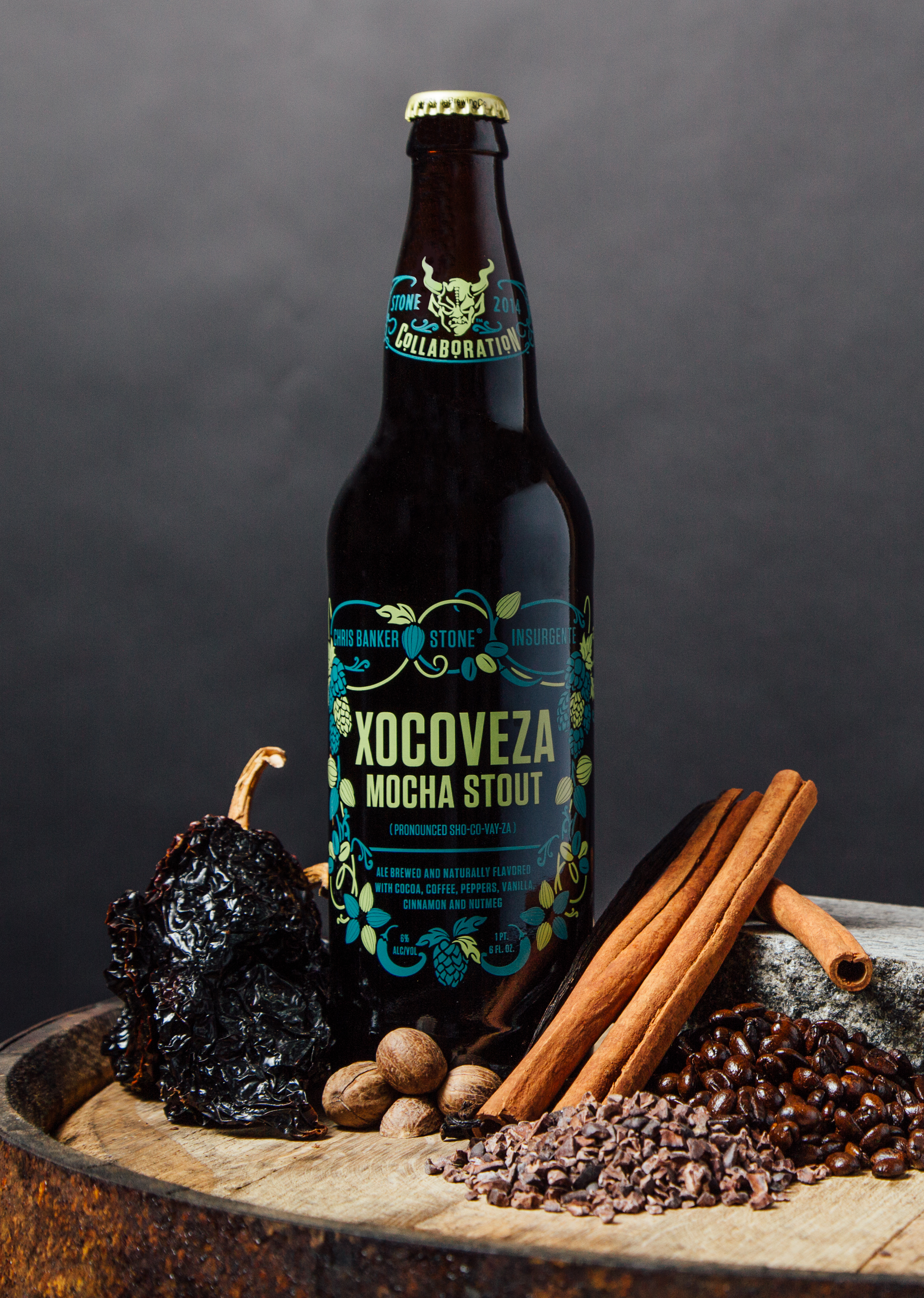 Stats & Tasting Notes by Brewmaster Mitch Steele
ABV: 8.1%
IBUs: 50 IBUs
Availability: Limited22-ounce bottles and draft, beginning September 8
Hop Bill: English Challenger, English East Kent Goldings
Distribution: AK, AL, AZ, CA, CO, CT, DC, DE, FL, GA, IA, ID, IL, IN, KS, KY, LA, MA, MD, ME, MI, MN, MO, MT, NC, NE, NH, NJ, NM, NV, NY, OH, OR, PA, RI, SC, TN, TX, VA, VT, WA and Puerto Rico
Appearance: Pours black with a thick brown head.
Aroma: Intense cinnamon, cocoa and coffee are followed by nutmeg and peppers. As the beer warms up, the flavor combinations evolve and the cocoa and vanilla notes really start to open up.
Taste: Cocoa and cinnamon are at the forefront. The coffee, nutmeg and vanilla follow, and the fruitiness and heat of the pasilla peppers come through nicely on the finish.
Palate: Full-bodied and very smooth with a light bitterness. The sweetness adds a lot to this beer without being too syrupy.
Overall: When we tasted Chris Banker's winning beer at our annual AHA Rally back in March, I think everyone on the brewing team was blown away by the multiple layers of flavor in this beer. Chris' inspiration was Mexican hot chocolate, and he was able to perfectly replicate the flavors. The inclusion of Cervecería Insurgente for this collaboration was a fun addition. We first met co-founders Ivan and Damian at the 2014 Craft Brewers Conference in Denver, and given their brewery's proximity to us in Mexico, and their approach to brewing, we thought they'd be a perfect fit for the third collaborator.
Suggested Pairings by "Dr." Bill Sysak
Appetizers: Bacon-wrapped figs, roasted pecans sprinkled with cinnamon, jalapeño poppers, candied salmon, coconut shrimp
Soups: French onion, beef stew, pork chili, butternut squash, clam chowder
Entrees: Chicken mole, coffee-dusted filet, vegetarian green curry, stuffed poblano chilies, mushroom stroganoff, lamb chops
Cheeses: Camembert, Hook's EWE CALF to Be KIDding, Beehive Cheese Big John's Cajun, Point Reyes Original Blue, Maytag Blue
Desserts: Cinnamon rolls, pecan pie, chocolate lave cake, tiramisu, vanilla ice cream float
Cigars: Alec Bradley Prensado Robusto Corojo, Casa Magna Colorado Extraordinario, Rocky Patel 15th Anniversary Robusto, La Aroma de Cuba Mi Amor, Padrón 1964 Anniversary Series Maduro