We are "sorry" we did it again. We couldn't help it. At Stone Brewing Co., we are an unapologetic band of hopheads psyched to explore the ever-expanding network of nooks and crannies within the IPA universe. We truly felt the need to team up with 4 Hands Brewing Co. and Bale Breaker Brewing Company (also admittedly hop-fanatic brewers) and collaborate on a new double India pale ale—4 Hands / Bale Breaker/ Stone Sorry Not Sorry IPA.
Image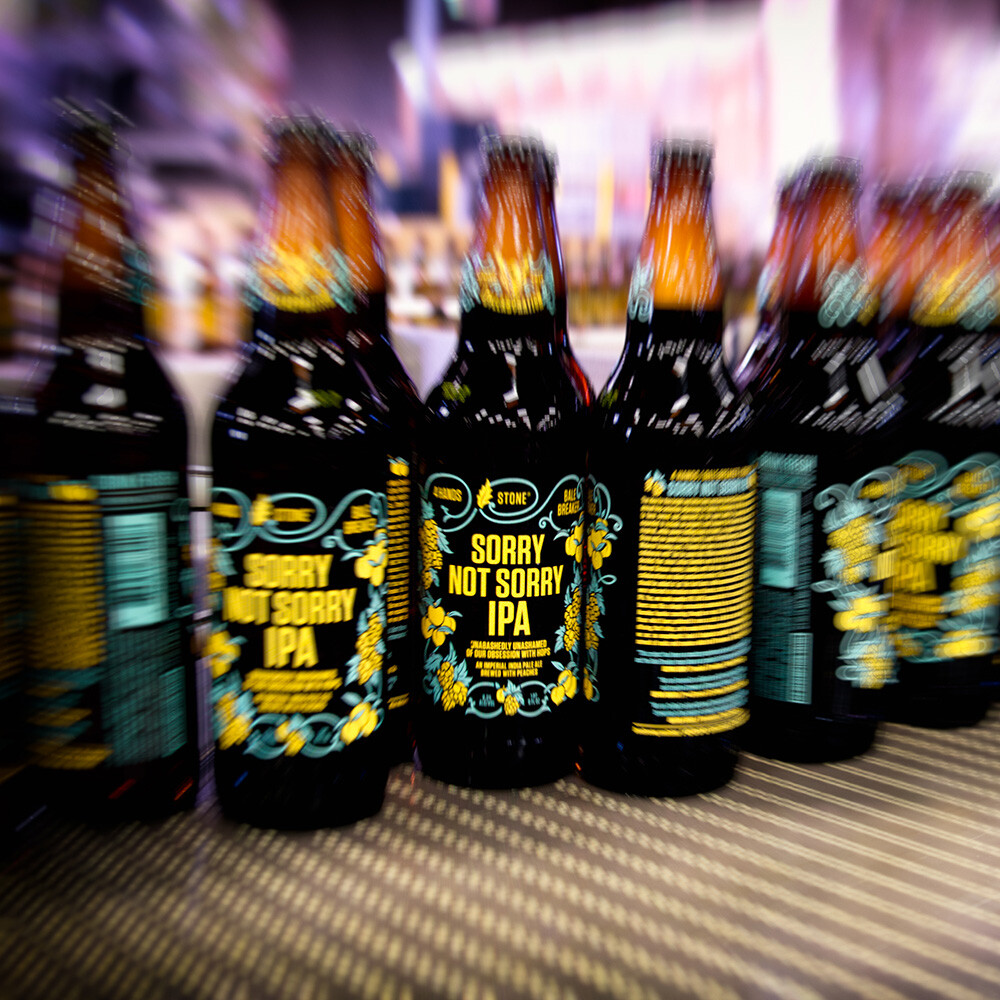 Before anyone outside of this hop circle gets all, "another IPA?!" on us, let us explain…This is not just any IPA. It is an imperial IPA brewed with experimental hops and peaches. Can you or anyone really blame us for wanting to team up with two rising stars in American craft brewing and explore this uncharted IPA territory? Plus, 4 Hands Brewing Co. has been on our "awesome list of breweries to collaborate with" list, so we couldn't just walk away from this opportunity.
Clearly you understand this. Maybe this beer description will help our cause for those who don't: "A bright and fruity, hoppy nectar that has been amplified by a dose of puréed peaches." Peaches! Those delicious, fuzzy fruits should easily sway the naysayers now, right?
We know you don't need an explanation for all our unique hops, but we'll give it to you just in case you need to explain it to others. Imagine going on an annual hop-selection pilgrimage to Yakima, Washington. You happen to be in company with Stone Lead Brewer Jeremy Moynier and Brewmaster Mitch Steele, and then find yourself on the first hop farm to commercially grow the beloved Simcoe hop variety. Undoubtedly the piney, stone fruit-like hop aromas circulating in the air might also influence you to extend a Stone Collaboration beer invitation to the craft brewery located on the farm, Bale Breaker Brewing Co.
Well, that's just what we did (and we know you would do it too). The three of us then selected experimental hops HBC 342 and HBC 344 to introduce notes of pine, berries, citrus and stone fruit. Which, might we add, perfectly complements the Munich malt grain bill. So we think you'll agree that people can't really hang us here for adding more hops.
So, now that you have the whole story, the only thing we can say for ourselves is we are in fact #SorryNotSorry for creating this IPA. After all, there's no need for you or any of us to "apologize" about being unabashedly unashamed of our obsession with hops.
Image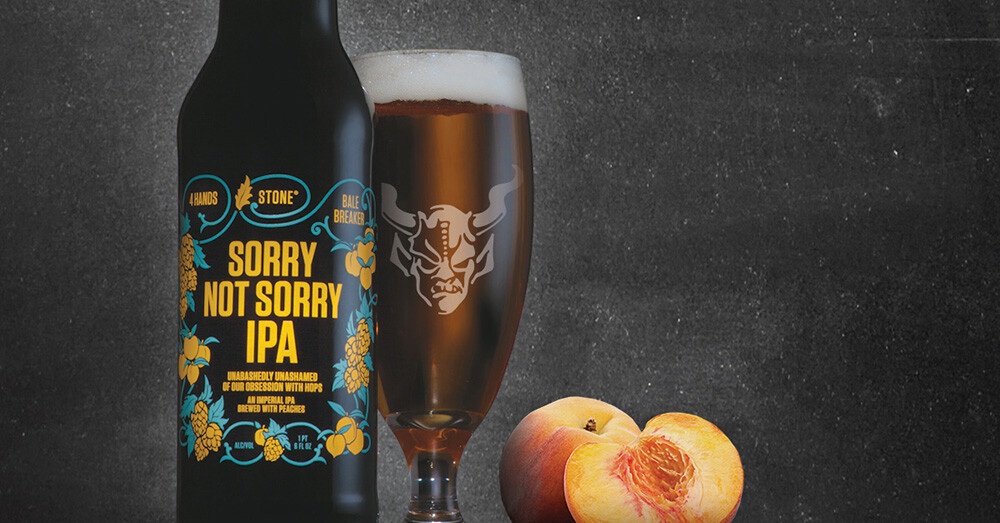 -----
Tasting Notes
URL: http://www.stonebrewing.com/beer/stone-collaborations/4-hands-bale-breaker-stone-sorry-not-sorry-ipa
Stats: 9.3% ABV, 70 IBUs
Availability: Limited 22-ounce bottles and draft, beginning November 9
Hop Bill: Warrior, Simcoe, Mosaic, HBC 342 and HBC 344
National Distribution: AK, AL, AZ, CA, CO, CT, DC, DE, FL, GA, HI, IA, ID, IL, IN, KS, KY, LA, MA, MD, ME, MI, MN, MO, MT, NC, NE, NH, NJ, NM, NV, NY, OH, OR, PA, RI, SC, TN, TX, VA, VT, WA and Puerto Rico
International Distribution: Australia; Alberta and British Columbia, Canada; Japan; Singapore; Korea; Sweden; and United Kingdom
Appearance: Pours a deep golden-brown color.  
Aroma: As expected, hops dominate the aroma with lots of pine, resin and stone fruit (peach/apricot) qualities. Hints of peach nectar are also apparent as the beer warms and opens up.
Taste: Fruity and hoppy, the hops provide a blend of stone fruit, piney-hop resin and hints of dankness, tropical fruit and citrus. There are prevalent peach fruit flavors that really complement the hops, especially as the beer warms up. The Munich malt provides some nice color and balance to the hop bitterness, and the beer finishes slightly sweet with a very smooth bitterness.
Palate: Rounded but bitter with some light sweetness
Overall: Two of our favorite new breweries joined us for this fun collaboration. 4 Hands Brewing Co. of St. Louis and Bale Breaker Brewing Company of Moxee, Washington, are good friends and great brewers, and they certainly love their hops. So when we first started talking about brewing, the idea of brewing a double IPA was the only option that was really ever on the table. The team at Bale Breaker helped us secure an experimental hop, currently named HBC 344, for use in this beer. To that we added another experimental hop that we had here at Stone, HBC 342. And then we added some Simcoe and Mosaic for good measure. We talked at length about adding some fruit to the beer that could complement the hop character, and the team at 4 Hands suggested peaches, which sure enough combines with the stone fruit character of the hops wonderfully.
Suggested Pairings
Appetizers: Coconut shrimp, cheddar cheese-stuffed jalapeño poppers, spring rolls, rosemary chicken kabobs
Soups and Salads: Chili verde soup, Waldorf salad, Thai green papaya salad, arugula and peach salad
Entrees: Baja fish tacos, jerk chicken, tofu fried rice, Cajun pork chicken, panang curry
Cheeses: Grana Padano, pepper jack, Maytag Blue, Widmer's 4 Year Aged Cheddar
Desserts: Carrot cake, coconut macaroons, peach cobbler, spiced cake
Cigars: Drew Estate Herrera Esteli, Don Pepin Garcia Blue Label Invictos Corojo Robusto, Alec Bradley Trilogy Authentic Corojo