Are we hopelessly nostalgic? Dub all stars? Aurally obsessed? (Hey, we said "aural"…heed the spelling!) The answer to all of these is yes, however, the decision to name the latest experiment from our more out-there, experimental line of whimsy driven brews Stochasticity Project HiFi+LoFi Mixtape actually takes more of a page from our history than our love of boom boxes and customized cassettes. Fans of Stone (and the Stone Blog) have heard of our Stone Mixtape Ale series of blended beers. These rarities are custom mixes of barrel-aged Stone beers and archived rarities, the likes of which many people have never tasted (e.g., Stone LeVariation Ale, Stone Belgian Brown Ale aged in Red Wine Barrels, Stone Belgian Pale Ale aged in White Wine Barrels). To date, 11 Stone Mixtape Ales have been crafted, but none of them have been bottled. They're super small-batch, so that's just the nature of these interesting and often exquisite beasts. To give fans nationwide a taste of our blends, we decided to add a large-scale Mixtape to the Stochasticity Project docket, the result of which comes in the form of Stochasticity Project HiFi+LoFi Mixtape.
https://www.youtube.com/watch?v=1D-PZLp1I4s
In blending multiple unheard-of Stone beers for this endeavor, we could have used some of our archived stock, brewhouse blending specialty ales or barrel-aged brews, but instead, we decided to make something truly first-of-its-kind for us. That led to Brewmaster Mitch Steele pulling from his own archives, as in his inventory of memories comprising decades of touring the world in search of exceptional beer. Many of his fondest reminiscences take place amid the backdrop of traditional English pubs. (If we had a nickel—or perhaps a Euro—for every time he sampled a pilot batch brew and remarked, "This reminds me of a beer I had while at a British pub, we'd have…the math gets fuzzy here, but at least enough to buy a case of Stochasticity Project HiFi+LoFi Mixtape, so we'd be pretty set.) Steele not only delved into his past, but the proud history of U.K. public houses…specifically stock ales.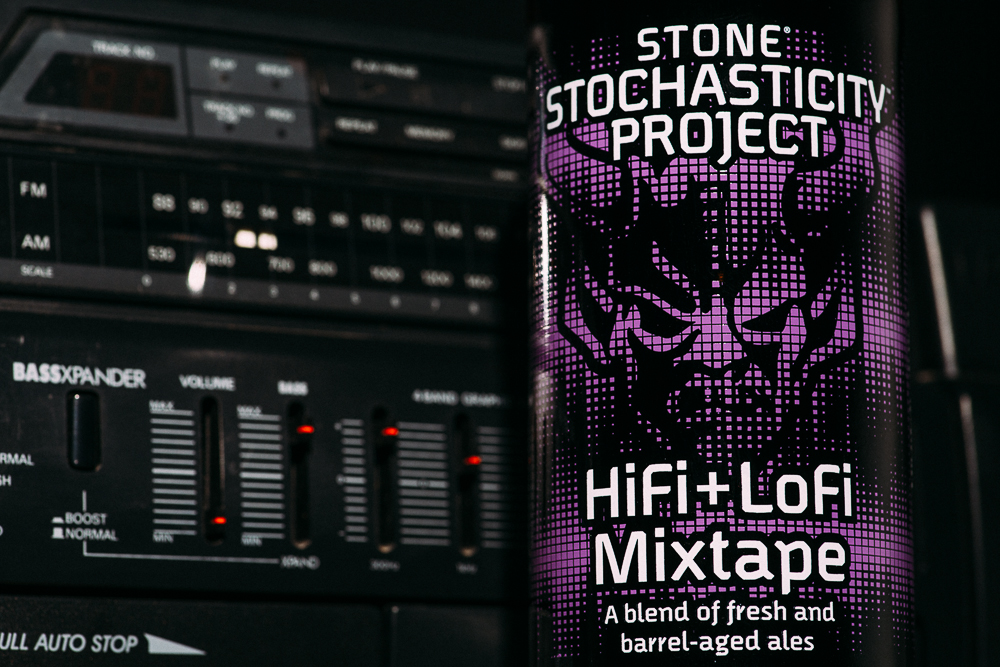 A staple of pubs around the 1700s, stock ales are higher-alcohol, malty beers with dark berry-like flavors from English yeast, which are allowed to mature for several months in oak casks. Such maturation would primarily take place at the pub (though some breweries would handle that on their ends). During that process, the beer would typically oxidize to some extent and even take on some slightly sour notes from wild yeast and other microorganisms (Brettanomyces, lactobacillus, pediococcus, etc.). To increase the palatability of fresh beers, which tended to be a bit rough due to kilning techniques that were much more primitive than those employed by today's brewers, the aged "beer for holding" would be blended with the fresh ale, creating a multi-layered yet highly quaffable brew with more character and intrigue than the many straightforward (but plenty delicious) mild ales, bitters and pale ales that made up the majority of a pubs' standard offerings. In creating Stochasticity Project HiFi+LoFi Mixtape, Steele employed some new toys that generated a lot of excitement amongst our brewing team: large oak foudres. While you may have never heard of a foudre, if you've ever toured a winery, it's likely you've laid eyes on one. Foudres are large oak vessels that resemble barrels and serve a similar purpose, providing storage space for fermenting beverages. Unlike fermenting in stainless steel tanks, doing so in foudres allows the character of the oak—as well as any wine character absorbed into the wood during its previous uses—to find its way into the finished beverage. In this case, tanic, fruity, earthy flavors from Napa and Sonoma County reds colored our aged, higher alcohol ("HiFi" if you will) stock ale. We held that beer in our brand new foudres for four months before blending it with a fresh, lower alcohol version of the same stock ale exhibiting more of the bitterness from Apollo, Target and Fuggles hops (the "LoFi") to create the first Stone Mixtape Ale to make it out of our brewery in great enough quantity for a multitude of our fans to enjoy.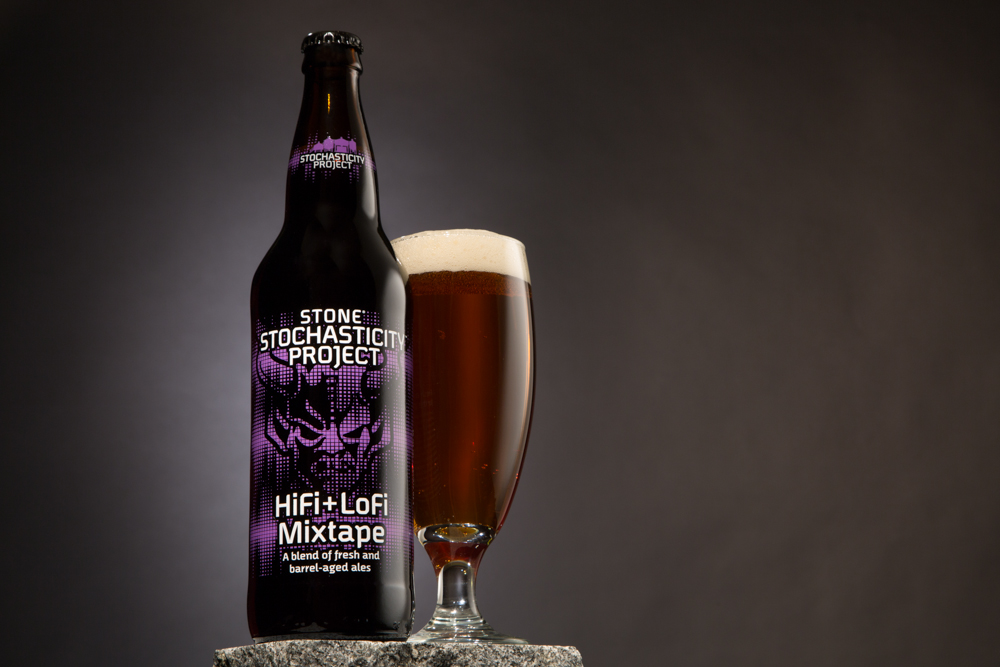 Tasting notes, provided by Brewmaster Mitch Steele
Stats: 8.8% ABV
Availability: 22-ounce bottles and on draft beginning May 18
Hop Bill: FugglesApollo, Target
Malt Bill: English Pale, English Mild Ale, English Amber
National Distribution: AK, AL, AZ, CA, CO, CT, DC, DE, FL, GA, HI, IA, ID, IL, IN, KS, KY, LA, MA, MD, ME, MI, MN, MO, MT, NC, NE, NH, NJ, NM, NV, NY, OH, OR, PA, RI, SC, TN, TX, VA, VT, WA and Puerto Rico
International Distribution: Australia; Alberta and British Columbia, Canada; Japan; Singapore and United Kingdom
Appearance: The beer pours deep amber with a creamy white head and a touch of haze.
Aroma: Strong fruity esters with light sherry notes, oak and toasted malt.
Taste: Oaky presence is followed by fruity yeast character. The malts shine mid-palate, combining with oak and a light berry fruitiness, followed by a dry, bitter finish.
Palate: Full-bodied with a nice bitterness and astringency.
Overall: Stone Co-founder Greg Koch has hypothesized for years that brewing the same beer at two different alcohol levels and blending them would provide a different flavor profile than brewing the base beer to a specific alcohol target. And this is true. When compared with beers brewed to lower gravities, fermenting at a higher gravity with a higher resulting alcohol level causes a drastically different mix of esters and other flavor compounds provided by yeast fermentation. Proof comes via this beer, which follows a decidedly English track, using 100% English malts and hops a la traditional stock ales, which I learned a lot about while conducting research for my book IPA: Brewing Techniques, Recipes and the Evolution of India Pale Ale. It was fun to be able to draw on this research as the inspiration for this beer.