When most Americans think of Australia, their minds revert to popularized images of shrimps on the barbie, an architecturally magnificent opera house, crocs, koalas, 'roos both kanga and walla, and scenes from the Outback. But when our Brew Crew's thoughts venture Down Under, they think of hops. It's appropriate considering the plethora of amazing hop cultivars being grown in that country. Primarily through single-hop IPAs brewed on our 10-barrel brewhouse at Stone Brewing World Bistro & Gardens – Liberty Station, our brewers have had the opportunity to really dig into the aroma, flavor and bittering characteristics of a number of Australian hops, using that knowledge to extract the best of what they have to offer into numerous beers brewed at our main facility. These hops have found their way into our regular brewing rotation, so when it came time to develop a recipe for our annual anniversary IPA, it was a quick and simple decision. We endeavored to create a hop-heavy beer celebrating Australia in a uniquely tasteful way. The result is Stone 19th Anniversary Thunderstruck IPA.
Everything about this beer is 100% Australian. From the hop bill, which includes Ella, Vic Secret, Galaxy and Topaz, to the Australian Fairview malts we went to great lengths to import. The result is an imperial IPA coming in at a thunderous 8.7% alcohol-by-volume that provides the necessary heft to support the beer's massive hop presence. Big notes of citrus and tropical fruit come roaring through, first in the bouquet followed by the taste buds. The taste sensations are similar to Stone Enjoy By IPA, which makes sense considering Galaxy hops are used to dry-hop that beer. Stone 19th Anniversary Thunderstruck IPA finishes dry with a hint of lingering bitterness akin to grapefruit rind, making for the type of all-around sensory experience we aim for when crafting our annual celebratory beers. But we didn't stop there.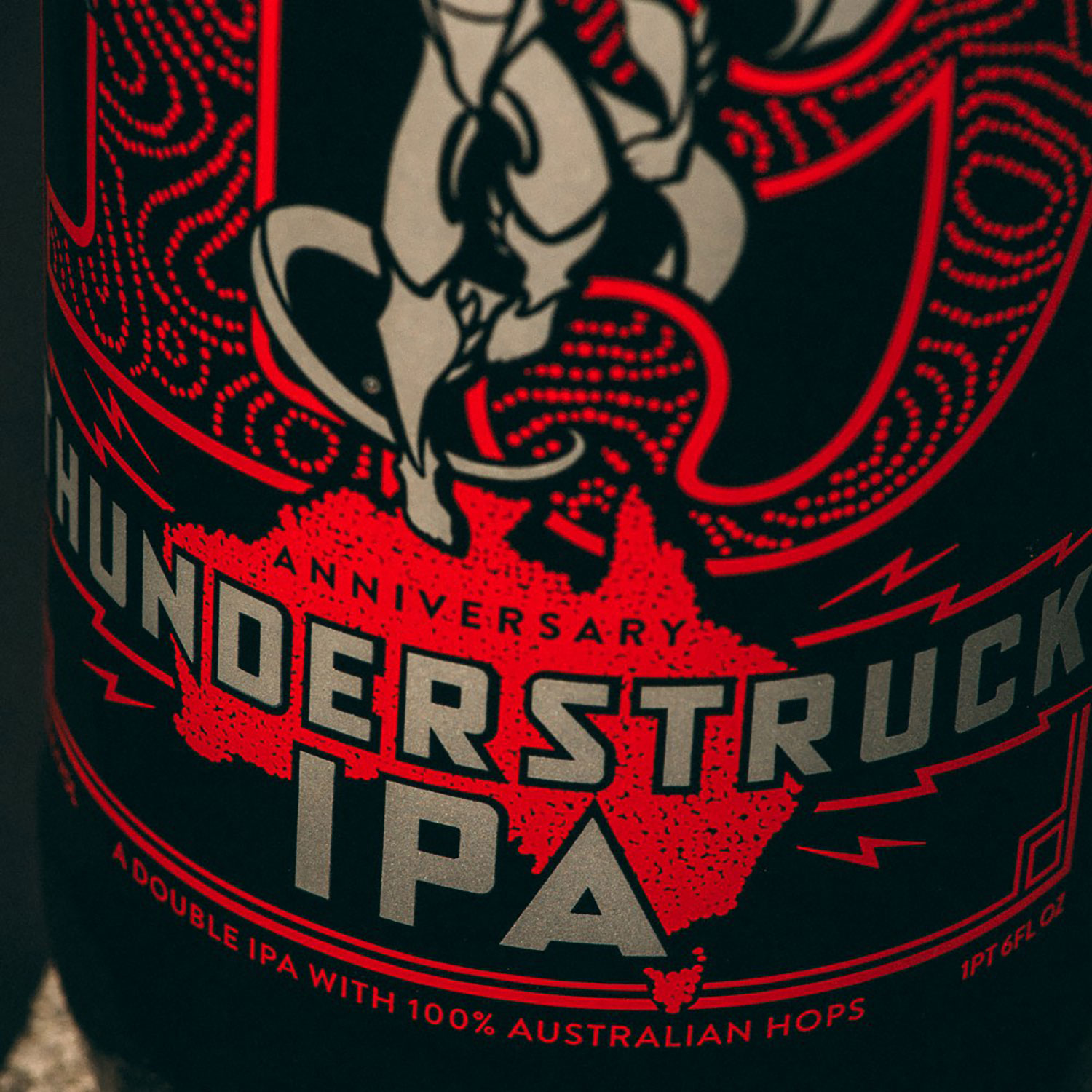 To adequately convey our respectful homage to Australia, inside and out, our graphics artists worked up a bottle design that subtly yet distinctly incorporates elements plucked from Down Under. Most obviously, Australia appears as the jumping-off point for our anniversary gargoyle, but inside the numbers one and nine is a dot pattern inspired by aboriginal artists. And, because thunder is invisible, a slew of lightning bolts adorn the bottle along with text that may or may not reference a band with Australian roots that may or may not exist and may or may not have penned a tune that may or may not share the same name as that of this beer. What is for sure is that this limited-edition imperial IPA is out in the wild like a dingo on the prowl, seeking hopheads with worldly palates ready to celebrate an exciting hop-growing region along with 19 years of bold, exotic Stone ales. But you can't have a 19th anniversary IPA without 19 years, so accept this specialty beer as a thank-you to everyone who helped get us this far!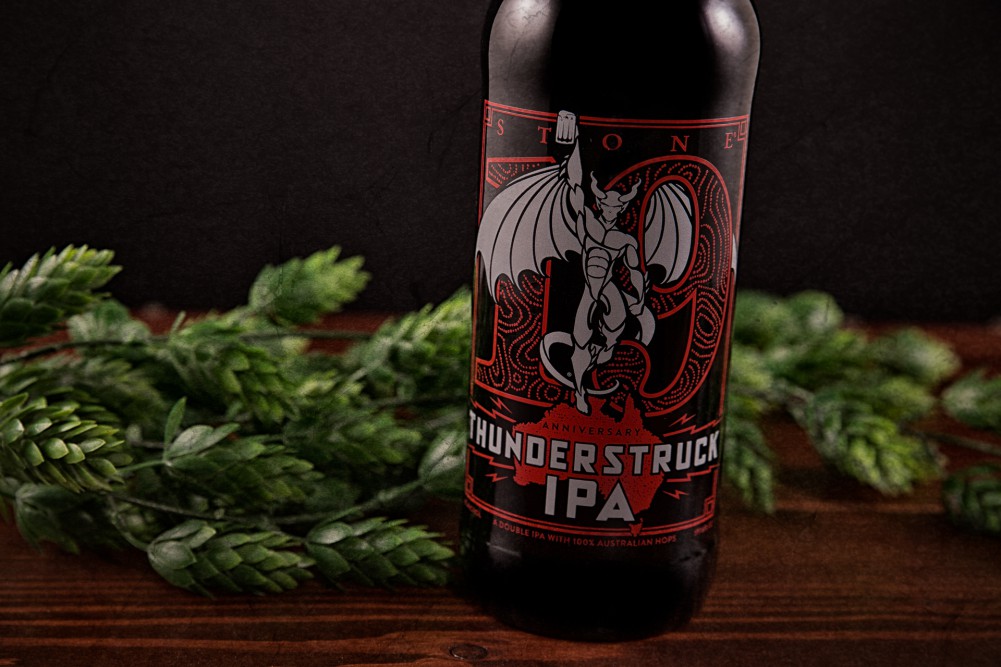 Tasting notes, provided by Brewmaster Mitch Steele
Stats: 8.7% ABV, 95 IBUs
Availability: Limited 22-ounce bottles and on draft beginning August 10
Hop Bill:Ella, Galaxy, Topaz, Vic Secret
National Distribution: AK, AL, AZ, CA, CO, CT, DC, DE, FL, GA, HI, IA, ID, IL, IN, KS, KY, LA, MA, MD, ME, MI, MN, MO, MT, NC, NE, NH, NJ, NM, NV, NY, OH, OR, PA, RI, SC, TN, TX, VA, VT, WA and Puerto Rico
International Distribution: Australia; Alberta and British Columbia, Canada; Japan; Singapore and United Kingdom
Appearance: Pours gold color with a white head of foam.
Aroma: Aroma is amazing; massively hoppy with exotic tropical fruit, peaches, citrus and pineapple character, balanced with a bit of peppery, herbal dankness.
Taste: Lots of fruity hop notes, ripe fruit, pleasantly malty and lasting, intense bitterness.
Palate: Medium-bodied, bitter and dry.
Overall: Over the past several years, we have developed an intense and thorough hop-evaluation program that involves brewing a standard IPA test recipe on our five-barrel pilot system or our ten-barrel brewery at Stone Brewing World Bistro & Gardens – Liberty Station. With this program, we identify experimental, new or old-favorite hop varieties to evaluate, and these test beers are late-hopped and dry-hopped exclusively using the variety we are exploring. We've discovered a lot of great hops via these test brews, and the hops used in this release are perfect examples of the success of our program. We have developed an affinity for hops grown in Australia. Australian Galaxy, for example, is a mainstay dry-hop in our Stone Enjoy By IPA. In the case of Stone 19th Anniversary Thunderstruck IPA, we dry-hopped the beer with two Australian hop varietals that went through our evaluation program—Vic Secret and Ella. Both are flavorful varieties with complex fruit profiles. To make this beer even more authentically Australian, we also imported close to 400,000 pounds of Australian Fairview malt, all in 1,800-pound "supersacks" for use as the base malt. The result is a uniquely Australian beer, Stone-style. Thun-da!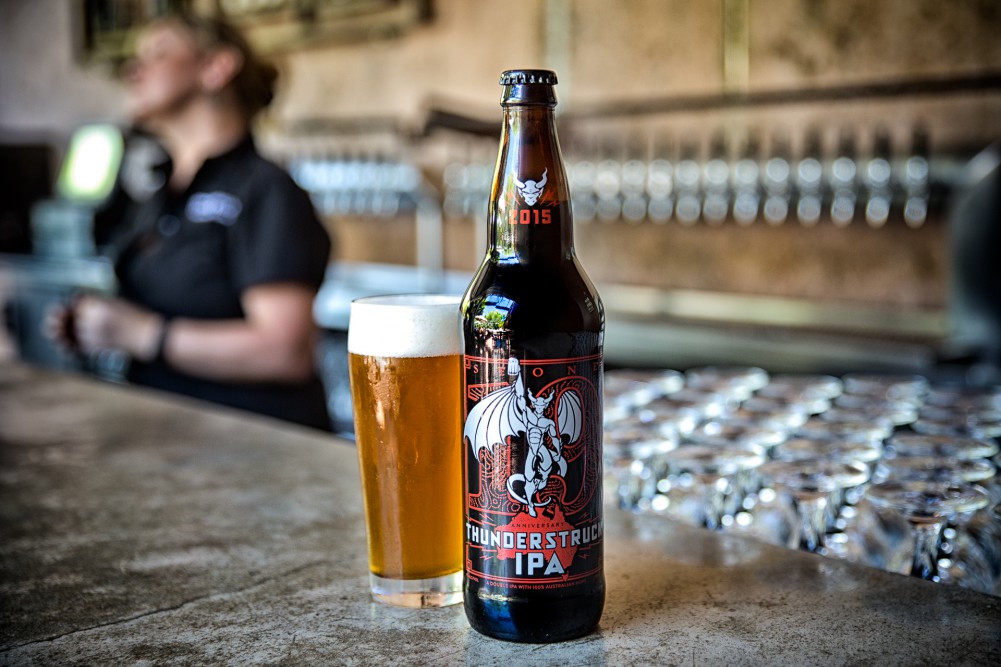 Suggested pairings, provided by Craft Beer Ambassador "Dr." Bill Sysak
Appetizers: Barbecue shrimp, chicken satay, kimchi, guacamole, goat cheese-stuffed piquillo peppers
Soups: Caesar, summer corn, quinoa and vegetable, antipasto
Entrées: Fish tacos, pad Thai, spicy vegetarian chili, chana masala
Cheeses: Parmigiano-Reggiano, Cabot Clothbound Cheddar, manchego, fontina, Keen's Cheddar
Desserts: Carrot cake, peach cobbler, white chocolate-macadamia nut cookies, ginger spice cake
Cigars: Herrera Esteli Piramide Fino, Arturo Fuente Hemingway Short Story