India pale ales are our bread-and-butter here at Stone. We love them as much as you do. Similarly, we get an immeasurable amount of satisfaction out of experimenting with new hop combinations to create IPAs with flavor profiles that vary from what we've thus far experienced. The arrival of Stone Delicious IPA provides a tangible example of why continual IPA and hop exploration are so fulfilling. With the new Lemondrop varietal as a centerpiece and a massive dry hop composed exclusively of lemony El Dorado hops from Washington State, this beer lives up to its name behind a plethora of tart, citrusy notes and a stunning grove-like, lemon tree bouquet, providing a graceful yet in no way subtle one-two punch to the senses. Our newest IPA is unique to our stable of beers in every way…including the fact it just so happens to be our first gluten-reduced offering.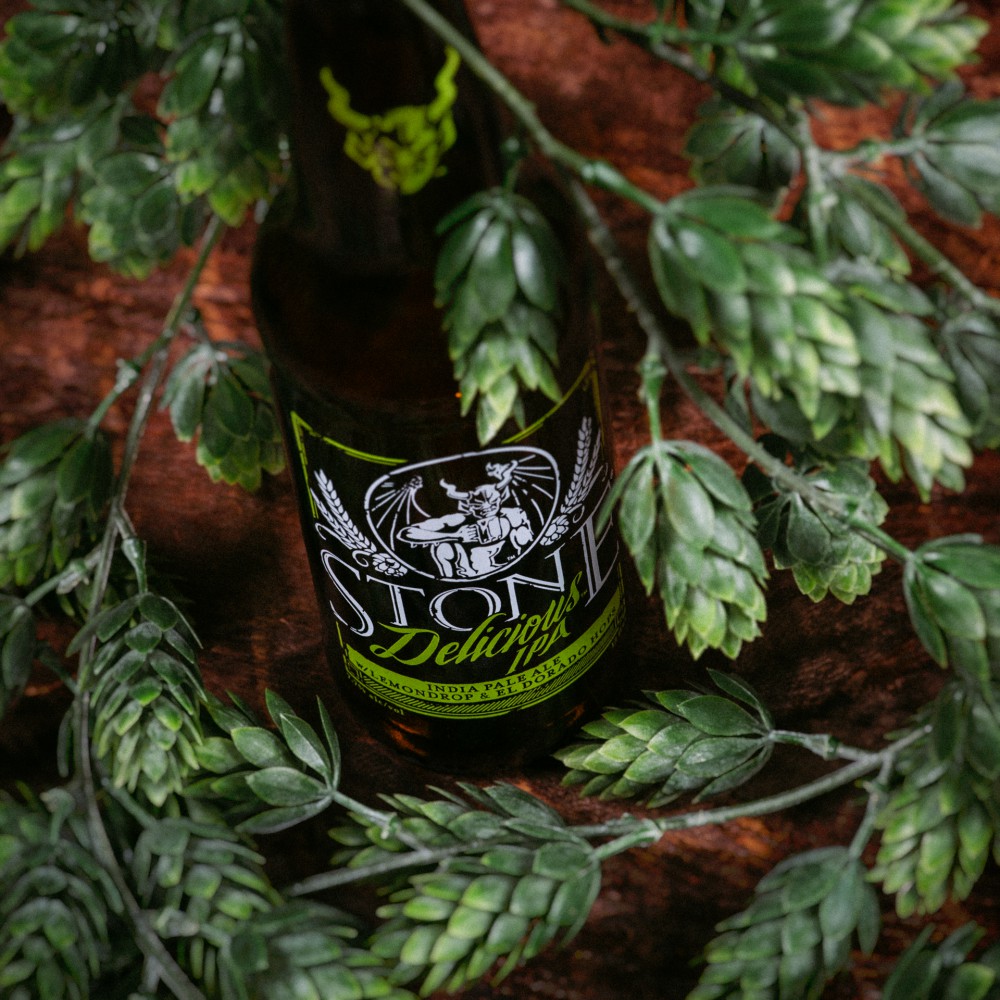 You read that right. In addition to being incredibly flavorful and hopped in our typically heavy-handed way, Stone Delicious IPA is also fermented in a manner that breaks down and removes gluten, rendering gluten levels so significantly that the beer qualifies as a "gluten-reduced" ale per the FDA (U.S. Food and Drug Administration). It's a nice bonus that will allow nearly everyone out there to enjoy our bold style of craft beer—something we've always wanted but, up until the advent of this beer, haven't been able to make happen. We're excited to introduce our beers to those who haven't yet had a Stone-brewed IPA, or perhaps even a craft beer of any kind. And for those of you who know all about our hoppy ales, we're thrilled to provide a new one we're particularly high on, reduced gluten levels or not.
https://www.youtube.com/watch?v=OuDfmd9dO14
For those for whom gluten is a concern, numerous questions are bound to spring to mind in regards to gluten-reduced craft beer. So, we've taken a stab at some of the more obvious queries Stone Delicious IPA is bound to evoke. Of course, if you still have questions, we're happy to field them. Just shoot us an email at delicious@stonebrewing.com. Who knows, your question and our answer may even make it onto this FAQ page. NOTE: The answers below exclusively refer to the bottled version of Stone Delicious IPA. For information on Stone Delicious IPA served on tap, please see the response specifically related to the draft version at the bottom of this FAQ.
How does Stone reduce the gluten levels in this beer?
We have colleagues at our longtime yeast supplier, White Labs to thank. It's their enzyme, Clarity-Ferm, which makes Stone Delicious IPA possible. We start by brewing the beer exactly like we do every other beer at our brewery, using all-natural ingredients (barley, hops, water and yeast, exclusively) with dashes of creativity and heart plus a boatload of hops. When boiled wort (unfermented beer) is transferred to fermentation tanks where yeast is introduced to convert fermentable sugars to alcohol, we add Clarity-Ferm, which separates and eliminates the potentially inflammatory nature of the gluten protein chains.
Does Stone Delicious IPA contain gluten?
Though we've harnessed modern advances to significantly reduce the amount of gluten, traces of gluten remain in Stone Delicious IPA. However, the amount of gluten in this beer is far below the Codex threshold of less than 20 parts per million in total gluten for "gluten-free" products; so much so that its gluten levels are too low to be measurable by available testing methods. Furthermore, the brewing process for Stone Delicious IPA renders the beer free of barley epitopes (peptide sequences and reactive sites in gluten molecules triggering negative reactions in the small intestine).
Where is Stone Delicious IPA brewed?
Currently, the beer is brewed at Stone's flagship brewery in Escondido, a municipality in north San Diego County, California.
How do you prevent cross-contamination by Stone beers containing gluten?
We take numerous, specific steps to ensure there is no cross-contamination in our brewing or packaging facilities. We carefully clean and sanitize every tank, pipeline, hose and piece of equipment that Stone Delicious IPA will touch, and conduct numerous tests at our brewing facility checking for gluten levels.
How is Stone Delicious IPA tested for gluten?
The gluten testing is conducted by White Labs using an ELISA assay, the R5 competitive Gliadin assay from R-Biopharm. Yes, that is a mouthful, so allow us to further explain. The ELISA assay quantifies the prolamins from the wheat, rye and barley using an antibody that recognizes the potentially inflammatory sequence QQPFP, which occurs repeatedly in the prolamin molecules. This is the only method of gluten testing for products containing alcohol that is approved by the federal government.
Where can I see test results?
Each bottle of Stone Delicious IPA has both an "enjoy-by date" printed on the shoulder and a "julian date" laser-engraved near the bottom of each bottle. You can use either of these denotations to retrieve test results for the beer in your bottle by visiting the Stone Delicious IPA webpage and viewing a PDF of the White Labs report corresponding to those numbers.
Where do I find where a beer was bottled, the Enjoy By date, or the julian date?
Enjoy by dates are printed on the neck of each bottle, and julian dates are laser engraved or printed near the bottom of the bottle. Note that bottles coming out of our Richmond brewery and our Escondido brewery are slightly different, and help identify where that beer came from. Julian dates can be difficult to see, so it may be helpful to look at the bottle under a light or shining a light through the bottle.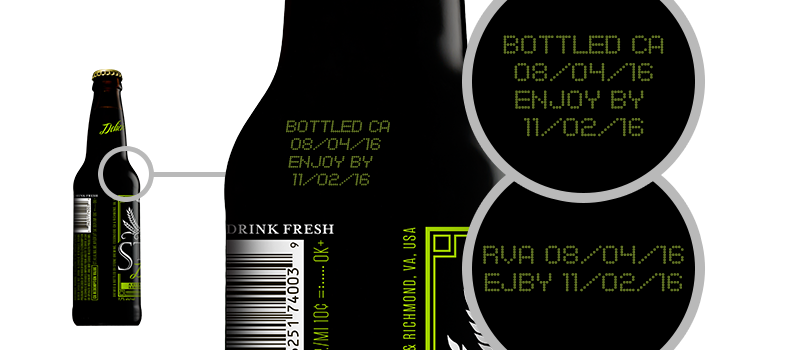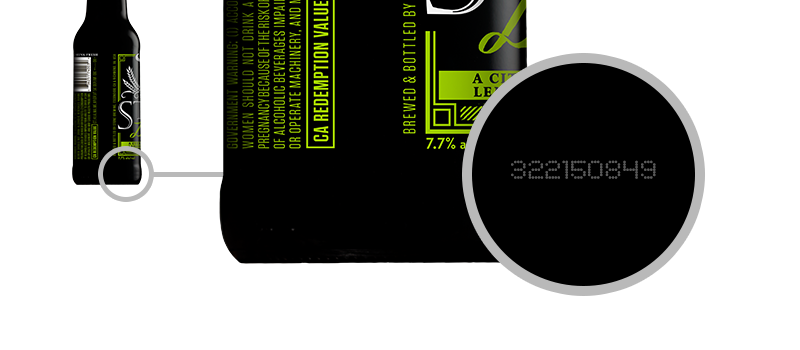 Does Stone utilize any barley malt alternatives to brew this beer?
No. We do not replace the barley malt we use for our other beers with rice, quinoa, sorghum, buckwheat or any other grains.
Where can I purchase Stone Delicious IPA?
Stone Delicious IPA is distributed to every state where Stone beers are sold, including the District of Columbia and Puerto Rico. The best way to locate retail accounts where Stone Delicious IPA is sold by consulting our online Stone Beer Finder.
If I find Stone Delicious IPA on tap, can I expect it to be at the same gluten levels as the bottled version?
Because the draft accounts where we distribute our kegged beer would have to basically have independent dedicated lines via which to serve Stone Delicious IPA—something that isn't feasible for the majority of bars and restaurants—the beer will likely be served from lines that have previously served non-gluten-reduced beer. Therefore, we cannot guarantee that the gluten levels of the beer will be the same when served in such a manner. While the beer in the keg is the same as the beer in the bottles, there is always the chance that it could mix with previously served beers in the lines of the draft system and, thus, become intermingled with beer containing gluten. To be safe and ensure the health of those with greater gluten sensitivity, we similarly do not make the gluten-reduced claim for Stone Delicious IPA served from draft systems and growler fill stations at Stone-operated facilities (Stone Brewing World Bistro & Gardens and Stone Brewing TapRoom restaurants, Stone Farms or Stone Company Stores). It is best to purchase Stone Delicious IPA in bottles if you are gluten sensitive.
Will Stone brew other beers with lowered gluten levels?
There are no current plans to brew more gluten-reduced beers, but years of brewing experimentation have taught us never to say never when it comes to craft beer!