We hold many things dear at Stone Brewing Co. High on that list of items held on-high are hops. They are the lush foundation on which some of our greatest successes have been forged. They rest ever-presently at the core of what we do and are largely what have helped us to stand out over the past 18-plus years. We love them every bit as much as you lupulin-craving nuts. So, when we were afforded the opportunity to construct a beer to honor this country's hop growers, you best believe we took it very seriously!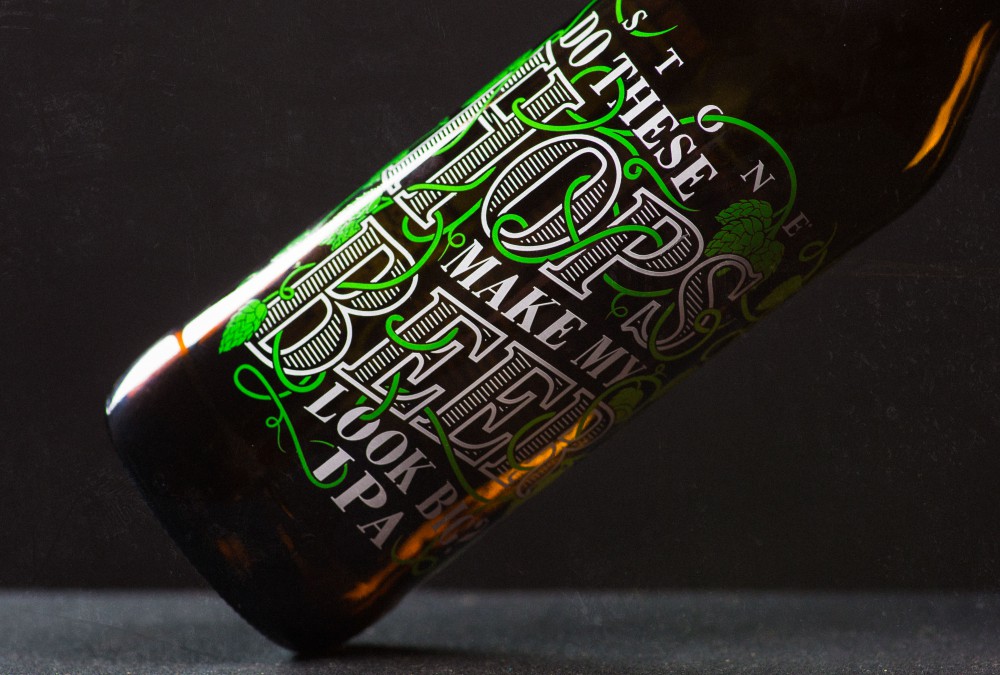 Each year, USA Hops holds the American Hop Convention. For 2015, they chose the our very own San Diego, California as the site of this gathering, which brings together the men and women responsible for cultivating the oil-rich botanical cones lending craft beer its piney, citrus and tropical fruit aromas, and resinous, bitter bite. This year, we lobbied to craft a special beer to commemorate the occasion, and were happy to be granted permission to pay homage to the individuals who so deftly and caringly nurture hops both traditional and experimental. In doing so, we leaned heavily on the latter, utilizing a hop that isn't yet widely grown and is so new it doesn't even have a name yet. While HBC 291 might not sound all that sexy, its variety of citrus, pineapple, melon, tropical fruit flavors and inherent herbaceous spice proved plenty alluring; enough that we felt justified focusing on it as the primary ingredient in Stone Do These Hops Make My Beer Look Big IPA.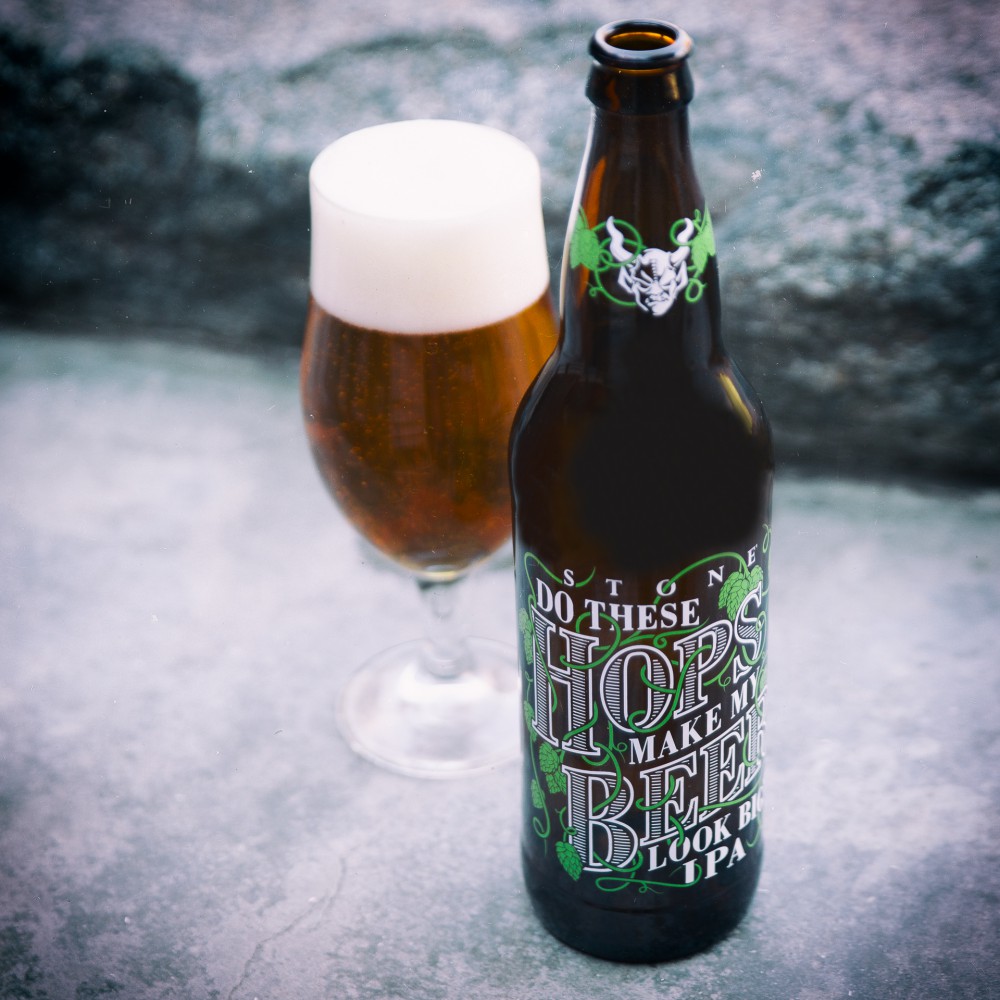 This small-run beer, which came in at 8.8% alcohol-by-volume and 65 on the International bittering unit scale, was handed out to all of the attendees of the 59th American Hop Convention. It was rewarding, not only to get to work with this virgin hop and brew up a brand new beer, but to get to share it with the folks who work so hard to provide us the magical ingredient we and our fans have come to love and associate with Stone beers. There was even a small amount of the beer left for us to put on tap at our Stone Brewing World Bistro & Gardens restaurants and on shelves at our Stone Company Stores so our fellow hop heads could get a taste. In the end, paying respect to hop growers via the fruits of their labor was just as much fun as the name we gave it, and using it to toast our industry allies was truly an honor.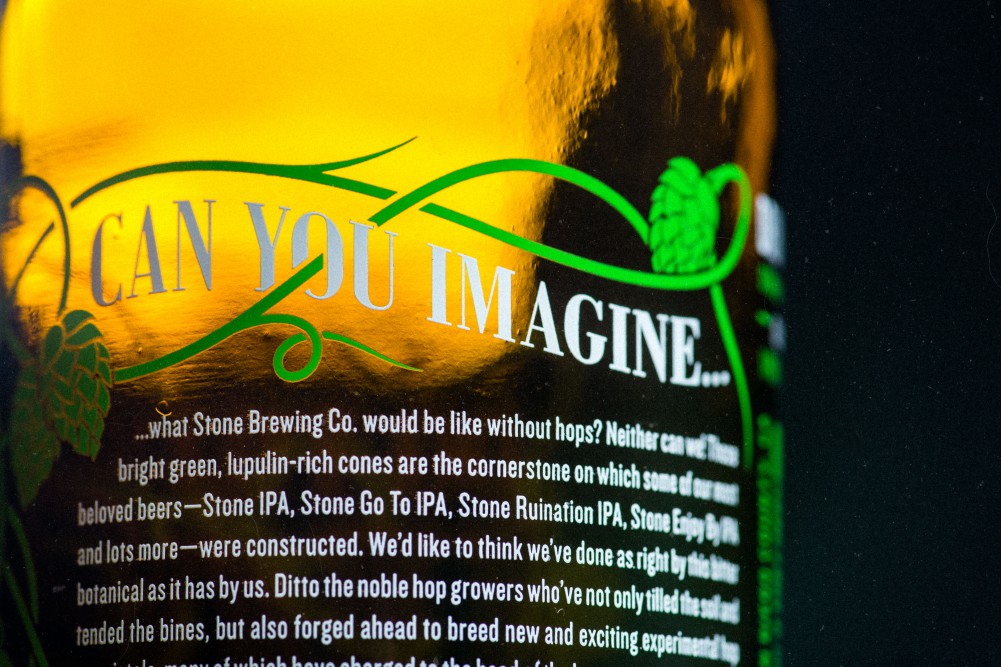 A Tribute to Hop Farmers from the Back of the Bottle Can you imagine what Stone Brewing Co. would be like without hops? Neither can we! Those bright green, lupulin-rich cones are the cornerstone on which some of our most beloved beers—Stone IPA, Stone Go To IPA, Stone Ruination IPA, Stone Enjoy By IPA and lots more—were constructed. We'd like to think we've done as right by this bitter botanical as it has by us. Ditto the noble hop growers who've not only tilled the soil and tended the bines, but also forged ahead to breed new and exciting experimental hop varietals, many of which have charged to the head of the hoppy pack and found their way into some of the planet's most coveted brews, including our own. So, it is with great pride that we crafted this one-time-only imperial IPA. But we're Stone…double IPAs flow like water from our brewhouse. So what makes this one unique? Experimental hops! We dabbled with a number of new varietals, including the excitingly named HBC 291, which we brewed with for the very first time. It takes a heaping load of what-the-hell-let's-go-for-it attitude to go full-brew with something so new, but fortunately, that's something that flows like water around here, too. So enjoy this tribute to the almighty humulus lupulus. Get your nose in that glass and take in the complex assortment of vivid aromatic sensations in the bouquet, followed by flavors that are simultaneously citrus-like, foresty and altogether scrumptious. This gem proudly fits the bill as an IPA unique and special enough to serve as the official beer of the 2015 American Hop Convention…and the official IPA of you!