For many, the term "triple IPA" hails from a foreign vernacular—that makes sense, considering IPA stands for India pale ale, a British beer style brewed with enough hops to preserve the quaff during long nautical voyages from England to the Far East. It doesn't get much more foreign than two distantly situated countries and the traversing of two major oceanic bodies. Since latching on to this historic style, American craft brewers have taken the IPA to new heights. No longer are hops coveted for their preservative powers—now it's all about those botanicals' piney, fruity, tropical, spicy flavors and aromas, and raising those sensations to bombastic levels. But what takes an India pale ale to "triple IPA" territory? The answer comes in the form of Stone RuinTen Triple IPA.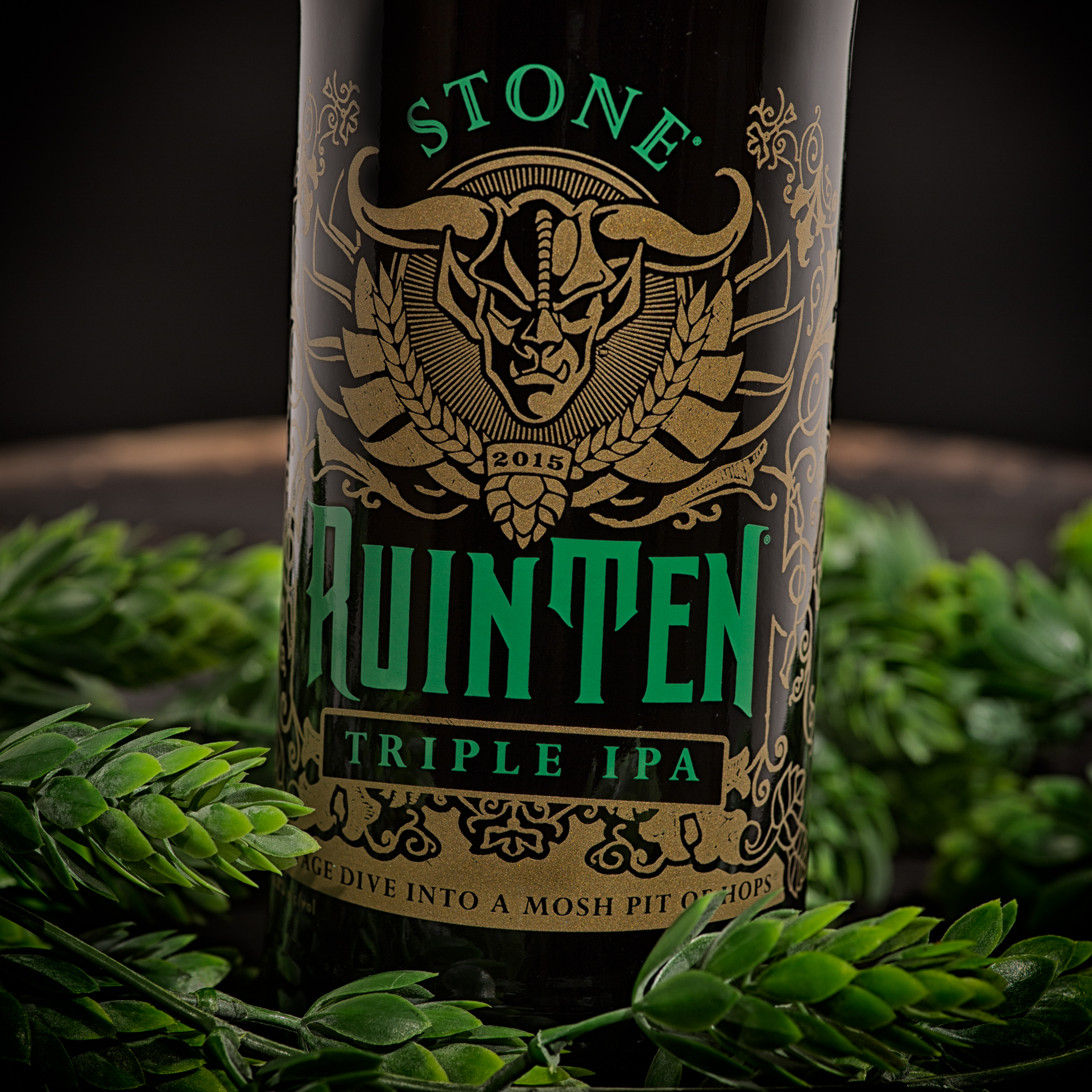 Wait, what's that, astute craft beer enthusiast? You are so into this beer that you've taken notice of the fact its name has changed. Earlier this year, we revamped the recipe for this brew's progenitor, Stone Ruination IPA. In doing so, we reintroduced the world's first full-time, breed-and-bottled West Coast double IPA as Stone Ruination Double IPA 2.0. This involved an update of the beer's recipe including new hops and the incorporation of modern IPA brewing techniques. Craft beer fans across the nation embraced it, while instantly wondering about the fate of its brawnier, hoppier cousin, Stone RuinTen IPA. Originally released to commemorate the tenth anniversary of the brewing of Stone Ruination IPA, this splendorous, hop-heavy gem debuted in June 2012 as Stone Ruination Tenth Anniversary IPA and instantly became a hit among craft beer fans. Rather than limit the beer to one-hit wonder status, the beer was added to Stone's lineup of annual special releases. In 2013, it came back with the name Stone RuinTen IPA, the nickname given to it by Stone's employees. And, as communicated above, this year, the beer is back as Stone RuinTen Triple IPA. But even though the name has changed slightly, that's all that's different. The recipe for the beer remains exactly the same—full-bodied, incredibly flavorful and hoppy as all get out…just the way we (and our fans) like it!
So why change the name? While we know more hard-core fans of IPAs and our family of beers understood Stone Ruination IPA has been a double IPA since its inception in 2002, there are many more newcomers to craft beer who were unaware. So we figured, why not help them out? And when it came time to prepare for the launch of this year's batch of Stone RuinTen IPA, it made sense to properly classify this beer, too. In doing so, we opted not to go with more vague stylistic IPA nomenclature, which simply defines higher-alcohol versions of the style as "imperial." Imperial IPA is good as a catchall, covering anything from a slightly brawnier 7.5% ABV IPA to a behemoth 13% ABV IPA. It's a simple, clean-cut way of classifying these beers, but at Stone, we're a bit more exacting (even anal). So, we decided to go with the also-popular numeric classification method that includes single IPAs, double IPAs and triple IPAs.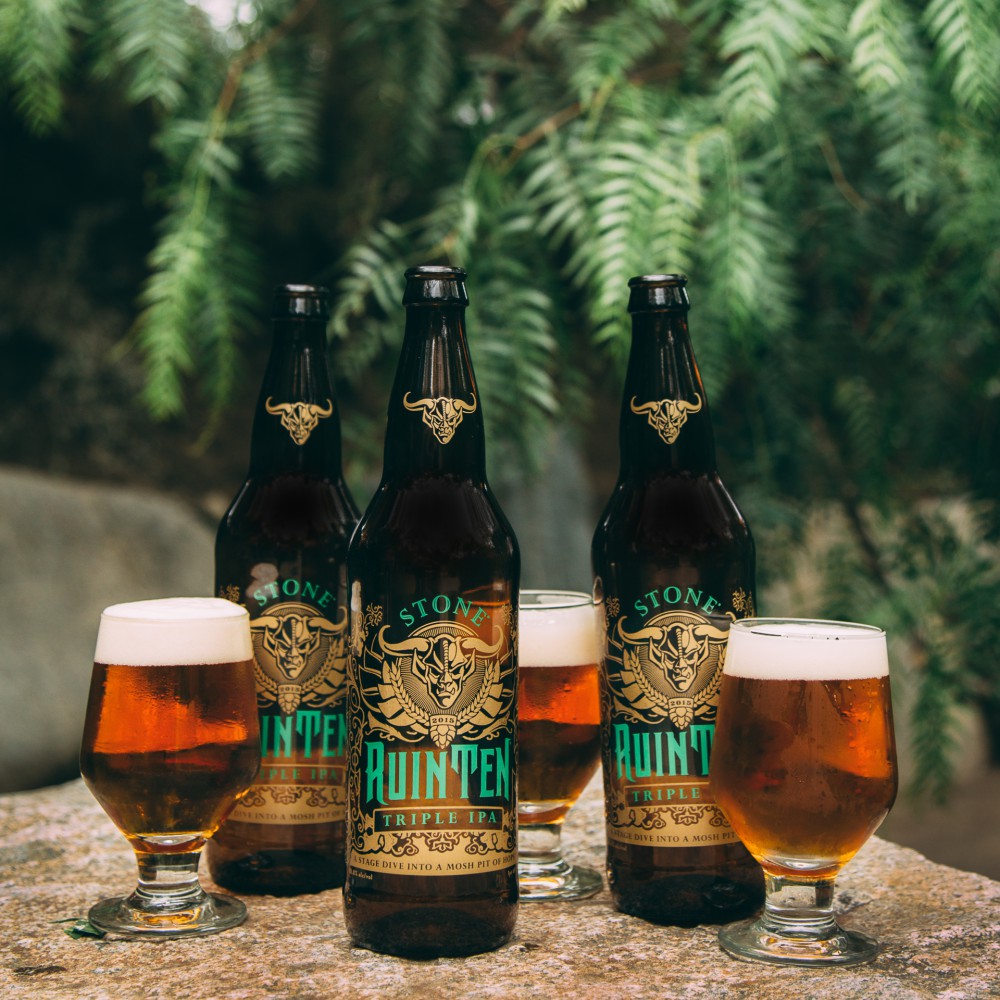 Beer enthusiasts have commonly referred to higher-octane India pale ales as "double IPAs," dating back to their rise to prominence in the mid-nineties. Originally, it was interchangeable with the term "imperial IPA." Nowadays, its definition has been revised and limited to IPAs that range up to 9.9% ABV, while IPAs 10% ABV or higher now go by the handle "triple IPA." It's rather sensible once one understands the evolution of the American IPA, even if the amount of hops, malt, time, grit and determination used to conjure them borders on nonsensible. But it's all worth it, as hopheads who've grown to anticipate the release of Stone RuinTen Triple IPA will attest!
Built to sate the appetites of the highest order of hop fanatics, Stone RuinTen Triple IPA bursts forth with a blend of vivid lemon, nectarine and pineapple aromas. The beer's elevated malt presence provides a strong, full-bodied mouthfeel to help balance its intense, lingering hop bitterness, while lending a slightly caramelized accent to hop-borne flavors of peach, mango and papaya. These delicious nuances are at their height when the beer is drunk fresh, making Stone RuinTen Triple IPA a once-a-year offering to be hunted down and consumed as soon as humanly possible.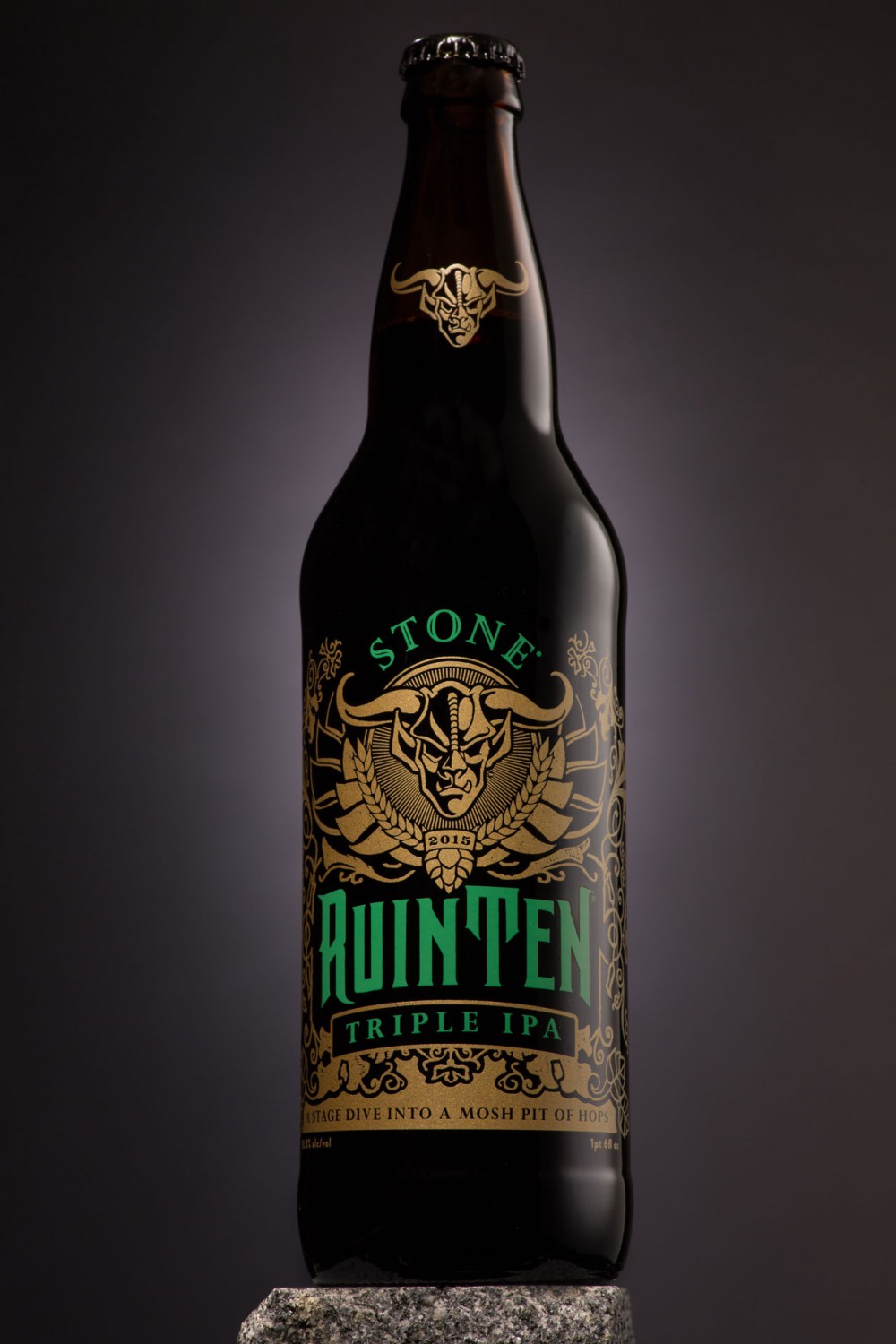 Tasting notes, provided by Stone Brewmaster Mitch Steele
ABV: 10.8%
IBUs: 110
Availability: Limited 22-ounce bottles and draft, beginning June 29
Hop Bill: Magnum and Centennial, dry-hopped with Citra and Centennial
National Distribution:AK, AL, AZ, CA, CO, CT, DC, DE, FL, GA, HI, IA, ID, IL, IN, KS, KY, LA, MA, MD, ME, MI, MN, MO, MT, NC, NE, NH, NJ, NM, NV, NY, OH, OR, PA, RI, SC, TN, TX, VA, VT, WA and Puerto Rico
International Distribution: Australia; Alberta and British Columbia, Canada; Japan; Singapore and United Kingdom
Appearance: Deep gold with an off-white, fluffy head.
Aroma: Intense, dank and fruity hop notes. Lemon oil infused with nectarine, pineapple and tropical fruit, with hints of mint and spice.
Taste: An abundance of tropical hop flavors up front and carrying throughout the palate. A pleasant maltiness balances the hops mid-palate. Finishes with a long, lingering, clean bitterness.
Palate: Full-bodied but dry, with an alcohol fullness and sweetness. Very bitter!
Overall: This was one of the team's favorite IPAs, so we were thrilled to have the opportunity to brew it again. The combination of Citra and Centennial in the dry hop is magical. Please drink this beer FRESH to get the full impact of the hopping!
Suggested pairings, provided by Stone Craft Beer Ambassador "Dr." Bill Sysak
Appetizers: Chips and salsa, kimchee, ceviche, bacon-wrapped jalapeños (or habaneros)
Entrees: Salt-and-pepper shrimp, jambalaya, roasted pork chops with apple sauce, fish tacos, seitan fajitas
Cheeses: Fiscalini Bandage Wrapped Cheddar, Mimolette, Pecorino Romano, Maytag Blue
Desserts: Carrot cake, apple pie with caramel sauce, spice cake, blueberry jalapeño blue cheese cheesecake
Cigars: Ashton Classic Majesty, Litto Gomez Diez, Don Pepin Garcia Blue Label Invictos Corojo Robusto