BORN NOVEMBER 1996 & RETIRING NOVEMBER 2016
Deciding to retire a beer hardly comes with a swift, resounding chop, especially not when that beer has been with us since nearly day one. When Stone Smoked Porter became the second beer to bear the Stone name, we never foresaw just how long of a run this beer would have. But times change and so must our beer lineup, however heartbreaking it may be for us and those of you who have enjoyed the inviting aromas and darkly sweet character of this polished ebony gem.
Which is why we decided to take this year not to say goodbye but to celebrate and pay tribute to its storied 20 years. Stone Brewing President and co-founder Steve Wagner, the creator of Stone Smoked Porter, tells his story below. And who knows…maybe one day it will come out of retirement and grace us all again with another round or something new. 
The inspiration for Stone Smoked Porter
It came from a time when I lived in the Pacific Northwest in the mid-'90s before starting Stone Brewing with Greg. There were a number of excellent porters and stouts made in the region that I enjoyed regularly. The cold and wet winter weather and the uniquely "social" tavern culture there helped to enhance the experience and make it even more memorable. I was living in Portland and working as a brewer and one weekend my wife, Laura, and I decided to drive to Whistler, British Columbia, to visit her dad. My father-in-law was there building ski lodges for newly minted Microsoft millionaires.
I found this funny, as he was a man who had always described skiing as "standing in a cold shower, tearing up hundred dollar bills." But, hey, it paid the bills. I was excited about the trip because there was a well-known craft beer bar in Bellingham, Washington, that I had wanted to visit for a while and realized it would make a perfect rest stop on the trip to Canada.
The Archer Ale House was (and is) located in the basement of an old brick building in Bellingham. Softly lit and cozy with an English-pub feel, it did not disappoint. Eyeing the impressive draft list, I spotted the legendary Alaskan Smoked Porter. While I might have tasted a bottle of this beer previously, I had never had it or even seen it on tap before. It was one of those "perfect beer at the perfect time in the perfect place" moments and I resumed the journey with thoughts of brewing a smoked porter in my head. I don't think I ever brewed this beer until a couple years later at Stone but the idea was planted on this trip and carried around until I needed it!
Image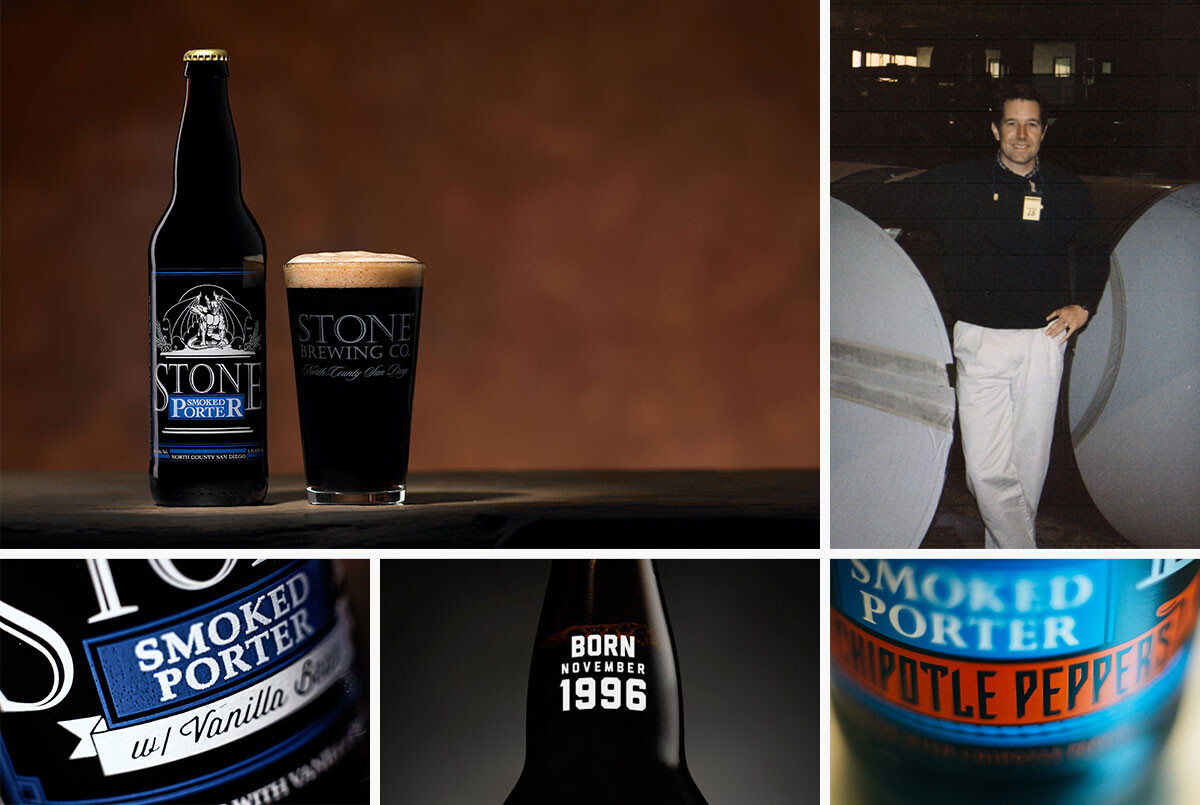 Q & A with steve
Q: When it first came out, darker brews weren't as widely enjoyed. What was it about our version of a traditional English porter that helped open people's palates to this style?
A: They weren't particularly popular in San Diego and I think that was partly weather related. Dark beers are sometimes associated with colder climes, and with the San Diego weather, people often sought out something on the "refreshing" side of the beer spectrum. I think people responded to Stone Smoked Porter because it was unique here at the time and the peat-smoked malt added some complexity and depth that might not be found in a standard porter recipe.
Q: This beer has become a highly regarded staple partly because of its effortless ability to pair with just about any type of cuisine. Why does Stone Smoked Porter pair so well and what are some of your favorite pairings you have had?
A: I think it pairs well because it is a very drinkable beer, lots of character but not extreme or overly assertive—so it makes a wonderful and versatile accompanist. I've been to a lot of beer dinners and some of my favorite pairings were Stone Smoked Porter with grilled meats, especially venison and elk. It also goes very well with desserts, and not just chocolate! Did I mention cigars?
Q: Kind of an obvious question. What will you remember (and miss) most about this beer?
A: I'll always remember that a lot of people told me they never liked "dark beers" until they had this one—that's pretty special.
The end of the 20 year run isn't over yet! So you still have some time to savor the delectable chocolate and coffee nuances and subtly smoky overtones evident in this beer.
Image