Yes, that's right—it's saison season again! This year will be the sixth year of our hellaciously herbaceous collaboration. First brewed in 2010 at Stone, we have been passing the brewing torch ever since from Dogfish Head to Victory, and now, in 2016, it's back to us. And just like the fresh herbs that define and distinguish this farmhouse-style ale, we are releasing a fresh new bottle design and bundling the 12oz bottles in six-packs for the very first time.
OUR STATEMENT FARM-TO-KETTLE BEER
We infused the beer with a blend of locally harvested sage, lemon thyme, rosemary and parsley, and then dry-hopped it with Citra hops for a citrusy, refreshing finish. The mouthwatering aromatics and crisp, savory flavors make this an excellent beer to cook with and pair with a variety of foods—from roasted chicken to grilled shrimp to tikka masala. Embrace the experimental spirit of this innovative beer and cook up something as equally delicious and well crafted.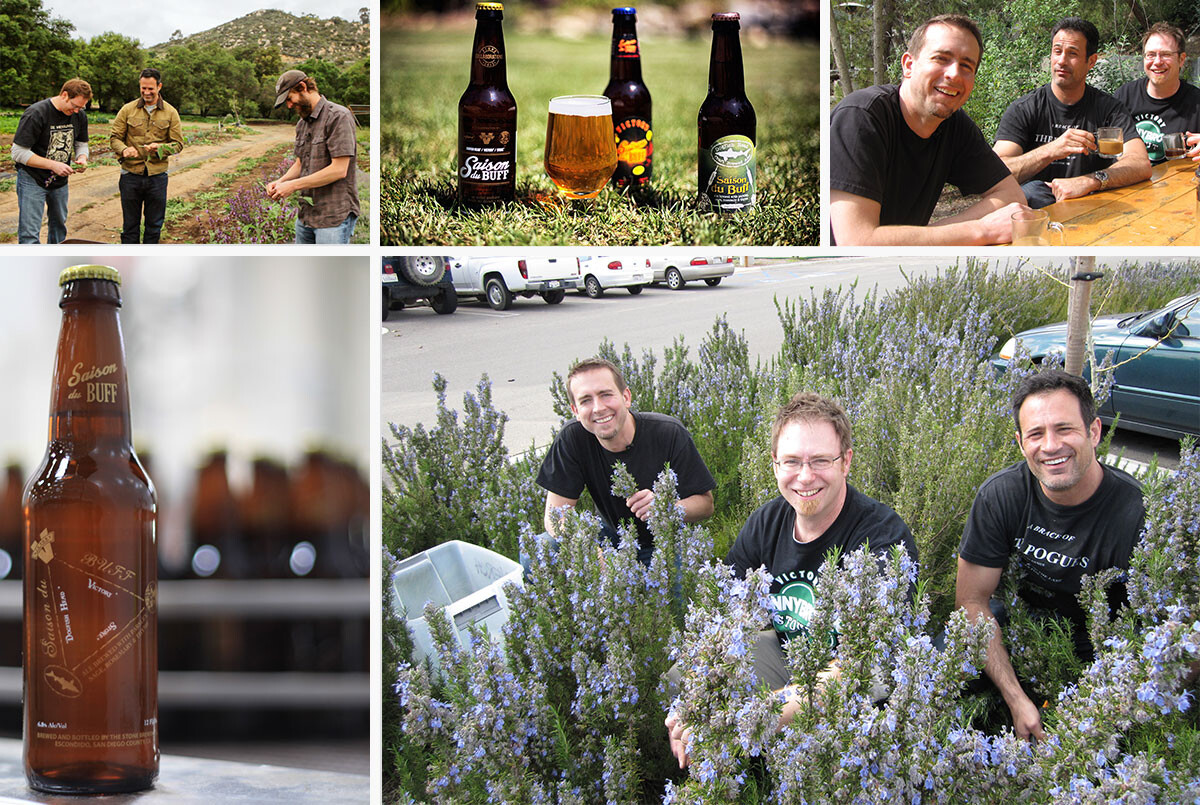 THE NEW BOTANCIAL-INSPIRED DESIGN
"I wanted to use the organic shapes of the ingredients to create a "farm" around the name and contrast with the hard lines of the text and the logo. It was Greg's idea to add the callouts, similar in style to an old botanical illustration. All the pieces came together really nicely to create an engaging and classy looking six pack."

–AARON ROCHA, STONE GRAPHIC DESIGNER
Image

THE MEANING BEHIND "BUFF"
For those craft beer fans who don't know, the "BUFF" in this beer's name isn't some chest-pounding, muscular reference. In 2003 Sam Calagione (Dogfish Head), Bill Covaleski (Victory) and Greg Koch (Stone) formed an ad hoc coalition called Brewers United for the Freedom of Flavor (BUFF) to draw attention to the revolution going on in the craft beer world. It wasn't some corporate mission statement. It was a promise to their fans that they wouldn't back down. They would continue their pursuits to fill the taps, shelves and home fridges of those who were equally thirsty for quality, flavorful beers.
That's why these three craft beer visionaries got together to collaborate six years ago and why we invite you to enjoy it again now and celebrate with us as we continue to brew the good fight for the freedom of flavor!
https://www.youtube.com/watch?v=Et11007CKDc&feature=youtu.be
"This was not a ready-made ale. But it is a ready-made collaboration, meaning Stone & Victory are two breweries that are exactly like Dogfish in that they do/brew exactly what they love and they do/brew it exactly like no other brewery out there." - SAM
"Of the many things about Saison du BUFF that amaze me, its delicious durability may be the most surprising." - BILL
"The quixotic exotic, very tasty but not neurotic, interestingly symbiotic combination of this herbaceous biotic" - GREG