This is part of our series of posts looking back
at our 20 years of true craft.
Find out more about our history at Stone20th.com
---
https://www.youtube.com/watch?v=CattdcFxnEI&feature=youtu.be
We ran into some trouble years ago with labeling Stone Imperial Russian Stout as what it was—an imperial Russian stout. It started in late 2002, when the TTB, in reviewing our label application, contended that the word Russian was misleading. They thought it would confuse customers into thinking that the beer was brewed in Russia, despite all of the text being in English and the label clearly stating, "Brewed and bottled by the Stone Brewing Co., San Marcos, San Diego County, CA."
We were given two options: Either label it simply as Stone Imperial Stout or complicate matters by calling it Stone Imperial Russian-Style Stout. We explained that it wasn't actually a Russian style of beer, rather that it was an English style that had been brewed for the Russian court, but that seemed to fall on deaf ears. However, as you may know, Greg is a stickler about words and accuracy, especially in regard to anything related to our beer, so he wasn't going to let this die.
Image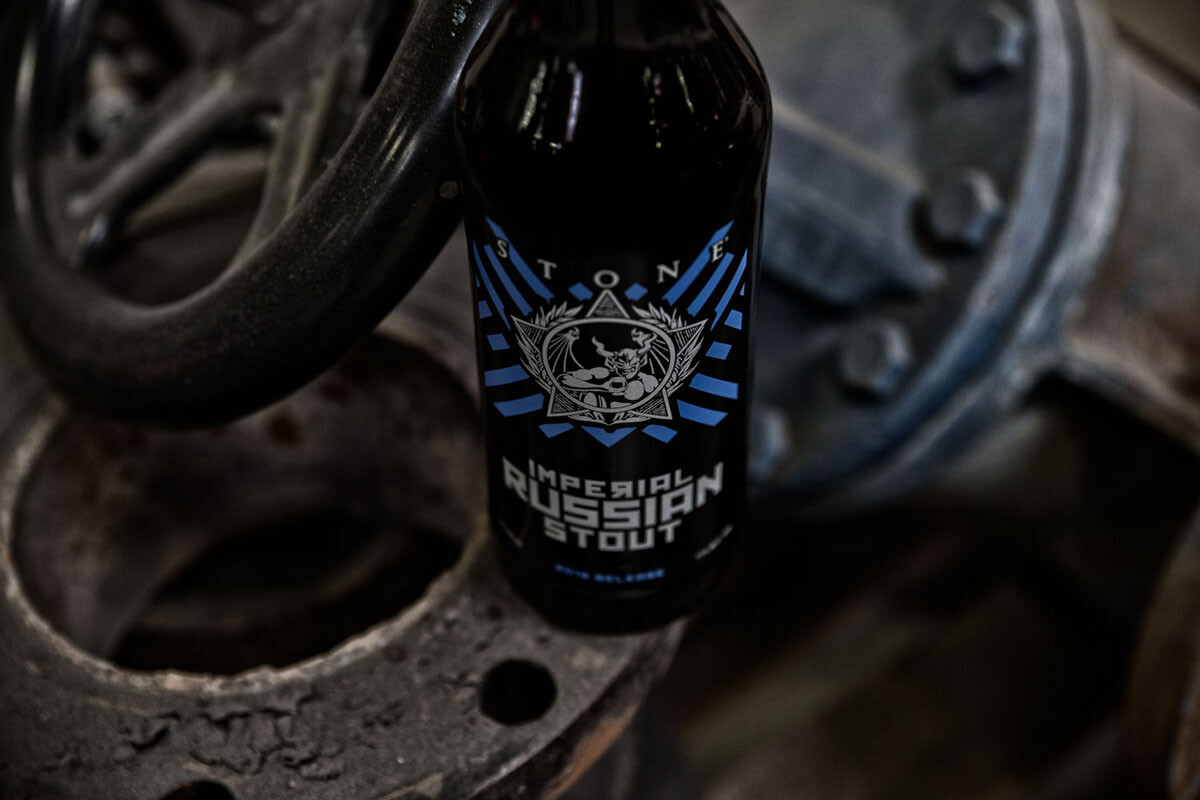 It dragged on for nearly four years. Each time the TTB pushed back, I'd send them more information: photocopies of pages from books by Michael Jackson and Stephen Beaumont, printouts of information from BeerAdvocate.com and RateBeer.com, and more. It became somewhat of a shock-and-awe campaign, with some of my later packages containing hundreds of pages in support of our claim that using the word Russian was not misleading but instead quite historically and stylistically accurate.
Some years we got by on a temporary permit from the TTB, but the threat of having to change the name to just Stone Imperial Stout was very real, and in 2005 it was labeled just that, much to our chagrin. Luckily though, Arlan Arnsten, our vice president of sales at the time, happened to randomly meet Charles Bacon from the TTB at an industry event in Washington, D.C. When Arlan mentioned Stone, our infamous reputation preceded us...as did mine.
Image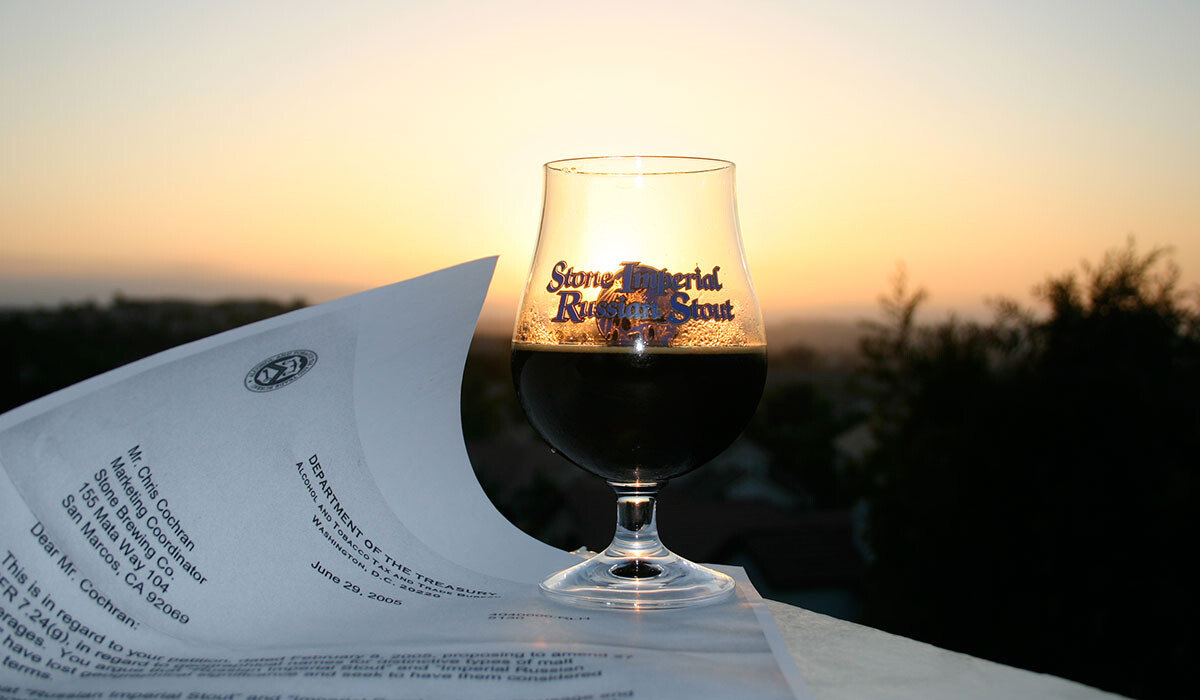 They apparently hit it off pretty well. Charlie knew all about our little naming battle, and he gave Arlan his business card and said he might be able to help get the issue resolved if I contacted him. I emailed him in short order, and he pointed me to the exact section of the code I needed to bring up: Title 27, Section 7.24(g), which states that using geographic names, such as Munich, Vienna, or Dortmund, is verboten, except in situations where the style and name had become prevalent enough so as to render the geographic significance, well, insignificant. If we could prove this, victory would be ours.
Interestingly enough, I discovered that the TTB didn't really know how to proceed with this any more than we did. The last time a change like this had come up was in the late 1930s, over 70 years prior, when the government ruled that India pale ale was a generally recognized style as opposed to a mark of origin.
Unfortunately, though this style of stout was being embraced by other brewers, most were brewpubs, so they typically weren't bottling their beers and therefore weren't subject to labeling oversight. While I wasn't trying to throw anyone under the bus, I had to name some names if we were going to win this thing. I ratted out North Coast Old Rasputin Russian Imperial Stout (sorry, guys, but hey, it all worked out, right?) and the few others that were making the style at the time.
Eventually, in April 2005, we received a letter informing us that the TTB would formally review our request. And finally, after years of back and forth, we finally received the response we'd been waiting for. In a letter dated June 29, 2005 (I still have it framed somewhere), imperial Russian stout was recognized as a distinctive style, regardless of place of origin. Not only could we use the name, so could all American brewers!
It was a day I'll never forget. Greg and Steve were ecstatic at having shaken up the status quo a bit. I was too, but more than anything, I was just glad to finally be done with it. I went home and popped open the oldest bottle of Stone Imperial Russian Stout I could find. I poured myself a glass out on my deck, sat with a copy of that approval letter and watched the sunset. Victory was ours at last, with a little bit of righteousness mixed in for good measure.
No better way to celebrate,
Comrade Cochran