I was dumping a 55-pound bag of malted barley into a hopper when something occurred to me: I have probably never used more than 20 pounds of grain in a beer recipe, let alone the 500 pounds I was helping mill at Stone Brewing World Bistro & Gardens - Liberty Station. Usually Liberty Station Brewing Manager Kris Ketchum takes on this laborious task all by himself, but on March 8, a dozen women clad in pink boots and armed with can-do attitudes descended on the 10-barrel brewhouse to participate in the first ever International Women's Collaboration Brew (IWCB) Day!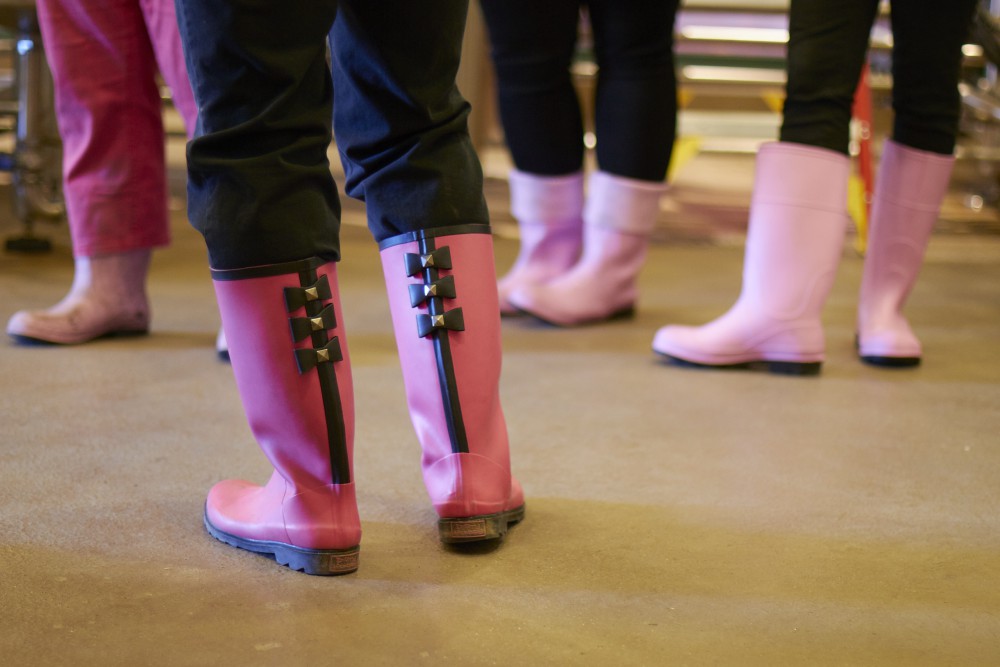 Spearheaded by brewing industry non-profit organization Pink Boots Society and Project Venus UK, IWCB Day saw female brewers in 70 breweries from across the globe create their own unique versions of a singular beer. The worldwide event represented the latest step in Pink Boots' ongoing mission to empower and inspire females in the brewing trade while connecting them and offering educational opportunities through events and a scholarship fund.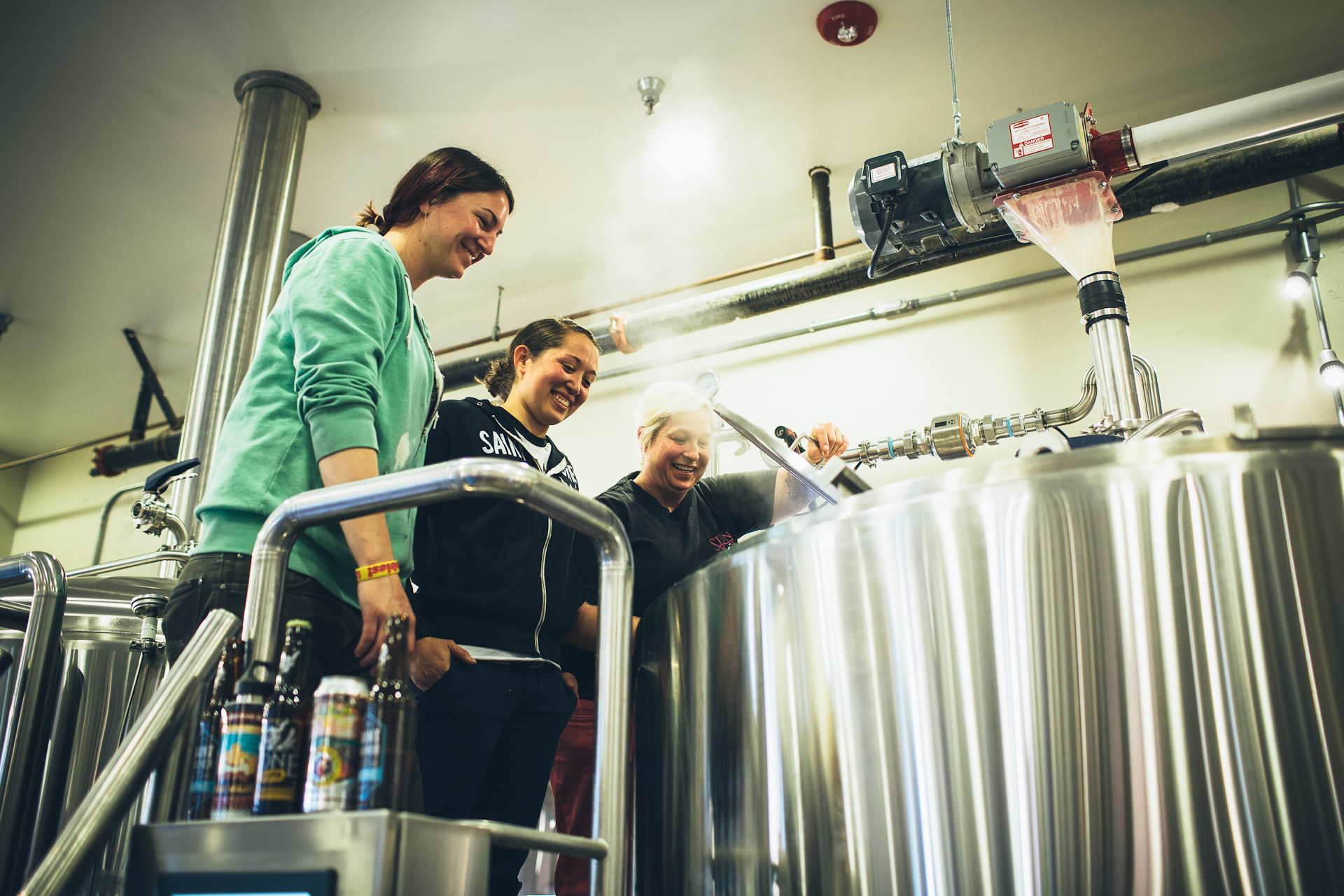 Today, Pink Boots is 800 members strong, but from its very start, Stone Small Batch Brewer Laura Ulrich played a vital role. Pink Boots founder Teri Fahrendorf left her 17 year brewmaster position at Steelhead Brewing Company to go on a 139-day beer exploration road trip. When she arrived at Stone in 2006, she was paired with an inquisitive Ulrich, who had many questions about her role as a woman in the beer industry since, up to that point, she hadn't met any others. This connection made it clear women needed a place in which they could network with other women in the industry.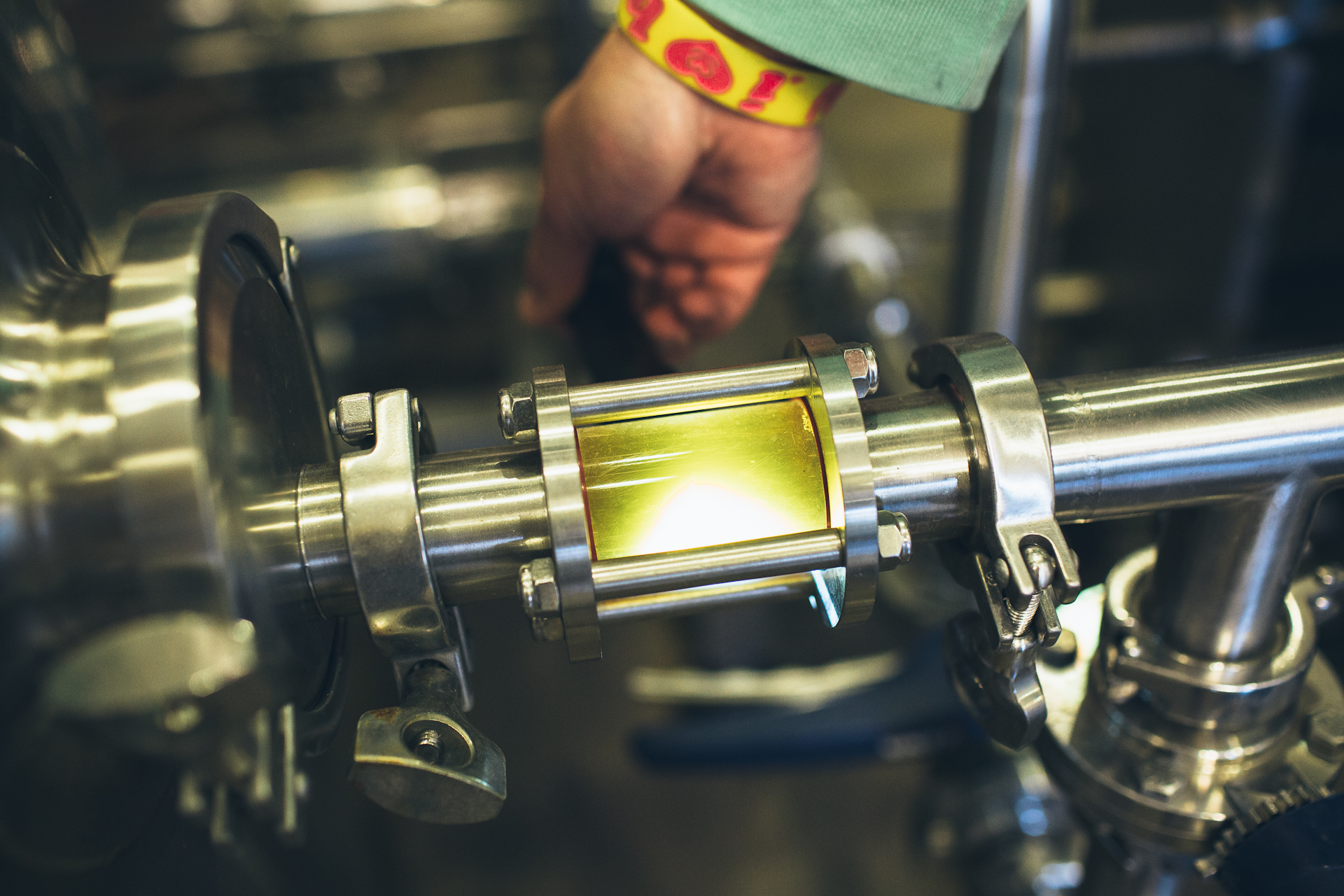 In 2008, at the Craft Brewers Conference held in San Diego, Ulrich helped organize the group's first meeting. Fast forward to this past Saturday, and she was an integral part of the brew day, having gathered her good friends, Pizza Port Solana Beach Head Brewer Devon Randall and Saint Archer Brewery Head Brewer Kim Lutz, Stone Brewer Rian Van Nordheim and Stone Assistant Brewer Casey Wollbrinck, and a few other ladies from Team Stone. There were multiple breweries in San Diego participating in IWCBD, and all members of PBS were encouraged to attend and participate. (This was how Stone Brewery Supervisor Hollie Stephenson and Assistant Brewer Laura Mirsch got involved with the IWCB Day brewing festivities at San Diego's Mike Hess Brewing Company.)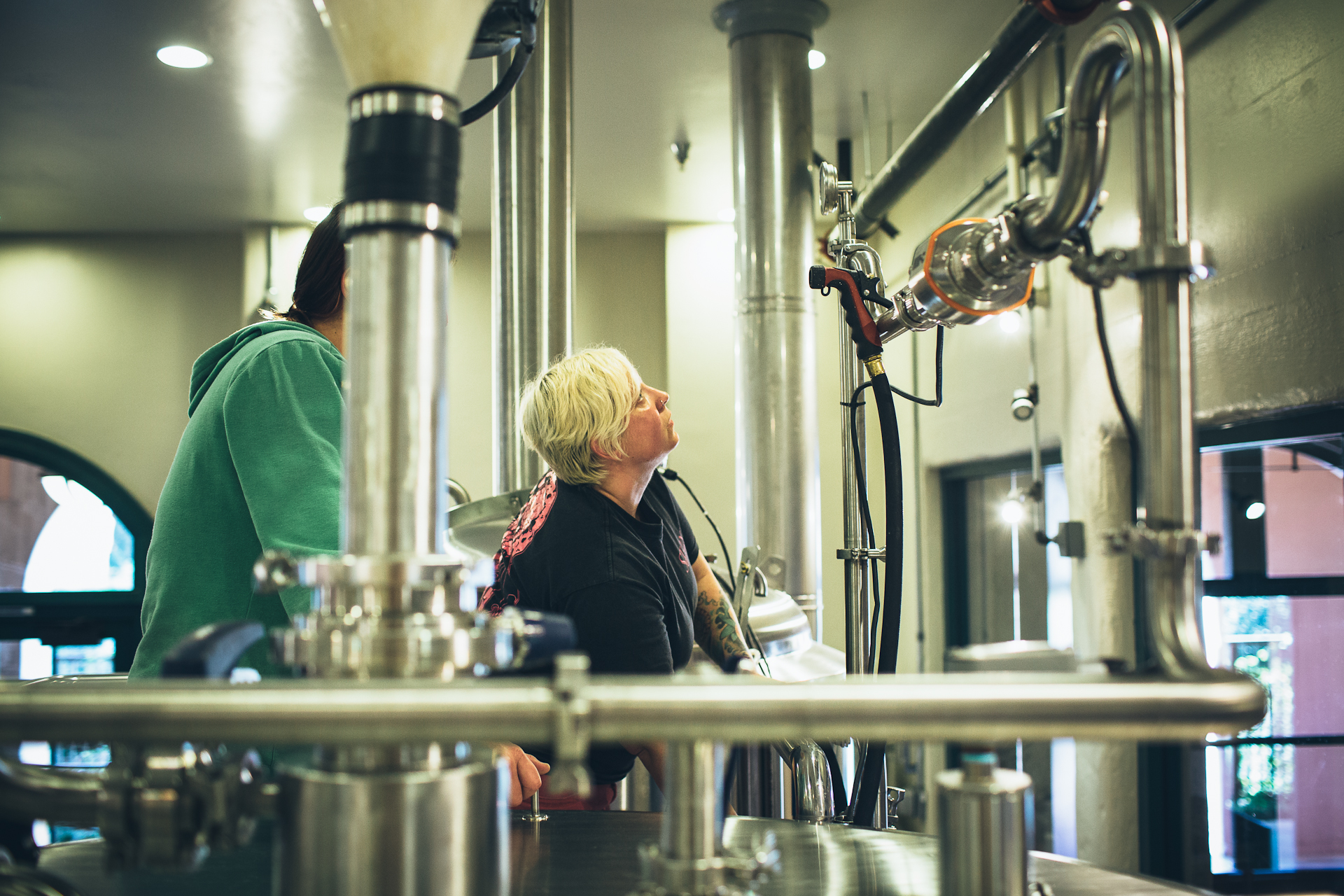 No matter the women or the brewery on IWCB Day, the beer being brewed was based on the same base recipe. Aptly dubbed Unite Pale Ale, this 4% ABV beer called for Cascade hops, but creative license was granted to each group of pink-shoed brewsters to add their own touches. During a Pink Boots bottle share in January, Ulrich, Randall and Lutz developed a spin-off for Unite incorporating rye as well as Centennial, Mosaic and Mandarina hops. The latter are a new varietal hailing from Germany, which offer zesty tangerine notes. So combining the Mandarina with the tropical flavor of Mosaic and Cascade's grapefruit-like essence figured to be a sublime choice. Mandarina was added as a late addition hop in the boil kettle, and will be part of the dry hop along with Cascade.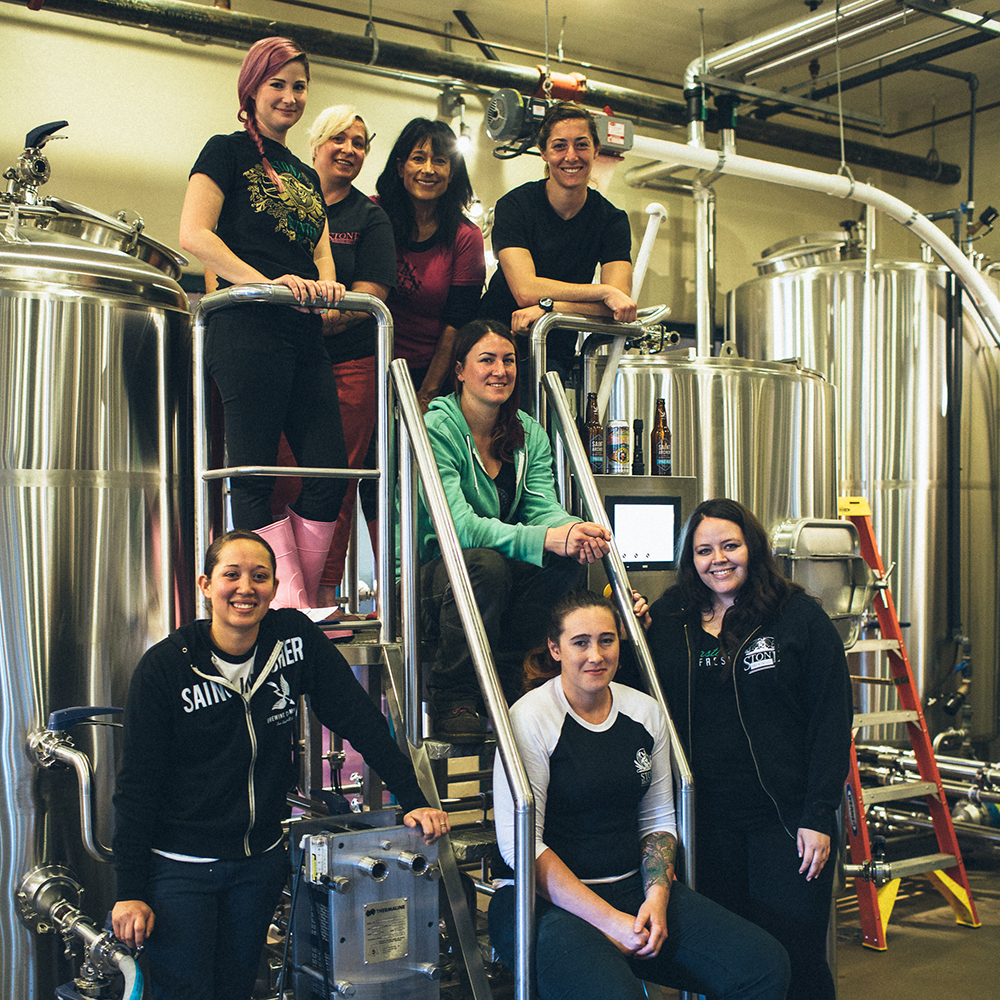 When I'm not working up entries for the Stone Blog, I am exposing fans to the many wonders of Stone as an Indoctrination Specialist. On a daily basis, tour goers ask: "Is it a requirement to have a beard to work here?" It is funny, since most of the Brewing Team sports beards, but it doesn't represent the gender equality we foster at Stone. We have five female brewers right now—an impressive number—and that's not including the other fantastic women in our Production Department and throughout our entire company. It's only natural. After all, women have been vital participants in brewing from the very beginning, starting with Ninkasi, the Sumerian goddess of fermentation, to more mortal women in medieval times, who were responsible for much of the brewing. Having an organization like Pink Boots to recognize and promote women's continued and evolving involvement in current day brewing is awe-inspiring. Over the past six years, the organization has grown a great deal and, along the way, encouraged support by breweries everywhere to acknowledge the importance of women in the brewing industry.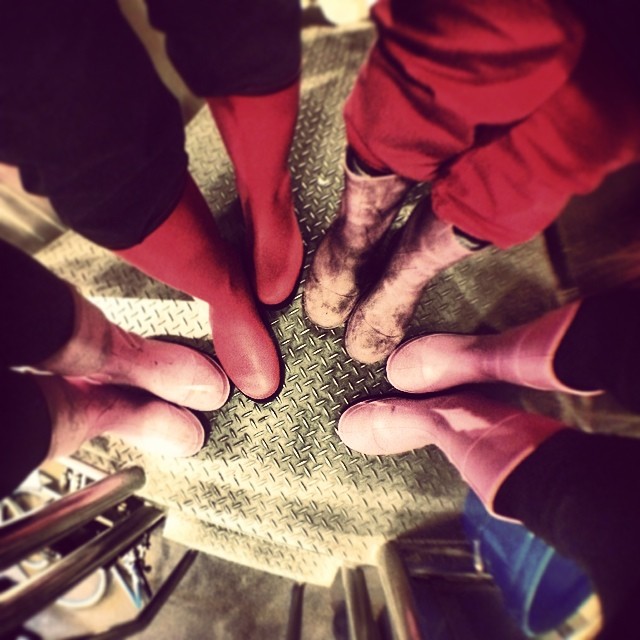 Unite Pale Ale will be available at Stone Brewing World Bistro & Gardens – Liberty Station on April 3 starting at 5:30 p.m., with Ulrich, Randall and Lutz on hand to talk beer and brewing with guests. All proceeds from the sale of the beer will be donated to Pink Boots, and organization representative Denise Ratfield, who helped organize IWCB Day on a global scale, will also be present to talk more about the organization and this initiative. But Stone won't be the only generous backers of this great organization. Ingredients for the beer were also donated by Pizza Port, Saint Archer and White Labs, and, of course, there was the generous donation of time by all the women involved in IWCB Day. Wherever you are when this beer goes from the fermenter to your glass, raise up a pint and let out a toast to the hard-working women in the beer industry!