Stone Brewing Co. is headed into another perfect storm! While we always like to give our brothers and sisters in craft brewing ample representation on our draft lineup at the Bistro, there are just too damn many of our own delicious brews taking up space in our cellar. That's why, starting Sunday, February 7th, 2010, all 32+ taps at the Bistro bar will be devoted exclusively to some very special Stone beers. Digging into the cellar was never so tasty!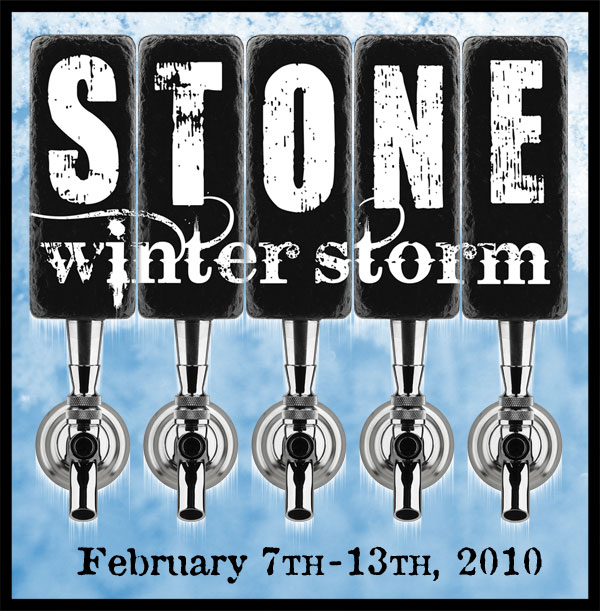 Now, if Sunday February 7th has a vaguely familiar ring to some of you, it's no wonder: Stone Winter Storm kicks off the very same day as Super Bowl XLIV. WHAAH? Yeah, you heard us. They're both on the very same day. Now before you go getting your Official NFL Snuggie all in a bunch, hear us out. While Stone Winter Storm does indeed start on a blessed day, it lasts for at least a whole blessed week, and GK and Dr. Bill have picked out plenty of treasured special vintages to be poured throughout the ongoing celebration. Therefore, we'd like to remind folks that the "camping-out-the night-before" approach really isn't necessary in order to try some spectacular Stone offerings.

So, feel like griping about an intense selection of special Stone brews? Fine. We're happy to indulge you by receiving your complaints and/or concerns—but you'll need to get it out of your system and get over it soon. We'll be accepting your Game-related Gripes (below) for the next two weeks. After that, the complaint desk will close and you'll just have to work through the cognitive dissonance on your own.
The official two week complaint period lasts from Wednesday, December 2nd - Wednesday, December 16th in the comments section below.
Check out the 2009 Stone Winter Storm lineup