As loyal readers of this blog may remember, Kelsey McNair brewed the champion beer at our hotly contested 2010 March Madness Homebrew Competition & AHA Rally, an intensely hoppy session brew dubbed "West Coast Bitter." Impressed with his creativity, craftsmanship, and distinctly Southern California flair, the esteemed panel of judges chose West Coast Bitter to be brewed here at Stone as one of our collaboration beers. Like celebrity deaths, Stone collaborators always come in threes, so there was the small matter of picking a third collaborator. Kelsey picked Colby Chandler of Ballast Point, a San Diego brewer of great skill and acclaim, for his expertise in crafting exceptionally hoppy session brews, a choice heartily endorsed by Stone Head Brewer Mitch Steele.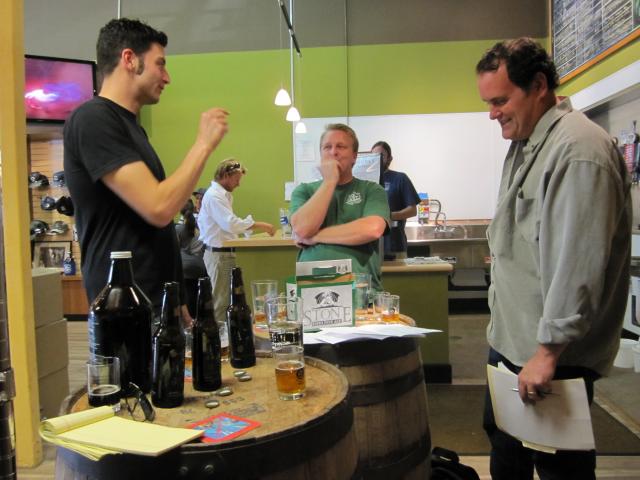 Kelsey, Colby, and Mitch discuss the finer points of scaling up homebrew batches
Kelsey and Mitch made the trip over to Ballast Point's Linda Vista brewery  and homebrew shop to meet up with Colby and finalize the recipe for West Coast Bitter's large-scale incarnation. Kelsey brought in a growler of his latest batch of the award-winning brew, which the three brewers sampled alongside Stone's previous collaboration beers and a generous slew of rare offerings from Ballast Point. Such exceptional beers proved to be the perfect fuel for figuring out the nitty gritty of brewing a full size batch of West Coast Bitter. Kelsey is nothing if not hardcore about his brewing, and the process of scaling up his recipe to the 120-barrel batches brewed on our somewhat-more-elaborate-than-a-homebrew-setup brewing system tickled his beer geek fancy in a big way.
Colby demonstrates the proper way to pour a sample
Adding to the excitement, we're also pleased to announce that West Coast Bitter will be Stone's official entry at the Great American Beer Fest's Pro-Am Competition! The Pro-Am Competition allows breweries and homebrewers from all over the country to collaborate on recipes and see how they stack up on craft beer's biggest stage. Indeed, all were stoked about the upcoming brew day on July 12th, sure to be the hoppiest in Stone collaboration history. If all goes according to plan, the beer itself should be available in the late summer/early fall, leaving plenty of time for warm weather quaffing.