Summer is almost officially upon us, which means it's time to prep your palates for our biggest, boldest charity fundraiser: the Stone 14th Anniversary Celebration & Invitational Beer Festival. Our annual tribute to another marvelous year of brewing is our grandest event, a veritable avalanche of awesomeness compressed into one short weekend—with all the proceeds going to charity. You may have noticed that I wrote, "weekend," not, "day." Let me explain. In the past, the Stone Anniversary Celebration & Invitational Beer Festival has been a one-day, two-session event, with upwards of 40 breweries pouring well over 100 of their finest nectars for throngs of enthused fans. The event has been so stupendously successful, both as a bringer of good cheer and as a charity fundraiser (last year we raised over $150,000), that we've decided to double down on the radness and add a couple of new events, all still taking place at the eminently hospitable CSU San Marcos.
On Friday, August 20th, we'll be holding a VIP/Brewers Reception, which will be open to the ticket-buying public for the very first time. Brewers and fans will mingle over a special selection of beers and food (including the famous Mike's Beer Cheese made with Winchester Gouda and Stone 09.09.09 Vertical Epic Ale) not available during the regular sessions. A commemorative tasting glass has been made for the event, which will look fabulous next to your Princess Diana memorial dinner plate (too soon?) Saturday, August 21st also features a brand spankin' new event, albeit one that runs concurrent with the Festival. A special, new, and all together different wristband will get you into the newly christened Rare Beer Section, a cordoned off arena in which rare beers go head-to-head for the hearts (and palates) of fans. The Rare Beer Section will be hosted by Stone's inimitable Beverage Supervisor "Dr." Bill Sysak, infamous bringer of insanely rare and delectable beers. Admission to the Rare Beer Section also grants you the luxury of attending both Saturday sessions, a heretofore unavailable indulgence allowing you to take in the day's decadence at a leisurely, civilized pace. Alas, Rare Beer Section ticket holders will still receive the standard 10 tasting tickets for the entire day. This is all, of course, in addition to the Main Event on Saturday: two sessions of outstanding breweries from near and far pouring luscious samples, plates of the legendary Arrogant Bastard Ale Onion Rings (an annual release at least as desirable as a certain Midwestern Russian Imperial Stout, in our humble estimation), and more excellent food than you can shake a stick at.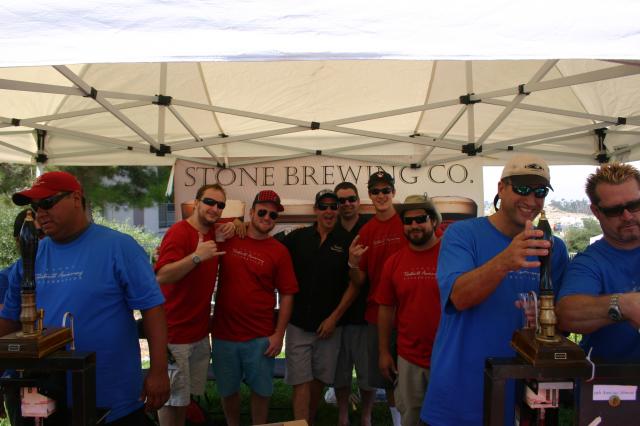 All-inclusive ticket packages go on-sale Friday, May 28th at 5AM PST, and Main Event tickets go on-sale Friday, June 4th at 5AM PST.