Editor's Note: This post is the first in a series about the people behind Stone Brewing Co. We're pulling back the curtain both to show our fans how Stone actually runs on a day-to-day basis, and, more selfishly, to help fill some of our many job openings. Selling beer. Sounds like a pretty sweet job, eh? It's beer! The stuff just sells itself! Not exactly. In an effort give you a peek into the inner workings of the well-oiled machine that is Stone Brewing Co.'s local sales department, I spent a day with Lisa Penwell, Stone's On-Premise Downtown San Diego Sales Representative.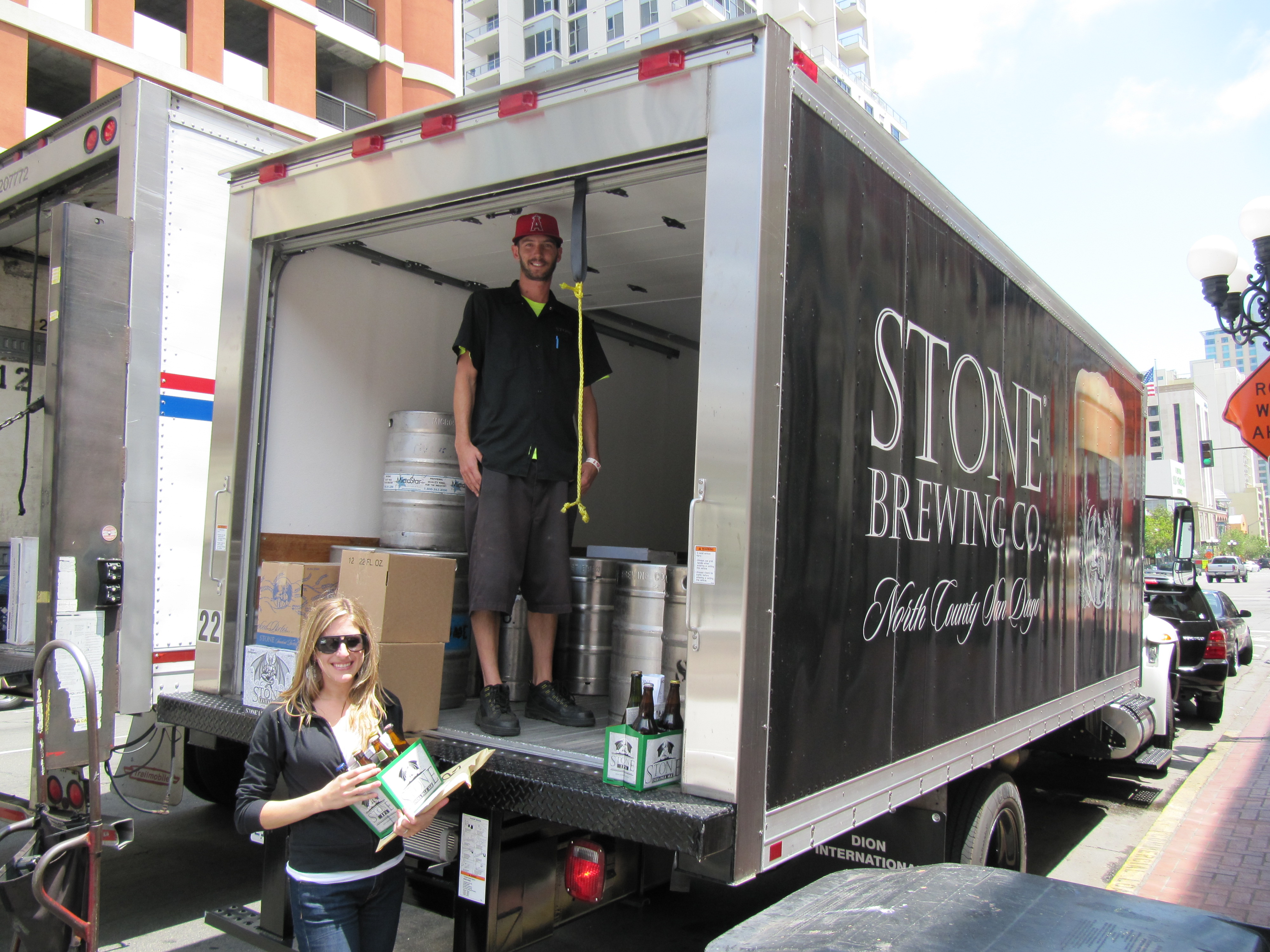 Lisa with "her" Route Driver Brent
Lisa's territory encompasses Downtown, Golden Hill, South Park, and Little Italy, essentially the busiest, densest, most tourist-frequented part of the city. It is loaded with bars and restaurants ("on-premise accounts" in industry parlance), which open and close with a rhythmic regularity, giving Lisa an ever shifting landscape to manage. How does she do it? The short is answer is this: by meticulously maintaining relationships with the folks in her area. Now, here's the long answer, encapsulated in a single day of Lisa's hardworking life. She starts the day at 7AM answering loads of emails, many of which involve placing orders, inquiring about availability, and coordinating events. She then makes a list of every account that needs to be visited in-person that day, delineating who needs what, when and so on and so forth. When bars start to open in the early afternoon, Lisa hits the road. Wielding only her well-worn phone (on which she places orders and answers calls continuously) and a few samples as needed, she rushes from bar to bar, answering questions, suggesting new beers, checking on empty kegs, setting up events, and doing lots and lots of talking.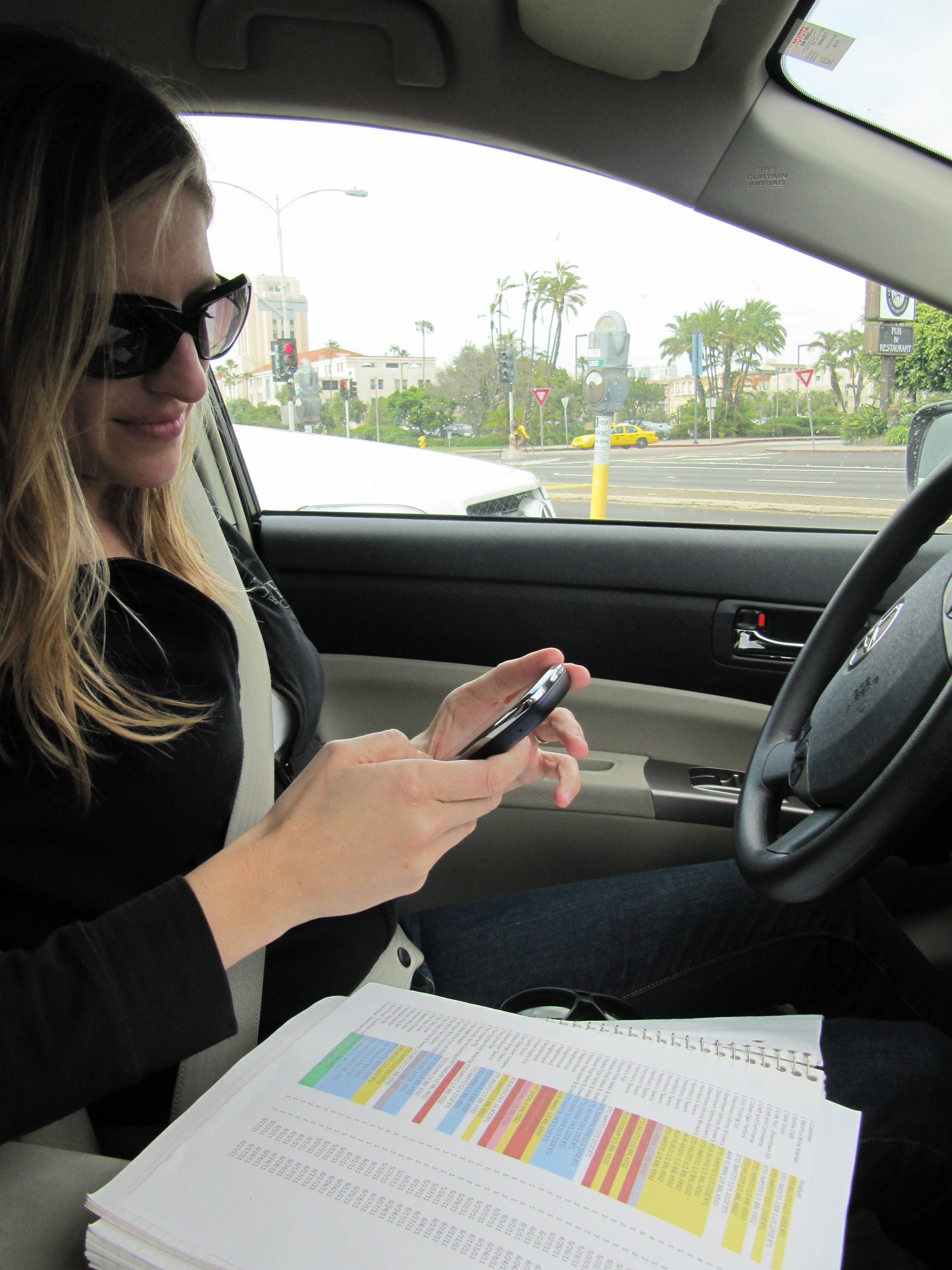 Lisa with her ever present phone and notepad
It quickly became clear from listening to Lisa talk that the minutiae of keeping a bar stocked with fresh Stone is just one part of her job. Maintaining the relationship that helps keep Stone on tap at a given bar is every bit as important as delivery windows and tap handles. Her conversations may be largely about, say, her recent honeymoon to Italy, but in effect, the whole conversation is about selling beer. Her workday often stretches into the late evening with beer dinners, pint nights, and special cask tappings. Such a lengthy, active schedule is not for the weak. Others have attempted to tail Lisa for a day, returning to the brewery bearing a look of a weary exhaustion and a newfound appreciation for their desk chair. The moral of the story is that the beer doesn't sell itself—even beer as good as ours—and a Stone Sales Representative's day is not all knocking back pints with cheerful bar patrons. That said, it's not exactly sweatshop labor either; Lisa gets to work with people she genuinely likes, selling beer that she legitimately enjoys. Not a bad gig, overall. But not an easy one, either.