It's apparently mind blowing to some folks that for our first 15+ years, we'd never used Cascade hops in any of our beers. And now, seemingly out of the blue, we've gone and used Cascade in our two most recent beer releases: 2012 Stone Old Guardian Barley Wine and the Bear Republic / Fat Head's / Stone TBA. Interestingly enough, we got a fair amount of (unexpected) reactions at this news. Some people laughed. Others cried. (Not really. At least as far as we know.) Some made conclusions about what they thought the beers would taste like before even trying them. (Hardly unusual.) Though most just happily went to their local craft beer bar or trusty bottle shop, picked one up and thoroughly enjoyed it without knowing or caring that the use of Cascade hops was a new endeavor for us. Cool. Then we got a few strange comments scattered about our multiple social media channels. This one in particular made us scratch our heads: "Stone using Cascade hops? What the hell? I thought you guys wanted to stay a Cascade free brewery." Wait... what? We never said that. At least that we can recall. Clearly, some folks felt we had some 'splaining to do. Et voilà... here we are.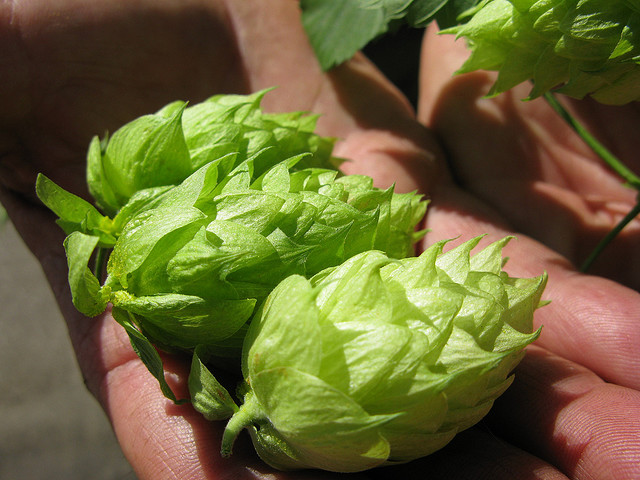 Hops run through our veins, yo.
Let's start back at the beginning, circa 1995. Steve and Greg were working on the recipe for Stone Pale Ale, and they really wanted it to be different from other pale ales of the day. Sierra Nevada Pale Ale, which is perhaps the best and most well-known expression of Cascade hops in the craft beer world, was definitely the most prevalent example of a California pale ale at the time. The last thing Steve & GK wanted to do was mimic something that was already in existence, so they decided pretty early on to go in a different direction. And that "different direction" is something we've stuck with. And until recently, that direction hadn't included the wonderful Cascade hop. I cornered Brewmaster Mitch Steele to get his invaluable insight on the decision to give Cascade a whirl in our whirlpool. Here's what he had to say:
"We're always experimenting, using different hop varieties in one-off batches. For instance, we might brew a pilot batch of Stone IPA and divide it up between 5-gallon carboys, dry-hopping each with a separate hop varietal to see how they affect the flavor profile of the beer. I'd worked with Cascade hops for years in my previous brewing gigs and in several of my homebrews. I've always enjoyed the telltale grapefruit and pine notes that they contribute, and I'm glad that we finally found a way to use some here at Stone."
Tasting the 2012 Stone Old Guardian Barley Wine, the Cascade hops aren't immediately apparent. "We added them in at the end with a blend of Calypso and Chinook," explains Mitch. "The intent was to add some tropical flavors to the beer, not to draw attention to Cascade specifically." But in the case of the Bear Republic / Fat Head's / Stone TBA, the Cascade flavor is much more apparent. "That collaboration was based on an old-school style of homebrew called Texas Brown Ale that relied on a mix of Brewers Gold and Cascade hops, so we were able to make it much more pronounced. And I think it came through beautifully."
https://www.youtube.com/watch?v=YM6tzNbo9Ow&feature=youtu.be
As to whether or not we have plans to use Cascade hops in future releases, double dry-hopped variants or other one-off brews, Mitch explained that there's nothing on the books so far, but he'd be all for it. "It's a really nice hop. And when that telltale grapefruit note is 'on', it's really, really nice."