Acting as a refreshing wind in an industry formerly dominated by watery lagers, craft breweries quench imbibers' thirsts while also fueling their minds and imaginations. A stroll through any Stone Brewing World Bistro & Gardens restaurant, Stone Company Store or even our flagship brewery, will turn up Stone-inspired artwork and aesthetic touches ingrained in those facilities' architecture and design. While our signature style and imagination are highly visible to the public, for the most part, only members of Team Stone get to see the creative pieces designed for us by our fans, many of whom use Stone and our beer as their muses. Luckily for us, many of these artists gift us with their creations, allowing us to populate our venues with collections of fan-made art, ranging from sculptures to skateboards. We cherish their work and generosity, and are happy to share some of the fruits of their inventive labor with you here.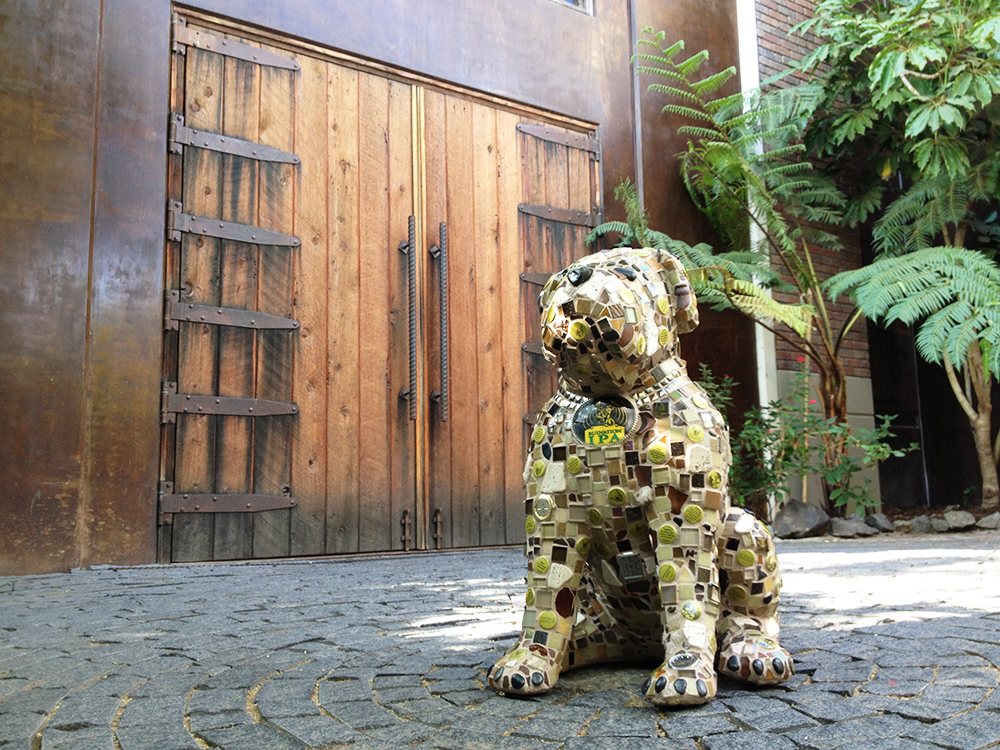 Growler the "Watch Dog": You might have seen this piece via our social media accounts, assisting the mighty Stone gargoyle in diligently guarding our brewery against would-be enemies of high quality beer like corn sugar and lowest-common-denominator thinking, but do you know the origins of this impressive piece? This particular pup was made by a husband-and-wife artist team in North Carolina, and Growler (so named by our social media fans) is from their aptly named Watch Dog series of mosaic canines which are salt-and-peppered with numerous watch faces. While most of the dogs in the series include "Grandma's old vintage jewelry and pieces from Grandpa's watch collection" as the main theme, this edition features Stone bottle caps and a Stone IPA label. It's no wonder that Duffy and Elizabeth Healey felt compelled to create the perfect guardian for our brewery. Their home of North Carolina features its own booming craft beer industry. So, when they offered up their dog to us, we jumped at this once-in-a-lifetime adoption opportunity. But they didn't just ship Growler to us. They went the extra mile, literally, driving him 2,450 miles cross-country to our headquarters in Southern California. You might remember seeing his epic journey on Facebook last September, when he bravely posed his way through Nashville, a catfish shack and numerous beaches. Growler finally arrived in our brewery where he has been happily protecting our beer ever since.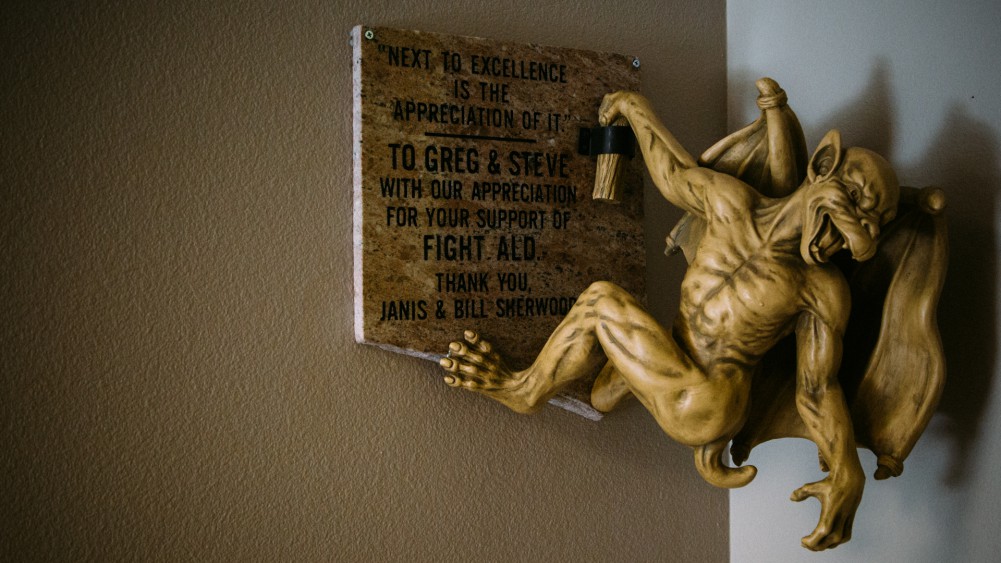 Gargoyle Plaque: One of the most touching art pieces we've received is a plaque from Bill and Janis Sherwood, thanking us for our help in fighting ALD (adrenoleukodystrophy). Many Stone fans are familiar with their son Sawyer's story and how close to our hearts he is. Bill and Janis were employees of Stone when Sawyer was diagnosed with ALD in April 2003. The natural thing for us to do to support our friends was brew a beer, Sawyer's Triple, and funnel 100% of the proceeds to Fight ALD, a non-profit organization devoted to educating people on the symptoms of ALD and helping those afflicted with the disease to detect it early. Unfortunately, a few days before the release of the beer, Sawyer passed away. While our beer can't change the past, it will hopefully make a difference in the future, thanks in no small part to Janis. With some of the money donated to her foundation, Janis bought an RV and now personally travels the country, visiting hospitals and educating doctors about early signs and symptoms of ALD. Her goal is to go to every children's hospital in the U.S. To date, she has made it to an astoundingly high percentage of them, making a difference in more than a few families' lives in the process. We didn't just stop there, though. A portion of the proceeds from each annual edition of our Stone Anniversary Celebration & Invitational Beer Festival goes to Fight ALD, because we continue to believe in this cause and our friends, the Sherwoods. This plaque reminds us what can happen when we band together, and that the Stone family reaches far and wide.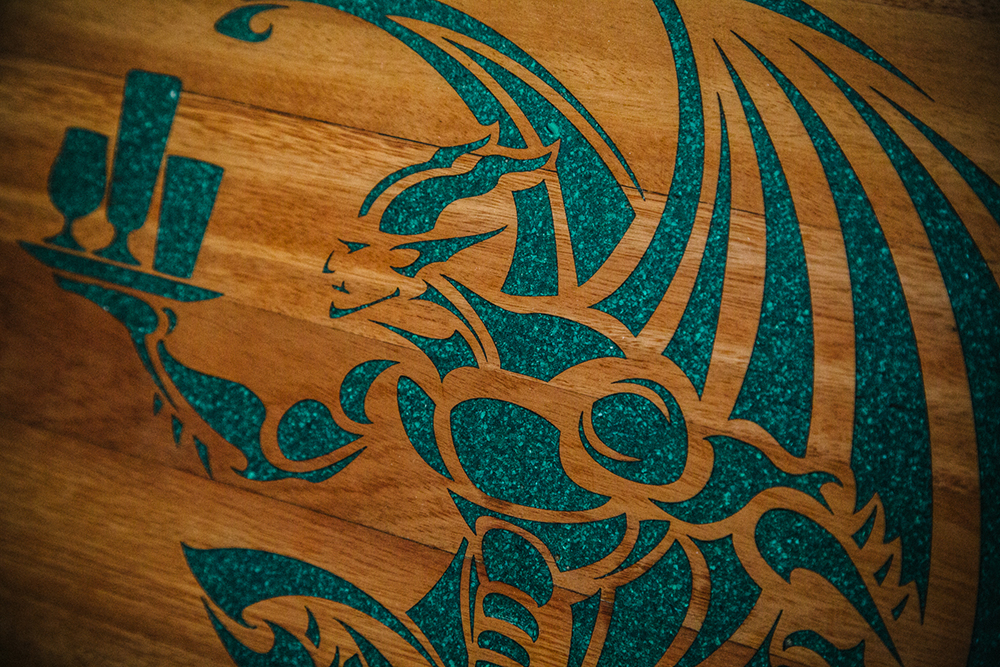 Wooden Gargoyle Table: Not all of our Stone-inspired donations are purely aesthetic. Some are also quite functional. One such piece is a table made of eucalyptus with a malachite inlay of the iconic Stone gargoyle made by EcoLife director Bill Toone and his wife Sunni (a lot of husband-wife teams here. Clearly beer brings people together…and keeps them together). EcoLife is a foundation not far from Stone's headquarters in Escondido, California. Its mission is to create sustainable balance between communities and the ecosystem. With similar beliefs and close proximity, a natural relationship ensued. This tabletop is a symbol of gratitude for all the help Stone Brewing has given to EcoLife. The process of making this table embodied the beliefs of sustainability and conservation that we both share. Made from a tree discarded by the Toone's neighbors that was dried in a solar kiln, the table has no metal nails holding it together. Instead, pieces of the eucalyptus were turned into internal splints to hold everything together, then finished with wood glue. A laser-cut outline of the gargoyle was then filled with natural stone malachite, a vivid green product of weathered copper. Malachite has traditionally been used to aid in a successful business and protect against undesirable associations, so we're definitely thankful for the added layer of defense. After a protective rubbing with natural oils, this would-be "trash tree" was transformed into a piece of art we will treasure for years.