Last week, we allowed one half of the winning team from our in-house brewing competition, QA Supervisor
Rick Blankemeier
(you may recognize him from his work on the
Stone Stochasticity Project
), to tell the first half of he and
Team Spröcket
partner
Robbie Chandler
's U.S. tour, during which they introduced their first place black rye Kölsch,
Spröcketbier
, to the masses. Follow along as Rick closes out his cross-country tale in style (and if you haven't already tried he and Robbie's amazing beer,
find it
and fix that immediately).
Stop #4: Coloradical
Denver is a fun city. Now, I'm extremely biased since I grew up in Aurora, just southeast of the Mile High City, and went to college at CU-Boulder (Go Buffs!). Despite all that, Denver really is a rad city with lots of activities to keep you entertained and full of delicious craft beer. My wife (and fellow member of Team Stone),
Jessica
, flew in early to visit friends so we could have a long weekend together in our old stomping grounds. She picked us up from the airport and drove us to our first unofficial event at
Hops and Pie
. Before that, we stopped by a liquor store to pick up bottles of Spröcketbier to hand out to all of our local friends. It was admittedly weird to buy a bottle of the beer that had my name on it and we definitely gave the checkout person something to talk about for a while. She checked our ID's and noticed our names matched those on the bottle, then kind of freaked out a bit. Yes, this made us freak out (or maybe the more apt term is "geek out") a bit, internally.

Hops and Pie is a glorious place with a nice, simple concept: craft pizza and craft beer. Located in Highlands just west of downtown Denver, it's a place I always go whenever I'm in the area. They have an amazing beer selection and some of the best pizza I've ever had. The pizza of the day when we were there was a chicken-and-waffles pie with gravy. Can you even? Even with that culinary masterpiece up for grabs, the best part of being there was the outpouring of support from all of my friends and family in Colorado. I moved out to San Diego four years ago to work my dream job at a brewery. They all were bummed I was leaving, but kept in touch and have supported me through my beer-soaked journey. I can't tell you how much it meant to me seeing everyone there congratulating us in person and trying our beer, which just so happens to pair well with chicken-and-waffles pizza…who knew? Me, Robbie and our posse then journeyed over to the main Spröcketbier event at Denver craft beer nexus,
Falling Rock Tap House
. The place is packed during the week of the
Great American Beer Festival
, with craft beer celebrities and brewers drawing the general public in droves. Admittedly, I always try to avoid the place like the plague if I'm in town for GABF because it's just too crazy packed, but it was perfect the day of our event. You can't beat the draft selection or the ambiance when it's busy but not crowded. We were a few minutes late and were told as much in a light-hearted way by Falling Rock owner
Chris Black
. I told him that brewers are never early or late, we arrive precisely when we mean to. Robbie and I had a very nice interview with a pair of bloggers, Chris and Chelsea, from
PorchDrinking.com
. We discussed the gamut of items about our beer, and how we picked the name and such. Then, Robbie and I did our usual rounds and talked it up with the locals. Our event ended promptly at 10 p.m. At that point, I had to show Robbie my favorite bar in Denver–
The 1up
. When I was growing up, I loved to hang out at arcades, get a handful of quarters from my parents and just have at it for a couple of hours. I played the four-player Teenage Mutant Ninja Turtles and six-player X-Men games religiously, trying my hardest to beat them. Now, imagine taking the best video games of the late '80s and early '90s, and transplanting them into a bar. Welcome to The 1up. It's not like a Dave and Busters; it's an actual dive bar that has Mike Tyson's Punch Out, X-Men, TMNT, Michael Jackson's Moonwalker and a bunch of pinball machines. The 1up also has a decent craft beer selection and full bar. It's also the only bar I've been to where you can buy forties (which, as you'd expect, we steered clear of). Robbie and I immediately set out to right some of the wrongs of our childhood and beat TMNT (Donatello), X-Men (I was Wolverine) and the Simpsons (gotta love Marge swinging that vacuum cleaner). It was a beautiful thing. We left The 1up knowing that the ghosts of our childhood were finally were at peace. Magneto, Shredder and Mr. Burns were cast down and the Spröcketbier duo was triumphant. I hated to leave Denver, but we had one last stop on our tour: Seattle.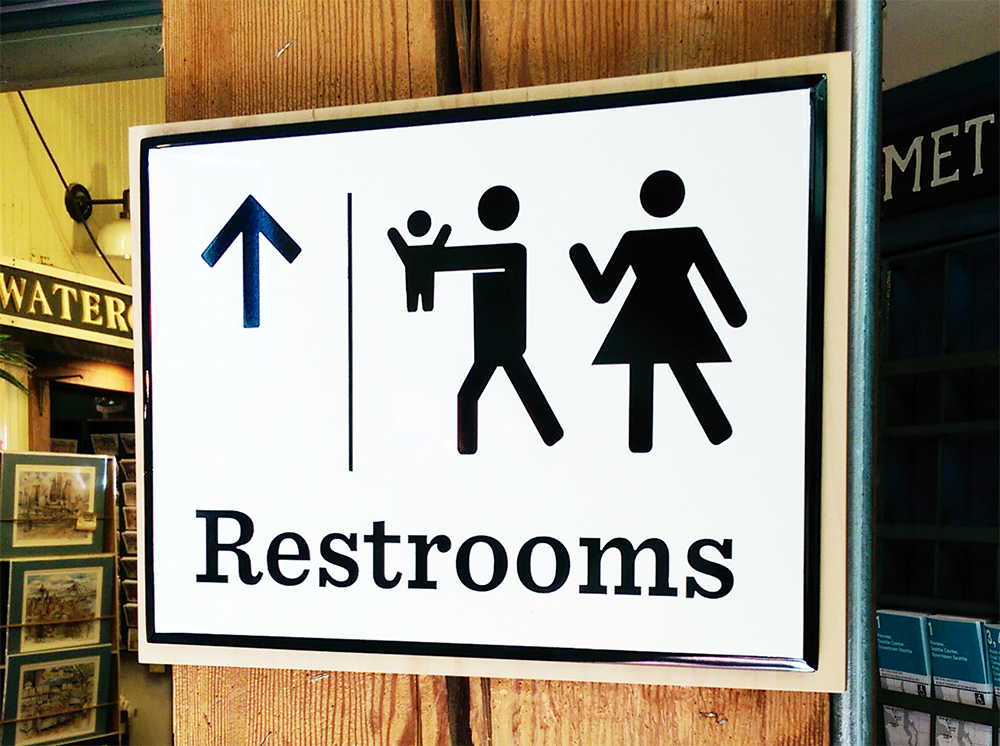 Last Stop: The Emerald City
I had mixed feelings going into Seattle. On one hand, I was excited to see the trees and how beautiful the city on the Sound was. The flipside is that I'm a Broncos fan and the Super Bowl thrashing my Broncos received was still an open wound. When we flew in, everywhere I looked were wondrous vistas of a sea of green over seas of blue–and Seahawk jerseys. The Space Needle overlooking the Sound, paired with 12th Man banners. As painful as it might have been for yours truly, there was no way we were missing out on Seattle—it's Robbie's old stomping grounds. Well, technically the boonies outside of Tacoma are where he hails from. Robbie was a terror on the high school football field. He also lived off of the land like a real-life Grizzly Adams. He even had an epic beard back when he was 16. Even though he was clearly perfectly suited for life in the evergreen expanses of Washington, he eventually left the Tacoma area after school to join the U.S. Marine Corps, where he served in Iraq. After the Marines, he stayed in San Diego and decided to be our resident warehouse guru. I was excited to get some insight from him about the area. It was raining when we flew into the Emerald City (shocker). We had access to a rental car and zoomed off (read: spent a lot of time stuck in traffic) to check into our hotel and head to our first event at
Elliot Bay Pizza
. We were greeted warmly and given a chance to try some Spröcketbier out of a boot (DAS BOOT!). Apparently, it's tradition at Elliot Bay to fill a two-liter boot glass full of some craft beer and pass it around the bar. It was really fun despite the increased chance of contracting hepatitis. Stone Sales rep
Jay Farias
also passed around a bunch of tasters of
Crime
. For those of you not in the loop, Crime is our
Lukcy Basartd Ale
aged in bourbon barrels with super-hot peppers added to the mix. It's essentially a hot sauce that we call beer. This batch had been aging for a number of months and was a lot less spicy than it used to be. It's nice to get more of the pepper flavor and less of the burning. After eating some great pizza, we headed back to the hotel to prepare for another fun-filled day in the morning. The first stop was at
Malt and Vine
, a cool little bottle shop with an amazing selection and a couple of draft handles. We took over most of the handles with Stone brews, including Spröcketbier, and were on-hand to sign bottles and take lunch-hour patrons through a guided tasting. It was fun to talk to a couple of hardcore beer geeks about the recipe and help them out with some recipe ideas of their own. Most of the crowd there was made up of workers on their lunch breaks who grabbed a bite to eat somewhere else, then brought it to Malt and Vine to enjoy with a taster or two of beer. I wholeheartedly support that sort of lunch break. After grabbing some lunch, we went to our next event at the
Total Wine
in Lynnewood. That had to be the second largest liquor store I've ever been in (with the biggest being the appropriately named
Tipsy
's in Lakewood, Colorado). It was the first liquor store I've seen with its own growler fill stations. We made camp in front of the draft system they use for growler fills and staked our claim to lure unsuspecting customers to their introduction to Spröcketbier. We completely owned that area and immediately had the crowd enthralled. Tasters of Spröcketbier certainly didn't hurt, nor did the fact Robbie and I were streaming the NFL draft and calling out the draft picks to the rapidly assembling crowd. "This Sprocketbier goes excellent with Paul Richardson from Colorado going to the Seahawks in the second round." We were done with our official events for that day, so Jay took us around to his favorite haunts. My favorite stop was at
Brouwer's Café
in Seattle's Fremont neighborhood. They had an amazing selection of craft beer, but they also an incredible Scotch selection that we eagerly sampled. The bar manager took us on a tour of their cold box and it was pretty insane. Most good craft beer bars maintain their draft systems like a Swiss watch. They have a regular cleaning schedule where they use caustic cleaners to dissolve any protein or bacterial buildup in the lines and do acid cleans every couple of months to eliminate any mineral buildup. That whole system is too pedestrian for Brouwer's Café, where they actually replace the draft lines themselves on a
daily
basis. That's the equivalent of throwing out an empty beer glass instead of just washing it. That might be an unfair comparison, but it's still amazing that they just cut the lines and hook up new ones for the following day. I've been to way too many bars that never clean their draft lines and all of their beer tastes sour, oxidized or buttery. It was refreshing to see a bar that takes the commitment to quality to the next level. The next day, we played the role of tourists, visiting
Pike Place Market
for breakfast and beer. We journeyed around the maze of a market and found
The Pike Brewing Company
nestled in its depths. One of their brewers graciously gave us a tour of the place. They do production on three stories. The top level contained their grist case and mash/lauter tun, which is gravity fed down to their boil kettle on the pub level. All of the fermentation and bottling is done on the bottom level. It's quite the engineering feat to conduct full production brewing on three levels while maintaining consistency and quality. It was really fun to see in action. After a nap and hydration, it was time for our last scheduled event for the Spröcketbier tour at hunting-themed hotspot,
The Lodge Sports Grille
near Century Link Field. We occupied a table in the corner, ordered up some Spröcketbiers and awaited the throng of fans from the baseball game to show up. I have to mention that this place has themed burgers for all of the schools in the Pac-12. I had to get the University of Colorado Buffalo Burger for my dinner, and it was delicious. Speaking of which, I met up with an old friend of mine from my college days. He's an investigative reporter for KOMO and a funny guy. We were both elated that the one good player for CU football was drafted in the second round (by the Seahawks of all teams), and are hopeful that our team does better next season. He also happens to be a Broncos fan living in Seattle, so we commiserated. Then, for the last time, Robbie and I went about coaxing people to try our beer. They were very receptive and it was a great way to cap off our final event. Jay then took us out for one last hurrah on the town. We ended up at
Von Trapp's
where we enjoyed some German pilsner and attempted to play bocce ball (because I always think of Germans when I hear bocce ball). Unfortunately, it was a busy night and the place would be closed before we could play. Robbie ended up being the cheerleader/heckler for one team and I made inane observations about their technique and wondered where Liesl was.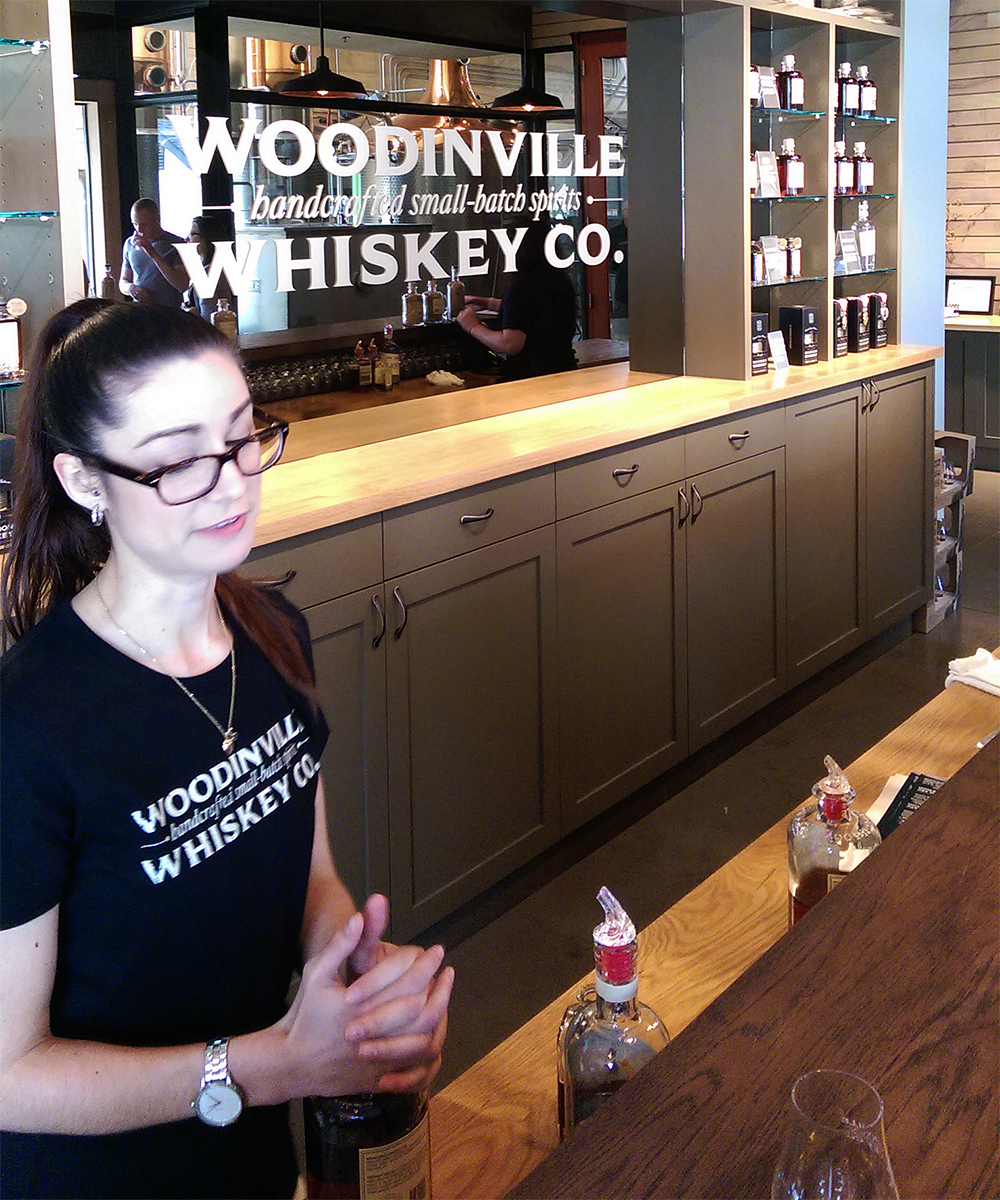 Our flight wasn't until later the next day, so we decided to spend the morning do touristy things yet again. This time, we decided to visit a distillery out in Woodinville.
Woodinville Whiskey
has an impressive setup. They have a beautiful combination pot and two-column still they use for all of their spirit production. They produce vodka made from wheat, bourbon and a delicious rye whiskey. All of their ingredients are sourced locally out in Yakima Valley, which I thought was impressive since they're the largest craft distillery in Washington and must use a lot of grain. We toured the place and spoke with one of their distillers afterwards. He was super nice and walked us through their control systems, having us smell and taste a bit of their white dog coming off of the still. It was amazing.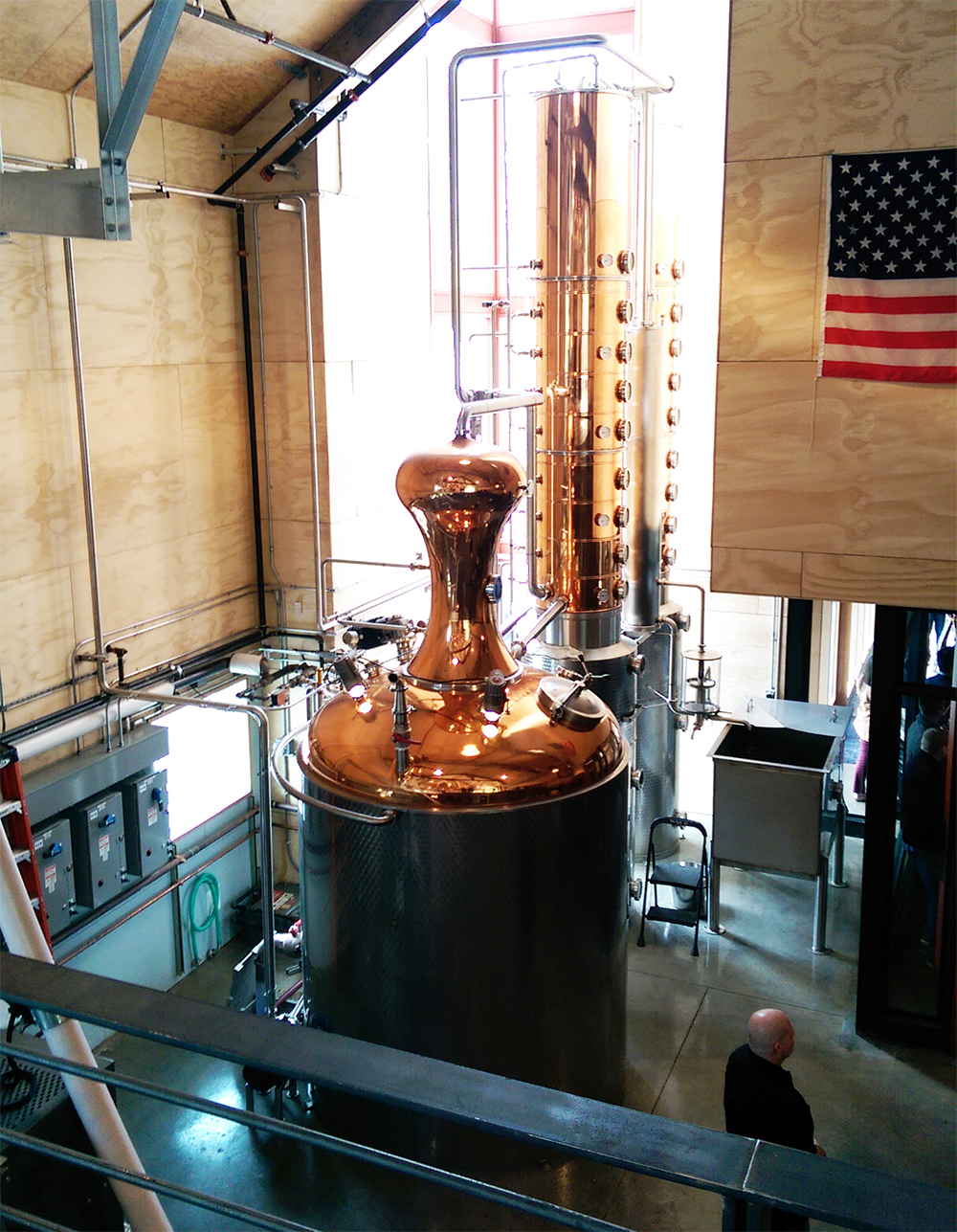 Next, Robbie and I zoomed back down to Seattle to hang out in the Fremont neighborhood a little more. We visited the
Fremont Brewing Company
and bought some bottles to bring home with us. We had to visit the Fremont Troll and get the cliché photo in front of it under the bridge. We then ran down to have lunch at this hole-in-the-wall sandwich shop called
Royal Grinders
. They rank up there next to
Cheba Hut
as my sandwich shop of choice. Having a little more time to waste before going to the airport, we decided to watch the rest of the Clippers game at this little hipster bar called
9 Million in Unmarked Bills
. It was reminiscent of the roaring '20s, and had a good beer selection and great cocktails. Robbie and I kept it easy with some Elysian IPAs and watched the rest of the game before we headed out of the Emerald City.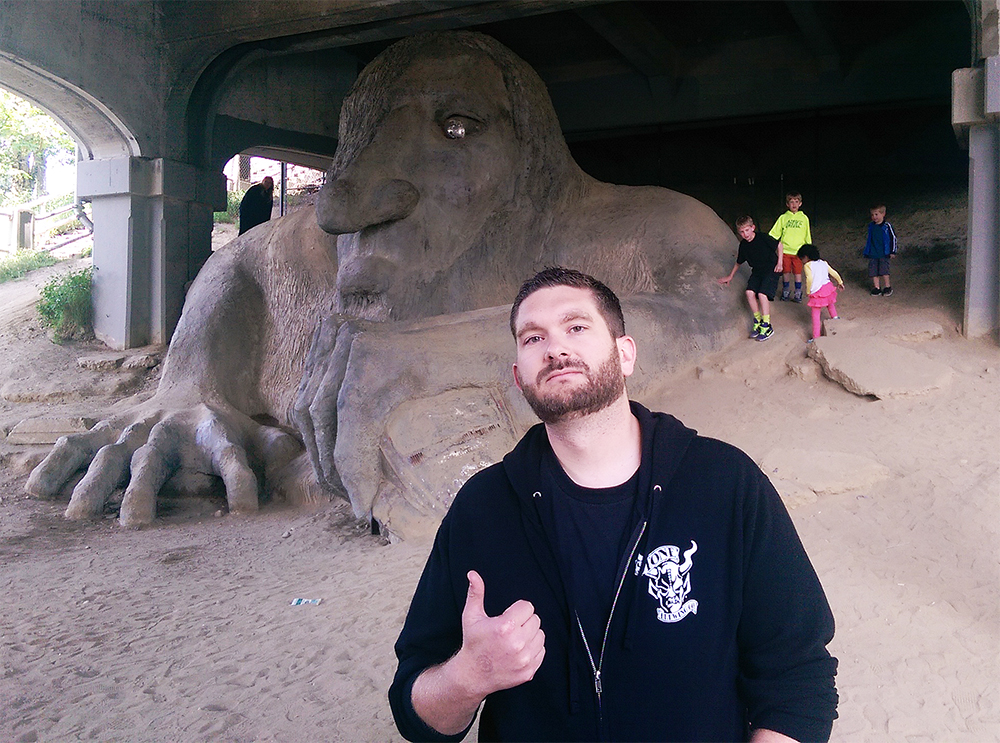 Afterword
Reflecting back on our epic journey, Robbie and I came to a realization that we'd like to share with readers.
Craft beer people are the best kind of people.
Generally speaking, we found that people who enjoy craft beer are super nice and genuine. This is a general observation, but we think that people who are generally open-minded are attracted to the crazy varieties and styles of craft beer. Open-minded people tend to be non-judgmental as well as easy to talk to and visit with. We had a blast with the people we met on our trip. Thank you to all who came out and helped make this the tremendous, once-in-a-lifetime experience it was for both of us.