Meet Laura Ulrich—Small Batch Brewer at Stone Brewing.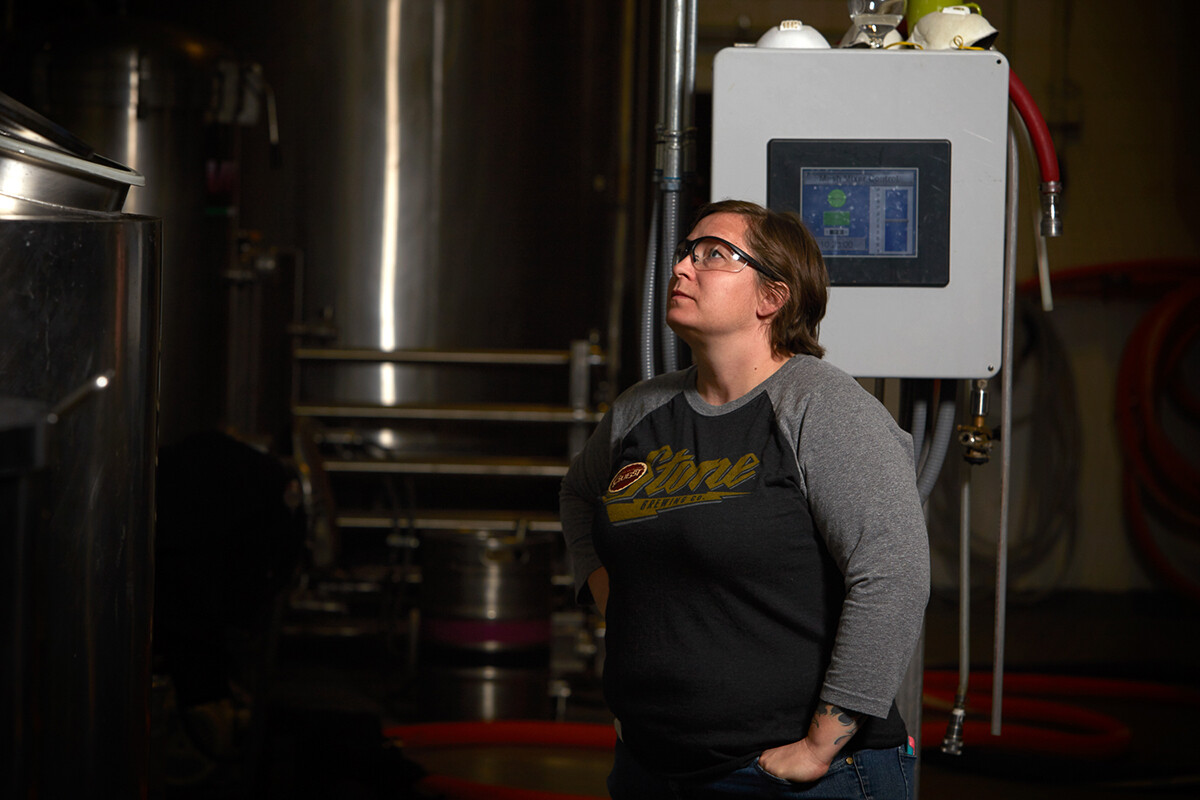 Having just celebrated her 12th anniversary at Stone, Laura has undoubtedly become an integral piece of Stone's small batch brewing orchestration. Some of her personal highlights include playing key roles in the creation of beers such as Smoked Porter With Vanilla Bean and Southern Charred, the bourbon barrel-aged Double Bastard Ale.
Laura is also a leading figure in the global female brewing community, now serving as the President of the Pink Boots Society. One of her most recent projects includes Rosecrans Special, a gose with rose hips and cranberries on which she collaborated with fellow Stone Brewer Kris Ketcham to benefit the Keep A Breast Foundation.
Q&A WITH LAURA
Q: What first sparked your passion for craft beer?
A: I don't think I actually got into beer until I got to Stone and started learning more about it. Believe it or not, I didn't know what an IPA was when I was living in Fort Collins, so when I got here, I had to write a paper to Lee Chase (Stone's original head brewer) to explain what an IPA was because beer expertise and knowing the origins of the beer was a must to get the brewing gig.
Q: What were you doing before Stone?
A: I grew up in St. Louis and after graduating college, I moved out to Fort Collins on a whim and some advice from my older brother. One night I ended up going to a show at a punk rock bar called The Starlight, where I saw an advertisement for a job opening. I applied and landed an interview, during which the owner asked me to pour him a beer. I said, "I can't pour a beer." He finally persuaded me to pour him a beer, which ended up being a big glass of foam. I looked over and said, "I told you I couldn't pour a beer." Much to my surprise, I got a call the next day. They offered me the job.
Image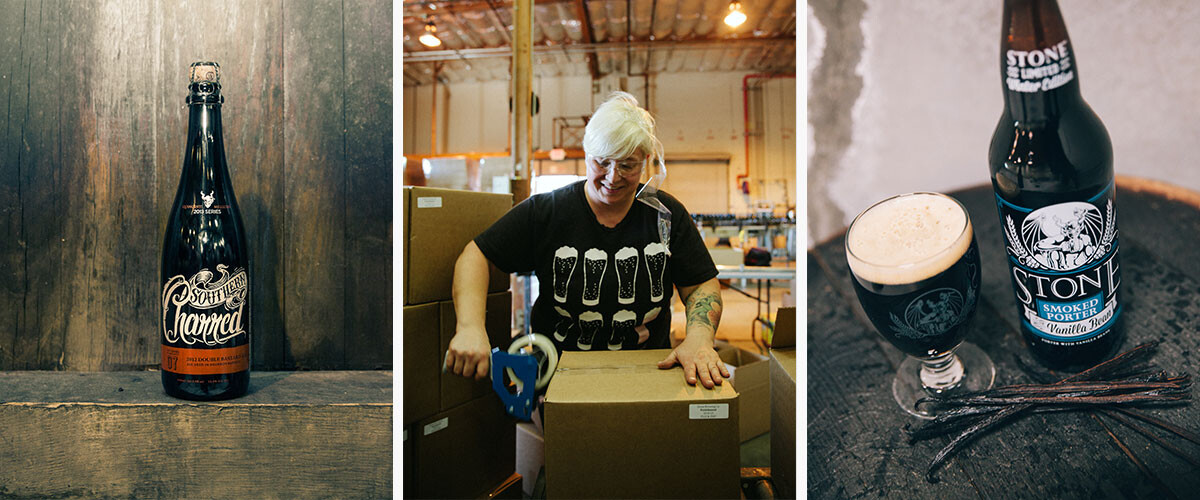 Q: How did you go from not being able to pour a beer to actually brewing it?
A: After working at The Starlight for a while, I saw an opening at Odell Brewing Company for a bottling line operator position, which I applied for. It was a good way for me to challenge myself and step outside of my comfort zone. During my interview, Brendan, who later became my boss, told me, "This is a really hard job." I was like, "I get it." "No, this is a really hard job," he reiterated. Keep in mind, I have three older brothers, so anytime anybody says something like, "You can't," it's like I automatically have to do it.
Q: What led you to San Diego and Stone?
A: I wanted something bigger. Something new. While I loved Fort Collins and Odell, I was just kind of over the small town. I wanted to take the chance again that I took five years prior moving to Colorado. My friend Melissa and I had talked about moving to San Diego together. She ended up bailing and moving to Denver instead, but I had landed a position at Stone on the bottling line, so I made the move.
Q: What's one of your favorite moments that you've had here at Stone.
A: One that stands out is when I met Teri Fahrendorf. She had just left her job as brewmaster at Steelhead Brewing and decided she wanted to visit all of her brewery friends. She knew Mitch Steele, so Stone was one of her stops, and after her first day visiting the brewery, we grabbed a beer at the bistro. While we were chatting, she mentioned that she was thinking of creating an organization for women in the beer community to meet and collaborate. I was like, "Oh my God that would be so amazing and badass!" She asked me what I thought of pink, and that's how Pink Boots Society started.
Image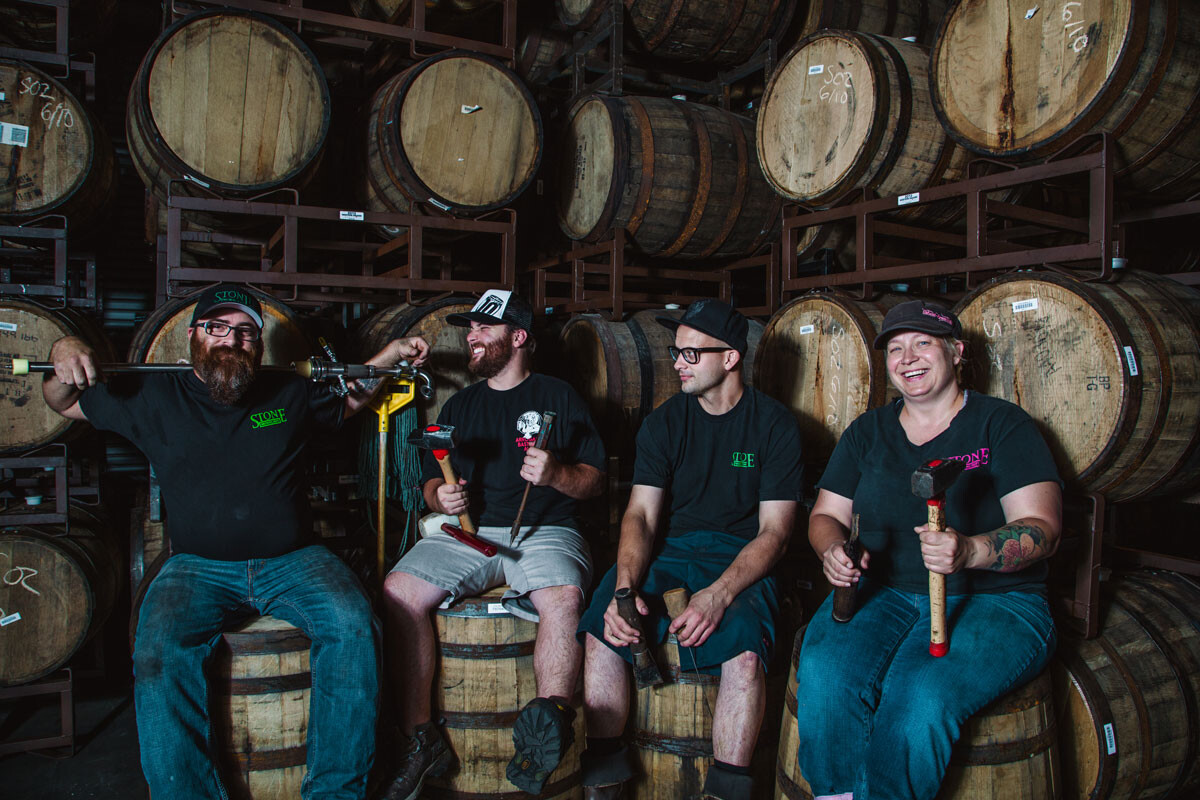 Q: What's the most rewarding part of your job?
A: I don't spend enough time enjoying the beers that we brew on the small batch team. I'll brew a beer on the pilot system, filter it, keg it, and quickly taste it to make sure it's all good, then I'll package it. We do so many different beers and I don't always go back to them. So when you hear people show appreciation for what you've done, you take a second, and you're like, "Oh, that is badass." Hearing that you're doing something good is probably the best thing about my job.