YOU'RE GUARANTEED TO HOG these BEER DOUGHNUTS ALL TO YOURSELF
What happens when craft IPA meets doughnut? Greatness, that's what. Again, our cohort in all things packed with flavor, The Beeroness has made the unimaginable happen at our behest. This lip-smacking puffy doughnut uses beer in the batter itself and is then piped full of a creamy Stone RuinTen Triple IPA W/Orange Peel & Vanilla Bean-based curd.
This silky, hoppy beer itself goes down far more easily than its 10.8% ABV would suggest, and yep, even easier in doughnut form. Now that this new variant of our legenadary triple IPA, balanced with the raw essence of fresh oranges and vanilla beans, is available nationwide (find it near you), you have every reason to spare a fresh bomber for testing one of our most indulgent recipes yet. We suggest patting yourself on the back when you're finished and enjoying the beer and delicacy side-by-side as a perfect dessert or brunch pairing. 
Image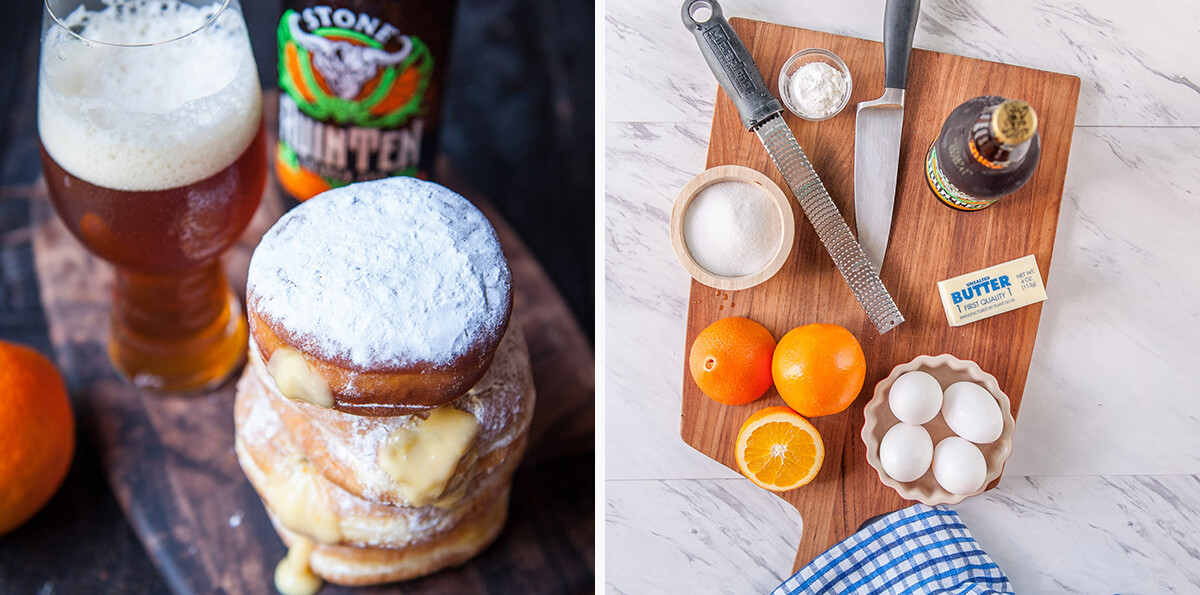 "This is ridiculous. This is a huge, giant, ridiculously delicious, no-one-will-ever-forget-you-after-you-bring-this-to-a-party, win at life, sort of recipe. Because who makes doughnuts with beer?! Then FILLS them with beer!? Then EATS them with beer?! You and I. That's who. Because we go big. And we do it with big, giant, delicious beers. And anyone who disagrees can get out of the way. " – The Beeroness
Ingredients
For the Doughnuts:
3 cups flour
¼ cup granulated sugar
1 packet (2 ¼ teaspoons) rapid rise yeast
¾ cup (6oz) Stone RuinTen Triple IPA W/Orange Peel & Vanilla Bean
1 teaspoon vanilla
2 large egg yolk (room temperature)
¼ cup heavy cream (room temperature)
1 teaspoon salt
Canola or peanut oil for frying
2 cups powdered sugar
For the Filling:
1 tablespoon orange zest
½ cup orange juice (about 3 large naval oranges)
½ cup white sugar
¼ cup Stone RuinTen Triple IPA W/Orange Peel & Vanilla Bean
1 whole eggs plus 3 yolks
1 tablespoon cornstarch
½ cup unsalted butter, cut into cubes 
Image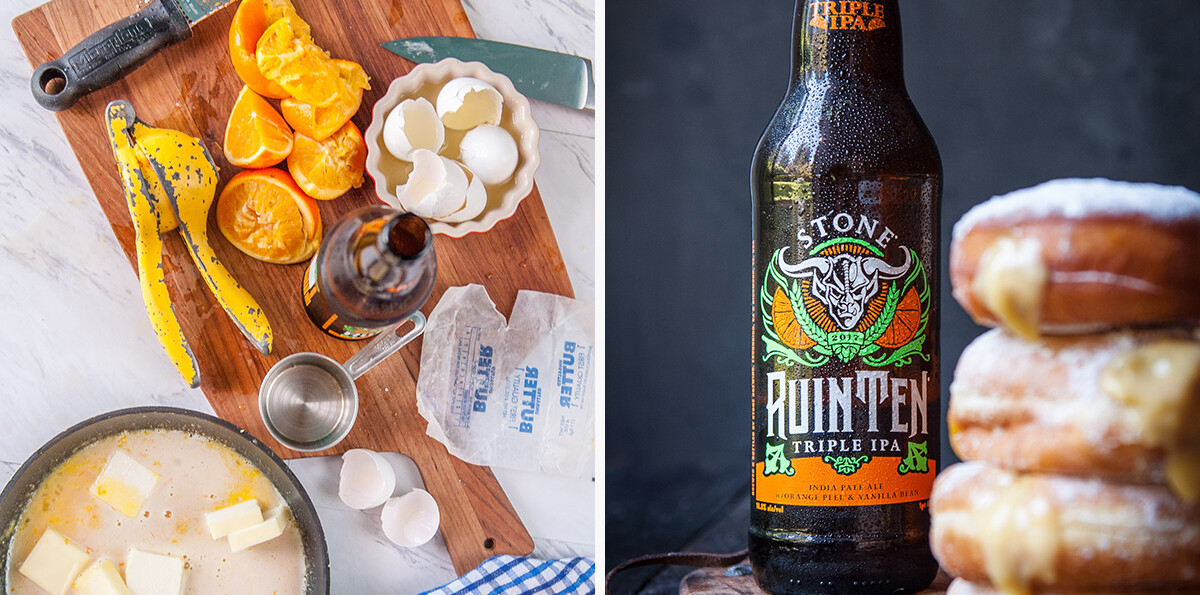 INSTRUCTIONS
In the bowl of a stand mixer fitted with a dough hook add the flour, sugar, and yeast.
Add the beer to a microwave safe bowl, microwave on high for 30 seconds, test temperate and repeat until beer reaches between 120F and 130F.
Add the beer to the stand mixer, mix until most of the flour has been moistened.
Add the vanilla then the yolks, one at a time. Add the cream and salt.
Building up speed, beat on high until the dough comes together and gathers around the blade. The dough will be very soft.
Add dough to a lightly oiled bowl, cover and allow to sit at room temperature for 1 hour or until it doubles in size.
Punch down the dough and knead lightly to remove any air bubbles.
Add the dough to a lightly floured surface. Pull into a large rectangle about ½ inch thick. Use a 3-inch round cutter to cut out 12 circles. Allow to rest until doubled in size for about 30 minutes.
Heat 4-inches of oil in a pot over high heat until the oil reaches 350F on a deep fry thermometer. Adjust heat to maintain that temperature. Doing a few at a time, fry the circles until golden brown on both sides for about 2 minutes.
Add the orange zest, orange juice, beer, sugar, cornstarch, egg, and yolks to a saucepan off heat and whisk until well combined. Add the butter and place the pan over medium/low heat. Whisk until thickened, about 10 minutes. Allow to cool to room temperature. Add to a piping bag (with a metal tip and a pea-sized opening), refrigerate until chilled.
One at a time make a small slit in the side of the doughnuts.
Press the metal tip into the side of the doughnuts, pipe the filling into each doughnut adding about 2 tablespoons of curd to the center of each doughnut.
Dust the doughnuts with powdered sugar on both sides. Serve within 8 hours. 
Enjoy!
Read more about the beer used in this recipe and use our beer finder to pick it up near you here.